The GQ Approach – Laurel July 29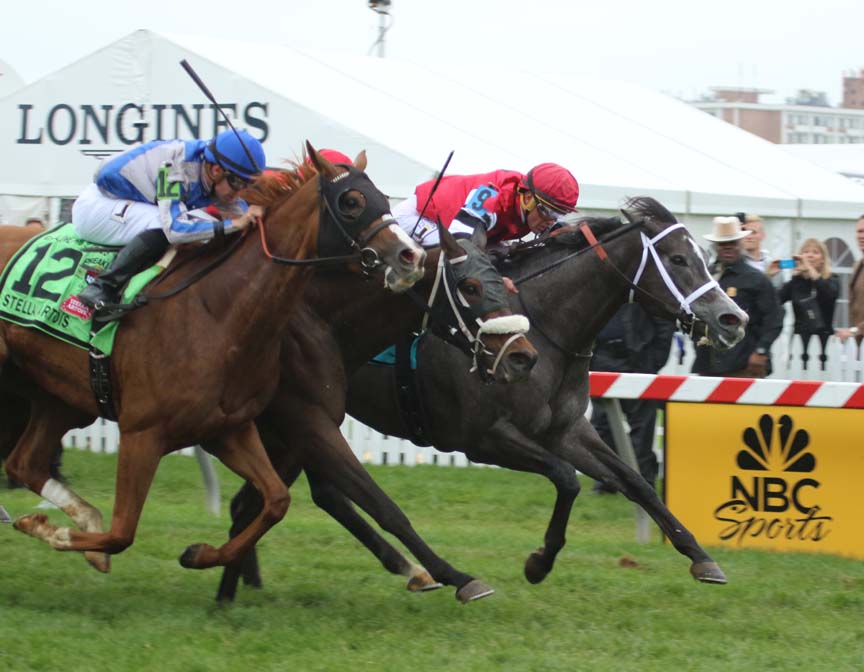 Mizz Money (#9) held off Vielsalm (in between) and Heath (#12) to win the Grade 3 Gallorette. Photo by Laurie Asseo.
The GQ Approach features full-card selections from Laurel Park (Friday-Sunday, with twilight racing each Friday), including a daily Best Bet, Longshot Play, and multi-race wagers. 
GQ himself is taking the summer off.  In his stead will be a rotating band of 'cappers.  Today, John Piassek takes the reins.
CARRYOVERS
Rainbow Pick 6: $5,316.02
Super High 5: $449.83
BEST BET OF THE DAY
Race 9 / #9 – Tiz Partners (5-2)
LONGSHOT PLAY OF THE DAY
Race 8/ #14 – Dominic's Smile (20-1)
[su_heading size="21″ align="left"]Multi-race wagers[/su_heading]
John's more of a win bet guy.
[su_heading size="21″ align="left"]Analysis[/su_heading]
Number of races scheduled for turf: 6

Weather: Mostly cloudy, high of 87
Projected condition of main track: FAST
Projected condition of turf: FIRM
Race 1: Maiden Claiming $40,000, 2yo, 5 Furlongs
4- The Great Ronaldo (7/5): Ran a big second last out behind heavily favored Churchill shipper, ran career-best figure by seventeen points; if he can run duplicate even one of his three career races he will bury these.
6- Mr. October (12/1):  Didn't do much in debut, finishing far behind The Great Ronaldo, but trainer Gary Capuano is 26% with second-timers, so some respect must be commanded.
1- C B Bodemester (8/1):  Hung wide in his debut, will hope to save ground with post closer to the inside.
Race 2: Claiming $5,000, 3yo and up, 6 Furlongs
2- Super Cassie Girl (3/1): Has been second or third in each of last four starts at this level, was flat after great trip at seven furlongs last out, will rate off pace and hope to better sustain a rally at six furlongs.
6- Nicki Flash (5/2): Finished ahead of Super Cassie Girl in her first start since November most recently, earned field-best last-out figure of 79, which is two points better than the second-best, and nine points better than the third-best.
5- Flashy Eyed Pearl (7/2): Makes first start since November here, has had one work since January, but if she runs back to some of her races last summer/fall she'll be a threat.
Race 3: Allowance Optional Claiming (n/w2x), 3yo and up, 5 ½ Furlongs (Grass)
2- Twizzle (2/1): Dominated n/w1x field at Monmouth last out in first race since February, Navarro doesn't ship many in to Maryland so this one's presence here is interesting, will be tough if he runs back to previous outings.
6- Grandiflora (8/1): Had a clear lead last time out in the stretch before tiring while going a mile, still ran a great figure of 91, will benefit from cutback in distance.
3- My Enigma (8/1): Another one cutting back in distance, has been steadily running in mid-80s and figures to be coming from behind.
Race 4: Claiming $5,000 (n/w2L), 3yo and up, 7 Furlongs
9- Surfspun (4/1): Led most of the way last time out before tiring in final 1/8 of a mile, steadily ran in high-70s to low-80s when sprinting over the winter at Aqueduct.
5- Willful Limit (3/1): Finished fourth as heavy favorite at this level last time out, ran a big race breaking his maiden for $16,000 a few races ago at Pimlico.
6- Loose Money (5/1): Disappointed after racing wide last out, makes first start for Rudy Rodriguez barn, that trainer hits at 28% with horses under his care for the first time.
Race 5: Starter Optional Claiming $25,000, 3yo and up, Fillies and Mares, 1 1/16 Miles (Grass)
9- Beaches N Bourbon (7/2): Fanned six-wide last out and ended up beaten two lengths, earned a 79 when breaking her maiden two races ago, that figure would probably win this race and she can definitely improve off of it.
2- Queeb (4/1): Ran a respectable fourth stretching out for the first time last out, has had a few five-furlong and six-furlong workouts since, so perhaps she got some stamina into her from those workouts.
10- Icy Miss (6/1): Broke her maiden in her thirteenth career try by going gate-to-wire, is a certainty to be on the lead in the early stages.
Race 6: Maiden Claiming $16,000, 3yo and up, 5 ½ Furlongs (Grass)
6- Church Monkey (5/2): Finished second against Maryland-breds in his grass debut last out, makes second start off the claim for Hugh McMahon, facing a weak field so even a slight drop-off in last-race figure may be good enough.
2- Sideling Hill (6/1): Flashed a lot of early speed before tiring while going longer last year, has been working for a few weeks and has a good post to flaunt his speed, may surprise some people at a price.
4- Spoiled by God (6/1): Rallied six-wide on the turn before missing by a head in his last race, has been running in the mid-60s which is slightly above average for this bunch, definitely a strong exotics contender at the least.
Race 7: Maiden Claiming $40,000, 3yo and up, Fillies and Mares, 7 Furlongs
3- Genuine Happiness (6/5): Takes a big class drop from maiden special weights in New York, disappointed last out after awkward start but ran an 81 when breaking cleanly two races ago, trainer Michelle Nevin hits at 24% with shippers.
2- Weatherurnot (5/1): Ran a great figure of 79 back in March at the maiden special weight level in her most recent dirt race, and has been working up a storm in the mornings.
6- Another Chance (8/1): Finished second last out at Penn National going a mile, has run figures in the mid-70s recently, hoping to snap 0-for-17 skid here.
Race 8: Allowance (n/w1x), 3yo and up, 5 ½ Furlongs (Grass)
11- Just Jack (5/2): Is only a neck away from being undefeated from two starts on the grass, his only win was at five furlongs and dealt with traffic when losing last out, a clean trip would likely mean victory.
14- Dominic's Smile (20/1): Lost a ton of ground after being wide last out, still ran a very competitive figure of 82 which is tied for the best last-out number in the field, may get hung wide again due to his outside post.
2- Grey Fox (3/1): Missed by a half-length last out after a rough trip, ran a career-best 80 despite breaking slowly and running wide, with a cleaner trip may improve even further.
Race 9: Claiming $7,500, 3yo and up, Fillies and Mares, 5 ½ Furlongs (Grass)
9- Tiz Partners (5/2): Has not been seen on grass since running at Golden Gate Fields back in December, but if she runs back to any of her races there, she will crush.
8- Euro Indian Girl (4/1): Tired out after leading most of the way last out, trainer Kevin Patterson is a very impressive 31% third off the layoff.
3- Sprinklesmiddle Ez (5/1): Has been dull in last few at this level, but this is not a strong claiming field, and her figures fit in with a lot of these, so perhaps she can improve her placing here.