The GQ Approach – Laurel July 17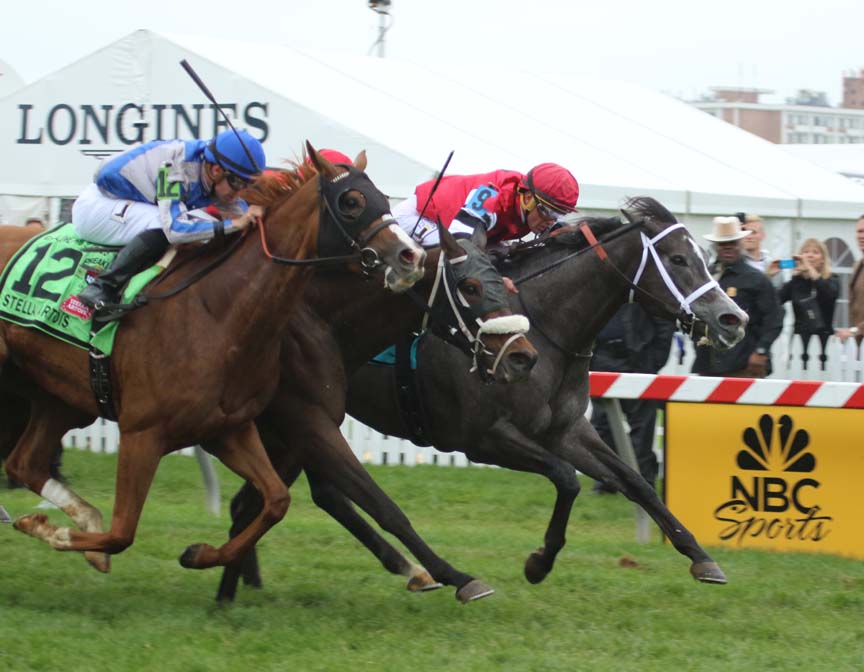 Mizz Money (#9) held off Vielsalm (in between) and Heath (#12) to win the Grade 3 Gallorette. Photo by Laurie Asseo.
The GQ Approach features full-card selections from Laurel Park (Friday-Sunday, with twilight racing each Friday), including a daily Best Bet, Longshot Play, and multi-race wagers. 
GQ himself is taking the summer off.  In his stead will be a rotating band of 'cappers.  
CARRYOVERS
Rainbow Pick 6: $2,194.15
Super High 5: $589.72
BEST BET OF THE DAY
Race 1 / #8 – Caribou Club (5-2)
LONGSHOT PLAY OF THE DAY
Race 6/ #4– Modern Tale (6-1)
[su_heading size="21″ align="left"]Multi-race wagers[/su_heading]
Race 4 $2.00 Double — 3, 8 w/ 1, 5, 6 ($12.00)
Race 6 $2.00 Double — 4, 8 w/ 7, 9, 14 ($12.00)
[su_heading size="21″ align="left"]Analysis[/su_heading]
Number of races scheduled for turf: 6

Weather: Partly cloudy, hot
Projected condition of main track: FAST
Projected condition of turf: FIRM
RACE 1 MSW – 5 ½ f turf 2yo
***BEST BET*** #8 Caribou Club (5-2) – Dam won $320k+ sprinting on turf; Proctor 12% debut 2yos; has used Castrenze on well meant firsters before
#1 Monsoon KSA (5-1) – Trainer Lynch has 20% wins for debuting juvys; this one's sibs only 1-13 on turf; good work tab, and he legs up brother F. Lynch
#2 Bronx Sandman (6-1) – sibs have several turf wins; trainer G. Capuano 9% with debut 2yos
RACE 2 CLM 7500 B (N16M/N4L) 7f
#3 Because He Can (8-5) — Game effort last, still has upside with just nine starts to date, owns win at the distance
#6 Mail Order Groom (8-1) – Runner looked like a category killer at 5k; Interesting: last out, he pulled up walked off, but here he wheels back against same company 2 weeks later
#2 Majestic Indeed (7-2) – Potts trainee just slips in on eligibility by claiming price with wins this year at $4k and $5k; coughed up a big lead last to be 2nd; 1 for 16 record at distance gives you pause, but Potts-K. Davis combo 5-for-9
RACE 3 MSW – 5 ½ f turf 2yo
#9 Sister Nation (2-1) – Trainer Ward hits at 20% with debut 2yos; jock F. Lycnh lands here instead of on his brother's horse (#8)
#4 Neyami (6-1) – Good try on debut when wide; shows a fast work in the interim, and Carrasco in the irons won't hurt
#2 Next Street (9-2) – That was a good try two back when a solid second; one of this one's sibs has scored sprinting on the turf
RACE 4 – ALW NC 5 ½ turf
#3 Pool Winner (7-5) – Odds are tough to take, but this guy is speedy and formful and figures to be in front early; finished in the top two 11 straight times (minus DQ) and has three straight allowance wins; if there's a caution flag, it's that he's been entered in, but scratched from, a couple of recent stakes – why?
#8 Triple Burner (3-1) – Nothing but good turf tries since first few and just missed against Pool Winner a couple back; figures to stalk #3 and hope to wear him down
#2 Made Bail (12-1) – Wish this were an N3X, but Cooney trainee has given a decent accounting of himself of late; looks to prefer having something to run at, and he'll get that with #3 here; two to run back from White Oak Farm S. won next out
RACE 5 – CLM $25,000 1 mile
#5 John Jones (6-1) – Runner figures a forward factor; doesn't need the lead but may have it; loves this distance (3 for 4); last couple are not good but like to see Karamanos remain aboard
#1 Pappa Portmore (5-1) – Deep closer is undefeated at the distance; returned from a nearly two-year absence last December and has struggled a bit but dropping out of much better company
#6 Never Stop Looking (7-2) – Gonzalez trainee been close against similar and last out was third at this level against a group better than this one; the bad news: last win was for 15k; figures to try to stalk and pounce with Carrasco up
RACE 6 – OC/STALW 16K N3L 1 1/16 mi turf
***LONGSHOT PLAY*** #4 Modern Tale (6-1) – Race shape probably works for this one, as early types should create a lively pace to run at; trainer Magee does well giving a horses a little time before their first try with him
#8 Boppin Anda Weavin (5-2) – Two game efforts on turf; will be on engine early
#5 Loyalty Spirit (2-1) – Figs says this is the winner, but it's Ness trainee's first try against winners — and he skips right into multiple winner company; another closer
RACE 7 – MC 10K 7f
#14 Pocket High (7-2) – Career-best fig came at today's 7-furlong trip and gets McCarthy in the irons
#7 Keepyuriondabalado (15-1) – In a race with very little early speed, rates a puncher's chance just for being forwardly placed early; two from last won their next
#9 Drive At Nite (9-2) — Because why not?
RACE 8 – ALW N1X 1 1/16 mi turf
#7 Broken Bridle (3-1) – Game try in last when rally when getting a head in front late before settling for the place; four good but beaten tries against similar disturbing, but here's betting today's the day
#8 Martini Glass (10-1) – This one's dam won $190k on turf; not sure what to do with awful effort in the Our Mims outside of draw a line thru and note winner repeated in G3; good sign: Carrasco stays on
#5 Tap Diva (15-1) — Swinging for the fences here: runner encountered a ton of trouble in last and hasn't shown much against winners; call it one last try to make amends
RACE 9 – MC 16K 5 ½ furlongs turf
#3 Flame of My Heart (8-5) – Just missed against similar last two – today?
#2 Wildcat Rising (15-1) – Not much to grab onto here – but two sibs of this one earned over $100k on the greensward
#5 Whatamagiciandoes (10-1) – Pace and tired against Va-bred MSW runners; note that show horse Porte Cochere wheeled back to win decisively against similar to these