Shore Bets: Monmouth Park July 9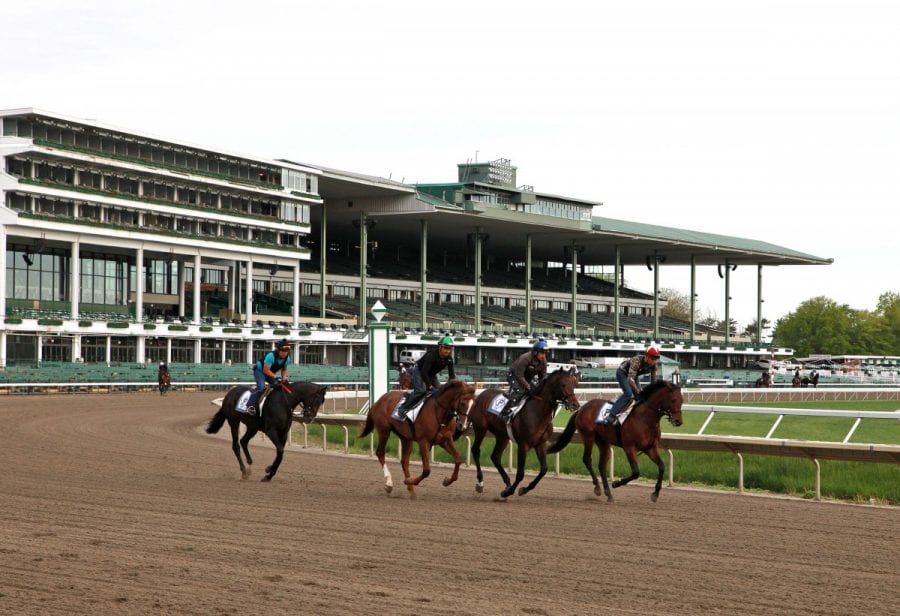 Photo by Bill Denver/Equiphoto.
We are pleased to welcome Shore Bets back for another season of Monmouth Park racing.
by John Piassek
It's Long Branch day at Monmouth Park, which means that Haskell day is approaching fast! Seven three-year-olds, none of whom have been invited to the Haskell as of yet, will contest that race, which anchors a ten-race Saturday program.
Race 1: Maiden Claiming $25,000, 3yo and up, NJ-bred, 5 ½ Furlongs
It's a Jersey fresh opener here, with a six-pack of Jersey-bred maidens lining up here. Last time out, the 6, My Boy Toy, looked like a standout on paper, and I enthusiastically picked him on top and bet heavily. Unfortunately, his brisnet figure declined by eighteen points, all the way to a 60, and he wound up second. Even so, he's still one of the fastest horses in the field, and given his high-class pace figures, he looks to have negligible pace pressure to contend with. He's also been second in each of his last two races, so at least he's been steadily close at the end. I'm not as confident as I was last time, but hopefully it'll be a different result here.
The 2, Guinness Spice, was fifth at the $40,000 level in his lone dirt start so far, running a 64. He gets a jockey upgrade to Orlando Bocachica, and figures to rate off the pace near the inside. The 5, Southampton Pride, led most of the way in his 2016 debut before tiring out. His early speed is promising, but it will be seen if he can improve off that race, or if he's just cheap speed.
6- My Boy Toy
2- Guinness Spice
5- Southampton Pride
Race 2: Maiden Special Weight, 3yo and up, Fillies and Mares, 1 1/8 Miles (Grass)
A competitive maiden field marks our first foray onto the grass today. My choice among them will be the 1, Tiz Paradise. She broke slowly in her career debut, back in April at Tampa Bay Downs, eventually recovering to finish fourth. She went off at 3/1 in that debut, suggesting that she was looking very promising going into that race. She's turned in a long string of workouts here at Monmouth, suggesting that new trainer Chad Brown has had his eye on a race like this for a long time. If she breaks cleanly, and manages to live up to her expected potential here, she will be tough to beat.
The 2, If You Say So, rallied from last after a slow break to finish second last time out at Pimlico. She has improved her figure in each of her three grass races, and will be a strong exotics candidate, at the least. The 7, Queenofthechannel, comes in here from Belmont Park, where she most recently finished fifth against maiden company. Trainer Todd Pletcher is 34% with his Monmouth contingent so far, and is in the top three an astounding 76% of the time.
1- Tiz Paradise
2- If You Say So
7- Queenofthechannel
Dirt:
2- If You Say So
6- Deedeezee
9- Judy's Chance
Race 3: Maiden Special Weight, 2yo, 5 Furlongs
Only one of the seven maidens in here has run before, and that's a big plus. The 5, Bay Numbers, was well-bet in a competitive maiden field in his debut, going off at 7/2 odds. Unfortunately for him, he had problems loading, and wound up a non-competitive fourth. Since then, he's been working well (no works from the gate, however), and retains the riding of the insanely, constantly hot Paco Lopez. If Bay Numbers can cooperate in the starting gate this time, and it's certainly possible he's gotten better at it in the last five weeks, he's going to be dangerous.
The Red Oak Stable entry is very interesting. The 1, Righteous, threw down a blazing bullet workout on Sunday, going four furlongs in 47 seconds. That was the fastest of 103 workers at the distance, including Withers Stakes winner Sunny Ridge. His trainer, Greg Sacco, has not been having a good meet (only one winner), but this is balanced somewhat by the excellent Nik Juarez getting the mount. The 1A, Emperor John, is a Pletcher trainee, and has been working at this five-furlong distance. Why these two horses are allowed to be coupled with different trainers in a mystery, but either way, they're dangerous. The 3, Mr. Brix, is the other Plesa entrant (the other being Bay Numbers). He was a $160,000 yearling purchase, and if he gets action at the windows, take note.
5- Bay Numbers
1- Righteous/1A- Emperor John
3- Mr. Brix
Race 4: Claiming $12,500, 3yo and up, 1 1/16 Miles (Grass)
A good field of grass claimers has lined up here, with way, way too many also eligible horses (FIVE!) in here. I'll pick the 1, China Prince, to duplicate his last-out effort. He defeated a bunch that was a lot like this one last out, running a figure of 83 while winning by a nose at 4/1. He's been remarkably consistent, running either an 83 or an 85 in each of his three recent grass efforts. The terrific Antonio Gallardo retains the mount, and he's got the best average late pace in the race.
The 8, Make it Gold, rallied five-wide last out to win at this level. He's run in the mid-80s in all of his recent races, and his trainer and jockey (Jason Servis and Paco Lopez, respectively) have the highest winning percentages at the meet. The 6, Tiger Bourbon, won his first race of the season going away, but was claimed out of the Jorge Navarro barn. A decline in form may result.
1- China Prince
8- Make it Gold
6- Tiger Bourbon
Dirt:
13- Lieutenant Dale
2- Paddington Express
6- Tiger Bourbon
Race 5: Claiming $5,000, 3yo and up, 1 Mile
The Jersey Shore 6, with its ever-building carryover, begins here. It's a race where there's a lot of contenders, so narrowing it down can be a bit tough. My selection will be the 6, Sourcesandmethods. He's been second and third in his two most recent races, running a 75 and an 81 in those two spots. He was claimed out of that last race by Juan Serey, who held a Navarro-like grip over Monmouth racing in the late 1990s. While he no longer possesses the same brilliance that he once did, he does show a longshot winner with horses first off the claim. If Sourcesandmethods can duplicate that form for the Serey stable, he's got a great shot.
The 7, Sky Masterson, has very similar form as Sourcesandmethods; he ran a 73 and an 81 in his last two. He'll seek to rebound after losing by twelve lengths last time out. The 2, Just Ace, has run well in sprints, but will be stretching out to a dirt route for the first time in a long time.
6- Sourcesandmethods
7- Sky Masterson
2- Just Ace
Race 6: Claiming $5,000, 3yo and up, 1 Mile
The first thing that you should do when handicapping this race is draw a big line through the 7, Readtheprospectus. Yes, his figures tower over the rest of this field by a long shot. But he hasn't raced since December, and was claimed for $32,000 out of that race. Now, trainer Bruce Levine has given him plenty of time to recover from whatever was bothering him, and he wants to potentially give him up for $27,000 less than he paid? No thank you. I'll pass at low odds.
As such, this race becomes a great betting opportunity, providing that you can find the winner out of the remaining seven. I wound up settling on the 1A, Irish Smarty. It is true that he was soundly beaten last out at Parx, after battling for the lead. Two races ago, he managed to clear to the early lead, and he won by ¾ of a length, running a strong 78. If he can manage to cross over to the lead, he may wind up going and going and winning at a price.
The 3, Artemus Paperboy, was second last out at this level behind favored Bama Bound, running a fairly impressive 80. Tossing out the phony Readtheprospectus, that's the best last out figure in the field. If the front-runners melt down, he could sit a good stalking trip and go on by. The 6, North Ocean, showed good form last year, running figures in the mid-80s. He had two disastrous races at Parx in the fall, but new trainer Juan Serey has had him working well coming in here.
1A- Irish Smarty
3- Artemus Paperboy
6- North Ocean
Race 7: Allowance (n/w2x), 3yo and up, NJ-bred, 6 Furlongs
Outside of the occasional stakes race, this is the highest level that a Jersey-bred can ascend to, before they are sent off into the cold and unforgiving world of open company. This a pretty strong bunch, by Jersey-bred standards, so whoever wins this one will be well-equipped for the future.
The pick here will be the 1, Mello Groove. He won at the n/w1x state-bred level on opening day, winning very easily and earning a figure of 85. He declined a touch to an 84 last out while finishing second at the n/w2x level, behind the very good. Now, he's making his third start of the meet, when horses like him tend to run their best race. He draws an inside post position after being hung on the outside last time out, and he's got the ability to rate and tuck in behind the leaders. He figures to get a great trip, and improve his figure to, possibly, a career-high.
The 3, Gadget Man, drops down from the open n/w3x allowance level at Parx, and makes a sharp cutback in distance from one mile and seventy yards. He's shown good form at route distances, and will hope that it translates over to shorter races. The 2, Posse Dreamin, turned in a clunker in his last dirt race, finishing last in the John Reilly Handicap. He's won two races from ten tries at Monmouth, and almost always runs in the mid-80s. Expect him to be on or near the early pace.
1- Mello Groove
3- Gadget Man
2- Posse Dreamin
Race 8: Allowance (n/w1x), 3yo and up, 1 1/16 Miles (Grass)
The 3, Hockey School, looks like much the best. He's shipping down from Belmont, where he was sixth at this level last out. He broke slowly in that race and was hung wide, but still ran well, earning a field-best last-out figure of 86. Two races back, he broke his maiden in gate-to-wire style, running a very strong 94. That's six points better than anyone in this field has run in their lives. If he breaks cleanly, and can go straight to the front, he may be uncatchable.
The 4, Sunset District, won at the $16,000 level with a big sweeping move from the back of the pack. He's won three out of his last four against claimers, running figures in the mid-80s every time out. He should be able to handle the jump up in class. The 7, Here's to Mike, lost the Dan Horn Handicap by a neck last time out, running his best figure (84) of the year so far. Expect him to be fairly close to the pace.
3- Hockey School
4- Sunset District
7- Here's to Mike
Dirt:
4- Sunset District
7- Here's to Mike
5- Baychimo
Race 9: Long Branch Stakes, 3yo, 1 1/16 Miles
It's today's feature, the final local prep for the Haskell, and a race that, as far as I'm concerned, should merit an automatic Haskell invitation to the winner. Named after the beach town a few minutes away from Monmouth, this is a very wide-open renewal of this long-standing stakes race. Just about any one of the seven entered here can win it.
My decision wound up going to the horse on the far outside: the 7, No Distortion. In his last race, he absolutely crushed a n/w1x group of older horses at Delaware Park, going gate-to-wire and winning by eleven lengths. He earned a sparkling figure of 101, which would win this race easily. The only question is if he can duplicate that trip last out and go straight to the front. Despite his outside post, there's reason to believe that he can do so. He's got the best early pace figures in the field, and he retains Gabriel Saez, who hustled him to the front when riding him last out. As long as No Distortion can get to the front, he's got an excellent chance of claiming the Long Branch title.
The 2, Tiz Long Gone, also has a lot of early speed, and used it when winning an open allowance last time out. He turned in a strong workout at Belmont recently, going five furlongs in 1:00.2, the fastest that day. One figures that Antonio Gallardo, riding this horse for the first time, will try to go straight to the lead. We'll see. The 5, Someday Jones, has finished first or second in each of his first five races, all of them in his home state of Pennsylvania. He was impressive in winning a n/w1x allowance last out, and has run up to a 99 in the past. He should rate off the pace, and may take advantage of a meltdown on the lead if the two speeds wear each other out.
7- No Distortion
2- Tiz Long Gone
5- Someday Jones
Race 10: Claiming $16,000 (n/w3L), 3yo and up, 5 Furlongs (Grass)
When he was shipped east earlier in the year, the owners of the 6, Tizcano, tried to run him on the dirt. It didn't go very well; he lost two races in a row at odds-on. Now, he goes back to the grass, which is easily his better surface. Last fall in California, he ran figures of 87, 93, and 90 in his most recent tries on the lawn, which would whip this field. He's an easy choice if you need to get out.
The 1, Calico Kitten, has shown speed and faded in two tries at a route this season. Cutting back to a sprint may be what he needs. The 3, Hunter Grey, missed by a neck after making a big rally from far behind against similar competition last out.
6- Tizcano
1- Calico Kitten
3- Hunter Grey
Dirt:
9- Distinctivelygreat
2- Unrepenting
1- Calico Kitten/1A- War Destiny