The GQ Approach – Laurel July 1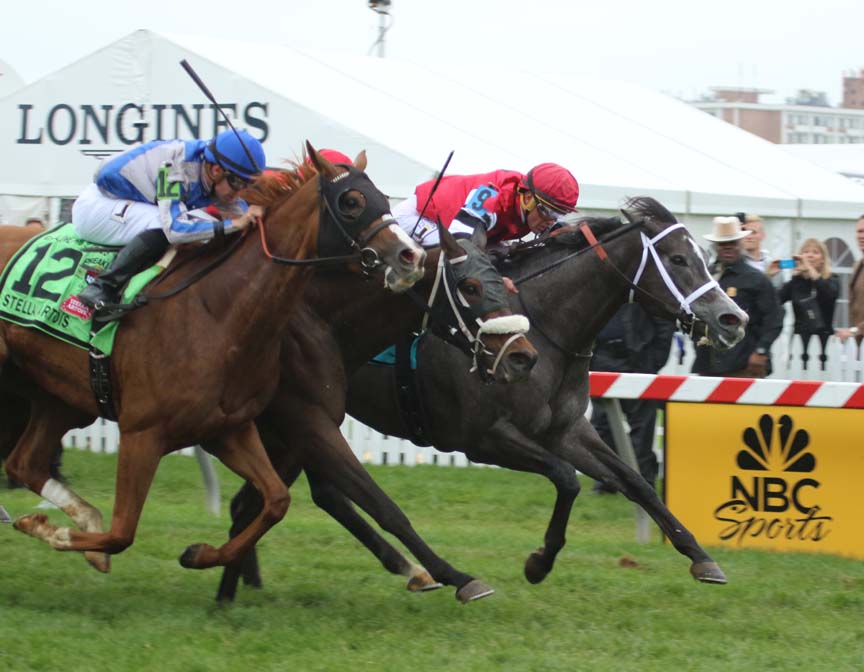 Mizz Money (#9) held off Vielsalm (in between) and Heath (#12) to win the Grade 3 Gallorette. Photo by Laurie Asseo.
The GQ Approach features full-card selections from Laurel Park (Friday-Sunday, with twilight racing each Friday), including a daily Best Bet, Longshot Play, and multi-race wagers. 
GQ himself is taking the summer off.  In his stead will be a rotating band of 'cappers.
CARRYOVERS
Rainbow Pick 6 (20-cent base): $

10,626.56
BEST BET OF THE DAY
Race 5 / #4 – Because He Can (5-2)
LONGSHOT PLAY OF THE DAY
Race 4 / #6 – Ring of Truth (8-1)
[su_heading size="21″ align="left"]Multi-race wagers[/su_heading]
Race 4: $0.50 Pick- 4 3, 6 w/ 4 w/ 3, 5, 8 w/ 7, 9 ($9)
Race 8: $2 Double  1, 2, 4 w/ 4, 6, 10 ($18)
[su_heading size="21″ align="left"]Analysis[/su_heading]
Number of races scheduled for turf: 5

Projected condition of main track: FAST
Projected condition of turf: FIRM
RACE 1
#3 Killin Them Softly (9-2) — McMahon trainee thrashed similar three back and might be speed of the speed in here; F. Lynch climbs aboard
#4 Chilly Start (8-5) — Enters off a win against similar with best Beyer fig in here – but what fun is 8-5?
#6 Next Best Thing (3-1) — Trainer C. Gonzalez's patience has expired on this mare — but, notably, so has jockey Victor Carrasco's apparently
RACE 2
#6 Shinobi (2-1) – Not sure what the Sillaman trainee beat last time but he did it with style; three back winner has since won two allowance tests
#11 Boppin Anda Weavin (5-1) – Absolutely love dead-game last out second in faster of two divisions; testing internal fractions that day; might control pace here, or at least get the chance to eye other speed before finding position
#10 Mott (6-1) –Leatherbury trainee rallied smartly for second last out, gets Carrasco in the irons
RACE 3
#6 Mrs. Brenner (7-2) – Calixto Juarez trainee broke slowly and looked uncomfortable last out before mounting respectable rally; bug girl in the irons means five-pound weight swing versus Little Kitten
#4 The Nattitude Way (15–1) – Closing sort keeps finding herself in races where speed's preferred; second off a layoff and trainer Eppler legs up go-to rider for first time on this one
#3 Time to Spare (2-1) – Major class relief, but drop to bottom, no works since May 8 start are trouble signs
RACE 4
***LONGSHOT PLAY*** #6 Ring of Truth (8-1) – Saville trainee should appreciate enormous class relief from stakes foes to this; runner was seventh of 20 in G2 British race last season
#1 Up Hill Battle (4-1) – Good try last out after some trip complications; DQed runner-up took ALW test in next; only wish she hadn't surrendered quite so readily
#3 Kadie'shorseplay (7-2) – Added half-furlong of Laurel turf sprints versus Pimlico's looks to play to this one's benefit; McCarthy in the irons doesn't hurt, either
RACE 5
***BEST BET*** #4 Because He Can (5-2) – Won last two by combined 9 ½ so class rise not a major concern; K. Magee 31% on move-ups off the claim
#6 I Stand Alone (6-1) – D. Houghton liked this one enough to claim him for $15,000, lose him for $11,000, and claim him back for $15,000 again – a $19,000 loss on the sales; easier spot might help '12 stake winner recoup some of that
#3 Street Bullet (3-1) – Nine-race losing streak a concern but runner has the back class to factor here in first for M. Eppler
RACE 6
#5 Bad Call (5-1) – Overlooked on debut when an even sixth against better, Medaglia d'Oro colt has plenty of right to improve here; trainer brings MTH rider Fragoso for the trip
#3 Just Been Jammin (10-1) – Higher-priced of two Rudy Rod runners in here gets trainer's go-to local rider, probably looking for stalk-and-pounce type trip; winner of two back recently a near-miss 3rd in MTH allowance
#8 Daniel Le Deux (10-1) – Disastrous trip last out when in trouble on first turn, rushing up through back stretch; ran on gamely until late stages; clean trip here puts him in the mix
RACE 7
#7 Rum Go (8-1) – Half-sister to ultra-promising Casual Cocktail, winner of two straight by combined 19 lengths; Proctor brings hot-riding bug girl
#9 Riley's Choice (5-2) – Sagamore's been winning, and this miss is out of millionaire Shared Account
#2 Friesan Gal (8-1) – Half-sister to multiple stakes winner Lexington Street; R. Graham firsters finish in the money 50% of the time
RACE 8
#4 Top of Mind (6-1) – Jenkins trainee looked the part last out in easy win in first grass effort; fits on class
#2 Class and Cash (9-5) – Blinkers have made the difference; Cibelli trainee has impressed in three tries since donning the shades; last-place finisher from last won DEL ALW next out; figures on the engine early
#1 Cruise More (8-1) – Trainer D. Capuano passed on Md-bred stake with short field for this spot; formful closer looks to get a pace he can run at here but will be tested for class
RACE 9
#10 Unfuhrling (15-1) – First foal out of a mare who made $123k on the lawn; debut rained off the grass no concern here; did finish ahead of #6 in here
#4 Credit Ready (3-1) – Repeat of two-back effort might be more than anyone here can handle; two next-out winners from that event; trainer Ness a killer first off the claim
#6 Manakin Road (8-1) – Great Notion gelding gave a respectable account of himself in first try against runners of similar ability; Great Notion gelding retains right to improve