The GQ Approach – Pimlico June 26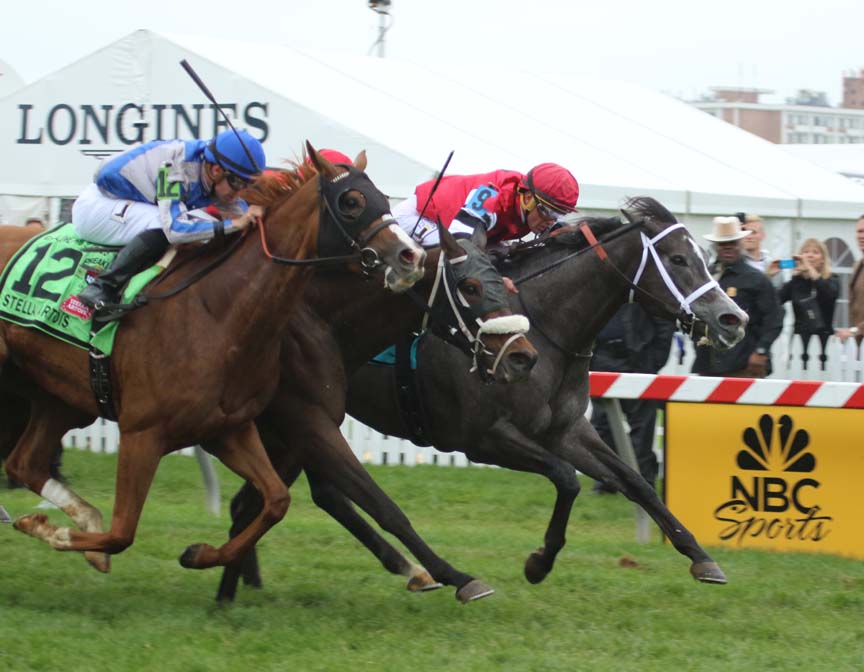 Mizz Money (#9) held off Vielsalm (in between) and Heath (#12) to win the Grade 3 Gallorette. Photo by Laurie Asseo.
The GQ Approach features full-card selections from Pimlico (28-day meet w/ live racing Thursday-Sunday through June 26th; Post Time 1:10pm EDT), including a daily Best Bet, Longshot Play, and multi-race wagers — including the 20 cent Rainbow Pick-6 ($2,565 carryover), 50 cent Jackpot Pick-5 ($5,194 carryover), as well as Pick-4s and rolling Doubles, Pick-3s and the Super High-5.
BEST BET OF THE DAY
Race 2 / #2 – Citation Star (2-1)
LONGSHOT PLAY OF THE DAY
Race 5 / #3 – Airlie's Diamond (6-1)
[su_heading size="21″ align="left"]Multi-race wagers[/su_heading]
Race 1: $2 Double  1, 2, 4  w/ 2, 6 ($12)
Race 3: $0.20 Pick-6  1  w/ 2, 3, 7 w/ 1, 3 w/ 1, 2, 3 w/ 7, 8 w/ 4, 7, 9  ($21.60)
Race 5: $0.50 Pick-4 1, 3  w/ 1, 2, 3 w/ 7, 8 w/ 4, 7, 9 ($18)
Race 7: $2 Double  3, 7, 8 w/ 4, 7, 9 ($18)
[su_heading size="21″ align="left"]Analysis[/su_heading]
* Pimlico has five (5) races (1st, 3rd, 5th, 7th and 8th) scheduled to be run on the TURF. Forecast for northwest Baltimore is for Mostly Sunny skies with high temps in the mid-80s and just a 10% chance of precipitation. The below selections are based on the races being run ON THE TURF while the main dirt track listed as FAST.

Closing Day at Pimlico
Race 1 is ON THE TURF
#2 – Longing to Travel (5-2): In spite of Y. Ortiz decision to ride #8 instead, this gelding is the only one dropping in class off two third place efforts as the winner came back to repeat     
#4 – Storm Net (2-1): Third start since KTL claim and has improved in first two since switching to the grass; today is a good day to graduate               
#1 – James Alex (10-1): Though the bloodlines are short on turf pedigree, he was a game third in initial turf try in last outing and took action at the windows (4-1) while it was a step up in class   
Race 2
#2 – Citation Star (2-1): *** BEST BET *** Claimed by M. Eppler two back (in Dec.) for a nickel, didn't race again until 3 weeks ago for $16k, sent off as 9-5 PT fav. and SHOWed; drops back down to $5k, Hmmm      
#6 – Rafidain (5-2): Shadwell bought this colt in Nov. '12 as a yearling for $400k; being offered for $5k after breaking maiden on turf in $16k MCL; predicting a 5-way shake for him as Shadwell is simply cutting bait        
#1 – Jumpin Julian (9-2): Has been steadily dropping in class seeking second lifetime win for D. Capuano; needs pace help and shake to enigma of the #1 Post     
Race 3 is ON THE TURF
#1 – Im a Prankster (7-5): Today's Horizontal Wager Free Space pick; he took pressure going 9f last time and held on to be runner-up whereas in previous turf outings was done after 6f; that's what happens when you switch from an 0 for 23 barn to C. Gonzalez
#5 – Leroy Brown (4-1): House Horse is bred for turf but made a dull debut sprinting on dirt; adds Lasix and H. Karamanos stay aboard on what could be viewed as an impatient drop in class     
#4 – Fletched (8-1): Giving this colt a pass in that first outing of '16 being "checked into 1st turn" was never able to get on track; two prior turf tries v. MSW were not horrible when facing many talented two year olds    
Race 4
#3 – Sell a Peach (5-1): "Ham" Smith has been known to put over FTS in low level claiming events (15%), plus these foes are be strong candidates for $5k MCL @ CT in the near future          
#7 – Runnerrunnerqueen (7-2): After two career starts could be renamed "Walkerwalkerqueen"; Ms. Francois needs to "get into her" right out of the gate     
#2 – Golden Mila (3-1): Very disappointing effort in local bow after 11 starts in FL; shed blinkers today and drops in hopes that start #13 is a lucky one
Race 5 is ON THE TURF
#3 – Airlie's Diamond (6-1): $$$ LONGSHOT $$$ Proved she can compete at this level when 4th just two lengths when facing winners for the first time; has yet to run a bad race on turf even though only ITM 3 of 6 tries   
#1 – Miss Nosy (12-1): With a plethora of early speed in here her rail post is not an issue as she'll be (hopefully) closing late in initial turf effort as she does on dirt
#8 – Bonnie K (4-1): Has best career turf BRIS# (83) of this group but will be one of many vying for the lead right from the get go           
Race 6
#2 – Never Stop Looking (5-1): With V. Carrasco back in the irons and the Pim riding title on the line, he'll give 110% to get this 7 y.o. under the wire first, which has been a struggle (3 for 38 on dirt)
#1 – John Jones (9-2): Offered for the $25k tag for first time in 13th career start; fields lacks early speed in this sprint so believing H. Karamanos will try to get it from the rail, assuming he reads the PPs
#3 – Kowboy King (5-2): Will get early lead if the #1 won't take it, which McCarthy will certainly oblige; got a rare win last time in first start after claim off Magee and stepping up
Race 7 is ON THE TURF
#8 – Half Strike (9-2): Last win came at this same condition w/ K. Francois at the helm; should get a nice stalking trip to take over in the final furlong    
#7 – Glenstal Abbey (5-1): Not sure why he was put on the lead early in '16 debut, but hopefully K. Magee gives F. Lynch better instructions this time          
#3 – Annawon (5-1): Typically needs more than 8½ furlongs on the turf (21:2-4-2) but w/ an anticipated quick, early pace J. Toledo might be able to pass all rivals late   
Race 8 is the GQ Farewell to Old Hilltop Classic ON THE TURF
#7 – Brockolini (3-1): Second of two M. Pino shippers on the card; with Pim riding title on the line, T. McCarthy will give this filly all he's got       
#9 – Goldies Tale (10-1): Initial turf try in last start when 32-1 was better than it looks on paper; should improve off that effort
#4 – Mucho Blessing (12-1): Stretch runner always comes on the scene too late; cut back from 1 1/16 to one mile might be the solution as she's 1 for 1 at this distance  
YESTERDAY'S NEWS
On Saturday June 25th at Pimlico had 5 winners from the 9 race card (2 Top Selections; payoff in BOLD) having $2 WIN pay-off of $8.40 (1st race), $3.60 (2nd), $3.60 (3rd), $19.00 (7th) and $4.60 (8th). Note: Year-to-date Top Selections are Top Selections are 183 for 684 (26.75%).
BEST BET of the Day (75: 24-13-11) Pauline's Pride (2nd race: 3-1 M/L; 9-2 PT) saved ground on the turns, angled off the rail in mid-stretch and flattened out and finished 4th.
LONGSHOT PLAY of the Day (71: 7-8-11) Gursky (4th race: 8-1 M/L; 7-1 PT) was lightly steadied just off the leaders nearing the backstretch, rated between foes near the five eighths, was under pressure three wide chasing past the five sixteenths and faded.
NAME A RACE
Ever wanted a race named in your honor?  Want to recognize a friend's birthday, anniversary or achievement?  But you can't make it out to the track?
Now you can have that race named just the way you want it — FREE — right here at The Racing Biz!
Simply fill out the form below, and we'll let the world know.  Your race will be named here, as part of The GQ Approach handicapping selections!
Why handicap race number one, when you can handicap "Race 1 – The Bob's Big Day Special"?!?
Note: This offer is NOT done in conjunction with the Maryland Jockey Club and does NOT provide you any benefits or recognition at Laurel Park, Pimlico Race Course, or any other facility owned or operated by the MJC. It applies only to this website.