The GQ Approach – Pimlico June 25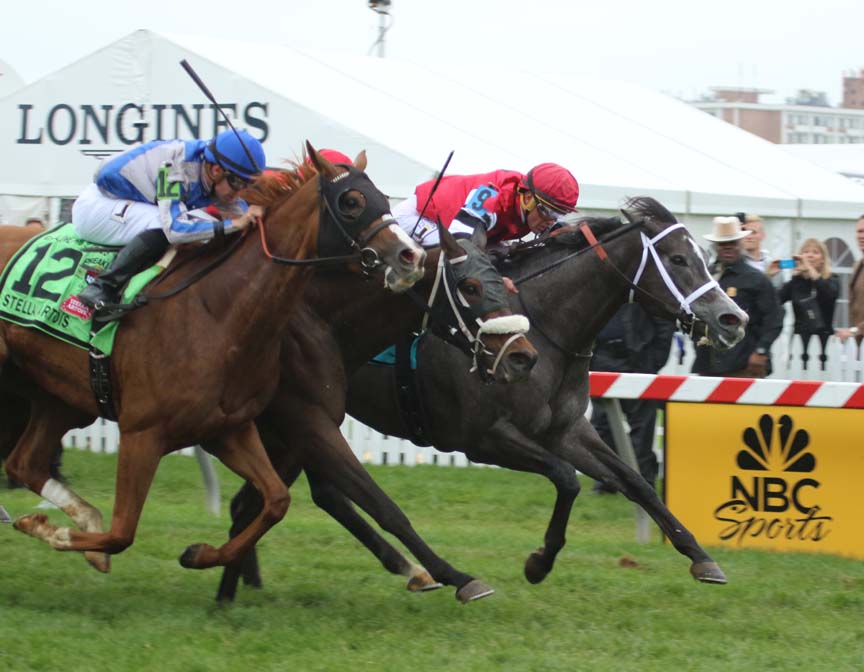 Mizz Money (#9) held off Vielsalm (in between) and Heath (#12) to win the Grade 3 Gallorette. Photo by Laurie Asseo.
The GQ Approach features full-card selections from Pimlico (28-day meet w/ live racing Thursday-Sunday through June 26th; Post Time 1:10pm EDT), including a daily Best Bet, Longshot Play, and multi-race wagers — including the 20 cent Rainbow Pick-6 ($6,065 carryover), 50 cent Jackpot Pick-5, as well as Pick-4s and rolling Doubles, Pick-3s and the Super High-5.
BEST BET OF THE DAY
Race 2 / #1 – Pauline's Pride (3-1)
LONGSHOT PLAY OF THE DAY
Race 4 / #11 – Gursky (8-1)
[su_heading size="21″ align="left"]Multi-race wagers[/su_heading]
Race 1: $2 Double  2, 3, 4  w/ 1, 4 ($12)
Race 3: $1 Pick-3  7  w/ 11, 12 w/ 2, 3, 4 ($6)
Race 6: $0.50 Pick-4 5, 8, 9  w/ 1 w/ 2, 8, 13 w/ 3, 9 ($9)
Race 8: $2 Double  2, 8, 13 w/ 3, 6, 9 ($18)
[su_heading size="21″ align="left"]Analysis[/su_heading]
* The entire Pimlico 9-race card is scheduled to be run on the TURF. Forecast for northwest Baltimore is for Mostly Sunny skies with high temps in the mid-80s and just a 10% chance of precipitation. The below selections are based on all nine races being run ON THE TURF.
Today is Mid-Atlantic Day – 9 turf races restricted to MD and VA breds
Race 1 is the VA-bred Maiden Lassie ON THE TURF
#3 – Porte Cochere (5-2): Has improved on BRIS#s the past five starts but still seeks diploma; steps back up into MSW v. a group of weak foes     
#2 – Grace Is Ready (2-1): Second start w/ blinkers should be better than first (8th by 12)… it has to be right?! Cut back in distance is logical after being near insane early pacesetters                 
#4 – Start Winning (6-1): Could be Charlie Sheen's favorite four-legged filly but not for long if she remains a maiden; tries turf in third career start, wanted it in debut but was washed off   
Race 2 is the MD-bred Preferred Please ON THE TURF
#1 – Pauline's Pride (3-1): *** BEST BET *** Got a perfect prep for today in turf sprint at this level as comment "5-wide ¼; belated" tells the story; stretches back out to two turns      
#4 – Moral High Ground (8-1): Shuman has found this 7 year olds back class so the step up from A7500s is no problem; F. Boyce knows what makes her tick        
#8 – De Marquee (8-5): Sagamore Farm runner ran out of gas as 4-5 PT favorite w/ E. Prado in the irons v. similar; may want early lead and try to lull foes to sleep w/ slow fractions
Race 3 is the Edward P. Evans Stakes ON THE TURF
#7 – Rose Brier (3-5): Horizontal wager Free Space #1 on the card; race came up light on formidable VA-bred talent; should have it all his way from start to finish      
#4 – Special Envoy (8-5): Has chased top pick unsuccessfully twice but had troubles in most recent one; could make a case for him to turn the tables as A. Delacour gives E. Prado a leg up     
#3 – Willisville (20-1): Rank outsider won state bred allowance @ Grm on KY Derby Day carrying 150 lbs. exactly 370 days after his previous race; gets 32 lb. weight break and be best of the rest    
Race 4 is the Julio Garrido Invitational ON THE TURF
#11 – Gursky (8-1): $$$ LONGSHOT $$$ Has done his best work on the dirt (10:3-4-1) while winless on turf (7:0-1-3), specifically at this distance (4:0-1-2) BUT recent form shows he's on top of his game and wanting to stretch out again after game grass efforts sprinting          
#12 – Enjoy the Show (6-5): Beaten PT fav. in last two when runner-up both times; makes third start after brief layoff; recorded best last race turf BRIS# (95) of this group by far; needs to shake recent case of "Second-itis"
#10 – Zen's Land (6-1): Fresh off J. Cibelli claim (19%) and dominating $40k MCL score on sloppy Lrl surface; second start w/ blinkers often results in another move forward
Race 5 is the All Brandy Stakes ON THE TURF
#3 – Vielsalm (3-1): Missed by just a head in G3 Gallorette on Preakness Day when 76-1; could be a banner day for F. Boyce as she has a number of "live" mounts     
#4 – Northern Smile (6-1): Will need to bring "A Game" as she takes a big step up in class; seeks redemption for poor showing in this event last year (8th by 8¾); view that first race after layoff has a prep for today  
#2 – Candida H. (9-2): Took a short vacation to recharge batteries; worst defeat was by 3 lengths (12:4-5-2); "steadied" in only previous turf effort was a sprint but still managed Show spot; bred to go long and handle grass; gate to wire threat       
Race 6 is the White Oak Farm Stakes ON THE TURF
#9 – Made Bail (6-1): A non-descript fifth in the PA Governor's Cup @ Pen, but the likes of Take Cover, Spring to the Sky and Ben's Cat are not in here    
#5 – Exaggerated (7-5): Has quite the resume' (8:5-0-2) and proved she's special finishing just 2¼ behind Lady Shipman on Preakness Day but will take on the boys for the first time in her career
#8 – Hooligan (10-1): Wesley Ward 0 for 5 at meet and this filly disappointed backers (3-1) last Fall when losing to #5 and #3 in Oakley; most recent effort @ Pim might have been a sign she likes this turf course (2:1-1-0)
Race 7 is the Find Stakes ON THE TURF
#1 – Phlash Phelps (1-2): Horizontal wager Free Space #2 on the card; won this event last year and has blossomed into a local turf monster; there are no signs to suggest he'll begin to regress    
#2 – Eyeplayeveryday (6-1): Lone hope in here IMHO to upset top pick as he ran out of real estate coming up a half-length short to "Phlash" in last years Find, but that effort was a career best   
#5 – Cruise More (12-1): Capuano has rejuvenated this 8 y.o. who loves to race in the Free State (aka MD); part of the Exacta in 5 of 7 on Pim grass; goes for natural Hat Trick   
Race 8 is the Nellie Mae Cox Stakes ON THE TURF
#13 – Queen Caroline (4-1): After rough start of career on dirt she has stamped herself as a "turf horse" (3:1-2-0) graduating in most recent effort by duplicating her career best turf BRIS# (85) which gets it done v. this assembled group       
#8 – For Finery (8-1): After getting second career win in first start of '16, encountered traffic in turf sprint; stretches back out while needing to be better v. some same foes who have gotten the best of her in the past
#2 – Magician's Vanity (10-1): That 1 for 22 record sticks out like a sore thumb but just glance at the Chart Caller comments… this gal hasn't had a clean or ground saving trip in her last 7 starts; having V. Carrasco as the pilot for first time can change that  
Race 9 is the Moth Ball Sprint ON THE TURF
#8 – Boss Magician (2-1): Lone start came nearly 2 years ago (Aug. 18, '14) @ Sar on turf (7th by 7½); gets easy spot for return as this race is restricted to VA-breds
#3 – R. A. Superstar (20-1): Swinging for the fences here as lone start came 725 days ago (Jun. 30, '14) @ Del on dirt; w/ Dynaformer (grandsire) and Royal Academy (dam sire) in bloodlines, turf is his future; just one work to prep for this but was a good one (:48 flat Bg 2/31 @ Del)         
#6 – Church Monkey (6-1): Gelding makes third start in a span of 23 days, first on grass off H. McMahon claim out of $10k MCL; looks for immediate dividends as J. Toledo will try to wire these foes who lack early speed   
YESTERDAY'S NEWS
On Friday June 24th at Pimlico had 5 winners from the 8 race card (2 Top Selections; payoff in BOLD) having $2 WIN pay-off of $7.80 (1st race), $6.20 (2nd), $5.00 (4th), $6.20 (5th) and $3.80 (7th). Note: Year-to-date Top Selections are 181 for 675 (26.81%).
BEST BET of the Day (74: 24-13-11) Risky Guy (5th race: 3-1 M/L; 2-1 PT) two wide around the turn and in the stretch, chased the pace, bumped with TOWN OF TOWNS inside the eighth pole then gave way to be third and returned $2.40 to SHOW.
LONGSHOT PLAY of the Day (70: 7-8-11) Stilburnin (2nd race: 5-1 M/L; 2-1 PT) two wide behind horses on the turn, swung to the four path turning for home, brushed with L G CRASH approaching the eighth pole, closed between horses and narrowly prevailed by a neck to return $6.20 to WIN, $3.20 to PLACE and $2.20 to SHOW.    

NAME A RACE
Ever wanted a race named in your honor?  Want to recognize a friend's birthday, anniversary or achievement?  But you can't make it out to the track?
Now you can have that race named just the way you want it — FREE — right here at The Racing Biz!
Simply fill out the form below, and we'll let the world know.  Your race will be named here, as part of The GQ Approach handicapping selections!
Why handicap race number one, when you can handicap "Race 1 – The Bob's Big Day Special"?!?
Note: This offer is NOT done in conjunction with the Maryland Jockey Club and does NOT provide you any benefits or recognition at Laurel Park, Pimlico Race Course, or any other facility owned or operated by the MJC. It applies only to this website.