The GQ Approach – Pimlico June 24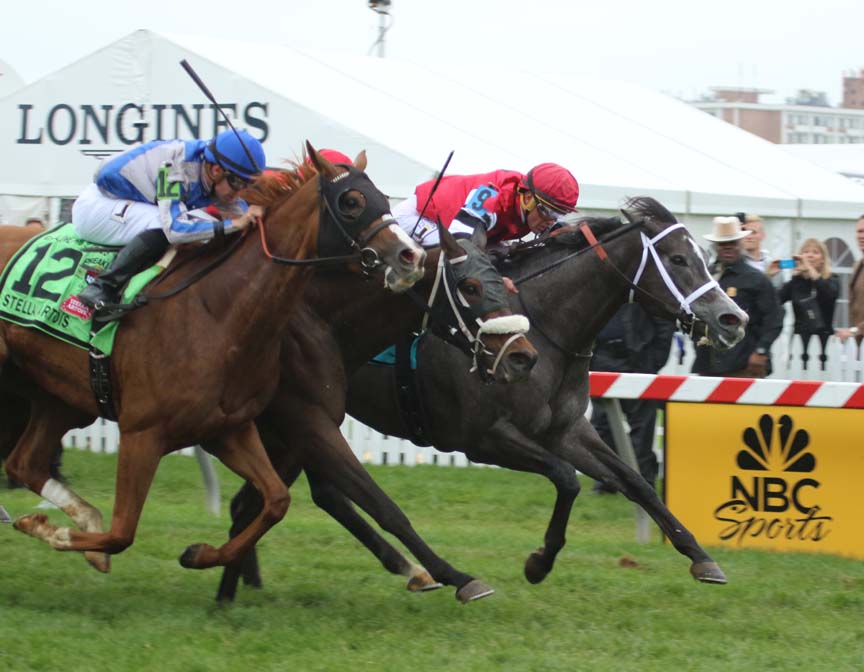 Mizz Money (#9) held off Vielsalm (in between) and Heath (#12) to win the Grade 3 Gallorette. Photo by Laurie Asseo.
The GQ Approach features full-card selections from Pimlico (28-day meet w/ live racing Thursday-Sunday through June 26th; Post Time 1:10pm EDT), including a daily Best Bet, Longshot Play, and multi-race wagers — including the 20 cent Rainbow Pick-6 ($4,705 carryover), 50 cent Jackpot Pick-5, as well as Pick-4s and rolling Doubles, Pick-3s and the Super High-5.
BEST BET OF THE DAY
Race 5 / #6 – Risky Guy (3-1)
LONGSHOT PLAY OF THE DAY
Race 2 / #4– Stilburnin (5-1)
[su_heading size="21″ align="left"]Multi-race wagers[/su_heading]
Race 1: $2 Double  5  w/ 3, 4, 7 ($6)
Race 3: $0.50 Pick-3  1, 4, 6  w/ 1, 2, 5 w/ 5, 6, 7  ($13.50)
Race 5: $0.50 Pick-4 6  w/ 4, 5, 10 w/ 2, 3, 6 w/ 1, 2, 3 ($13.50)
Race 7: $2 Double  2, 3, 6 w/ 1, 2, 3 ($18)
[su_heading size="21″ align="left"]Analysis[/su_heading]
* Pimlico has three (3) races (3rd, 6th and 8th) scheduled to be run on the TURF. Forecast for northwest Baltimore is for Mostly Cloudy skies with high temps in the low-80s and 30% chance of precipitation. The below selections are based on the races being run ON THE TURF while the main dirt track listed as FAST.
Race 1
#5 – Becky Kecki (4-5): 3 y.o. has edge over these foes being only 3x winner after gate to wire score here in last start     
#1 – She's On a Roll (3-1): Finally beat winners in sixth try but needed to drop to bottom of barrel v. N2L after taking a few poundings in higher open claimers                 
#2 – D'catlady (8-1): 2 for 3 lifetime; either bit off more than she could chew v. OC$16k last time or can simply blame stumble at the start as this runner likes to be on the lead early   
Race 2
#4 – Stilburnin (5-1): $$$ LONGSHOT $$$ This gray Mizzen Mast gelding switches to dirt after being drubbed on the grass in first two starts; bright side is he faced plenty of next out winners, drops down for J. Cibelli's only entry on the card; like the recent dirt works      
#7 – Fight for Freedom (3-1): Encouraging sign that he has begun to "get it" after addition of blinkers at this level; runner-up effort in last makes him logical choice to graduate        
#3 – Hashtag Win (6-1): Vitali claim took action when adding Lasix in first start (second in career) for barn but disappointed; back at same level w/ E. Prado up will attract bettors again     
Race 3 is ON THE TURF
#1 – Sky Above (4-1): This game but delicate 7 y.o. w/ just 15 career starts can fire in first start after a 9 month layoff; interesting that A. Cintron bails on #7 to take mount    
#6 – Swig It (5-1): Makes third start for J. Robb, all at same $7,500 level purchase price; got Show purse in previous two behind same two who aren't in here     
#4 – Pallium Prize (3-1): McCarthy/K. Magee combo winning at 30% clip here; couldn't handle better in first two for barn after $11k claim; drops in hopes of curing 'Second-itis" (32:3-10-1)    
Race 4
#2 – Nicki Flash (7-2): Fits this time-restricted condition perfectly for making '16 debut; won in only start v. similar    
#1 – Little Miss Lupe (9-2): NY-bred recently transferred from 0 for 29 trainer to C. Gonzalez (18%); though "C.G." is surprisingly a woeful 4% first time for barn, expect better on drop       
#5 – Mothernaturespell (9-5): Scratched yesterday from $7,500 Claimer when taken off turf; should find these easier to conquer; was DQ'd from 1st at this level just 3 weeks ago
Race 5
#6 – Risky Guy (3-1): *** BEST BET *** Has some gaudy recent speed figs; 4th behind #7 two back @ Lrl but that was going 7f; cut back to 6f will help turn the tables today     
#7 – Right Squall (2-1): Been facing much better while being runner-up in last two; needs pace help to get up at this distance
#5 – Golden Rings (5-2): Will be interesting if he gets early lead as he's accustomed to when going two turns; second start off D. Houghton claim; never OTB @ Pim (4:2-1-1)           
Race 6 is ON THE TURF
#10 – Ringold (4-1): Spent the past year in on the grass the Sunshine state; seems to come up short for the win a la late running style; thinking Pim turf course will be kind this gray    
#5 – Mount Coronet (5-1): Third start after layoff as first two weren't promising but "4-wide" in latest here when third could setup for better result today    
#4 – Natural Order (5-2): Should be the controlling speed in this field of 10 that lacks any other "got to have the lead early" types; 2 of 3 career wins came at this distance from just 6 starts
Race 7
#3 – Blu Moon Ace (5-2): Future looks bright (3:1-2-0) for this Malibu Moon 3 y.o. gelding; catches a small but talented field; a nice stalking trip gets the job done    
#6 – Miners Quest (5-1): Will have to rely on a pace meltdown which is a real possibility; if that scenario plays out he could finally bust through this N1X condition          
#2 – Afleet Willy (4-1): Beaten favorite in last start way back in Jan.; never OTB at this distance (6:2-2-2); C. Gonzalez/V. Carrasco a lethal combo (23% past year)   
Race 8 is ON THE TURF
#2 – Silent Tale (3-1): A. Cortez has been a good fit on this gelding since switching back to turf sprints; owns best last race BRIS# in this group       
#1 – Willie B Mine (6-1): Tough rail assignment but faced a solid seven in last outing compromised by troubled start when jock him up to lead; Blinkers come off and H. Karamanos back on
#3 – Grey Fox (6-1): Graduated in last start, third of his career, all on turf; runner-up came back last weekend to break maiden very impressively  
YESTERDAY'S NEWS
On Thursday June 23rd at Pimlico had 4 winners from the 8 race card (3 Top Selections; payoff in BOLD) having $2 WIN pay-off of $15.80 (4th race), $3.00 (5th), $10.20 (6th) and $3.80 (8th). Note: Year-to-date Top Selections are Top Selections are 179 for 667 (26.84%).
BEST BET of the Day (73: 24-13-10) La Nina (7th race: 7-2 M/L; 1-1 PT) broke outward hitting her starting gate stall, circled the turn three deep and flattened out and returned $2.10 to SHOW.
LONGSHOT PLAY of the Day (69: 6-8-11) Weekend Oasis (4th race: 12-1 M/L; 6-1 PT) quickly went clear, set the pace off the inside and under a light hold, opened up when set down in upper stretch then held firm through the final furlong to prevail by three-lengths to return $15.80 to WIN, $6.60 to PLACE and $5.80 to SHOW.    

NAME A RACE
Ever wanted a race named in your honor?  Want to recognize a friend's birthday, anniversary or achievement?  But you can't make it out to the track?
Now you can have that race named just the way you want it — FREE — right here at The Racing Biz!
Simply fill out the form below, and we'll let the world know.  Your race will be named here, as part of The GQ Approach handicapping selections!
Why handicap race number one, when you can handicap "Race 1 – The Bob's Big Day Special"?!?
Note: This offer is NOT done in conjunction with the Maryland Jockey Club and does NOT provide you any benefits or recognition at Laurel Park, Pimlico Race Course, or any other facility owned or operated by the MJC. It applies only to this website.