The GQ Approach – Pimlico June 23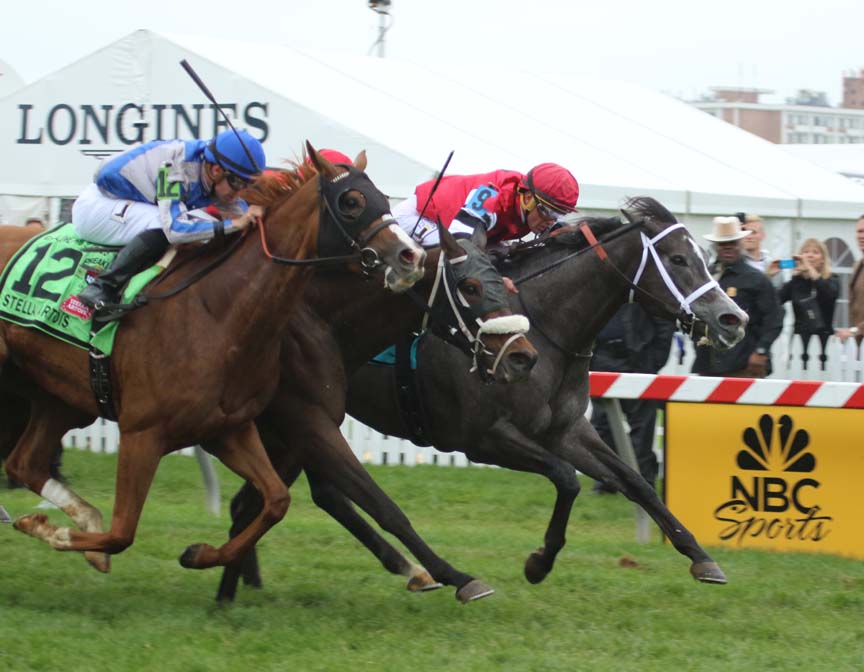 Mizz Money (#9) held off Vielsalm (in between) and Heath (#12) to win the Grade 3 Gallorette. Photo by Laurie Asseo.
The GQ Approach features full-card selections from Pimlico (28-day meet w/ live racing Thursday-Sunday through June 26th; Post Time 1:10pm EDT), including a daily Best Bet, Longshot Play, and multi-race wagers — including the 20 cent Rainbow Pick-6 ($3,367 carryover), 50 cent Jackpot Pick-5, as well as Pick-4s and rolling Doubles, Pick-3s and the Super High-5.
BEST BET OF THE DAY
Race 7 / #9 – La Nina (7-2)
LONGSHOT PLAY OF THE DAY
Race 4 / #4 – Weekend Oasis (12-1)
[su_heading size="21″ align="left"]Multi-race wagers[/su_heading]
Race 1: $2 Double  1, 2, 3  w/ 3, 5, 6 ($18)
Race 3: $0.50 Pick-3  4, 8, 9  w/ 1, 4, 9 w/ 7, 8, 10  ($13.50)
Race 5: $0.50 Pick-4  7, 8, 10  w/ 1, 4, 5  w/ 9, 10  w/ 9, 10 ($18)
Race 7: $2 Double  2, 9, 10  w/ 6, 9, 10 ($18)
[su_heading size="21″ align="left"]Analysis[/su_heading]
* Pimlico had four (4) races (3rd, 5th, 7th and 8th) scheduled to be run on the TURF. Forecast for northwest Baltimore is for Mostly Cloudy skies with high temps in the mid-80s and 60% chance of precipitation. The below selections are based on the races being taken/run OFF THE TURF while the main dirt track listed as GOOD to FAST.
Race 1
#3 – The Great Ronaldo (2-1): Ran into a Sagamore monster in debut who was just a tick off the track record; J. Salzman, Jr. does well w/ second career race starters (33%)     
#1 – Faze the Nation (10-1): Strangely was sent off 8-5 PT fav. in last w/ blinkers added after so-so debut; ran evenly but pre-race antics may have cost her           
#2 – Earned It (3-1): Nice improvement from debut to second start to be runner-up; should late interest in debut on "good" track so surface condition should not hinder his chances   
Race 2
#3 – I'll Run the Show (5-1): Should get a nice stalking trip and be right there in the final strides if the steep class dropper (#6) doesn't fire      
#6 – Orbit (4-5): If he's fit, he should lay over this field but the huge class drop raises yellow flags, especially after a dismal effort on turf as 7-5 fav.        
#5 – Parseghian (20-1): Field has plenty of speed to set up for a Closer… like this one in spite of his 0 for 13 record at this distance     
Race 3 is OFF THE TURF
#4 – Flyin Lion S (6-1): Is quick from the gate but has yielded lead in deep stretch sprinting on grass at Lrl; gets 1/16th distance break @ Pim which has been kind to early speed when the main oval is "off"      
#9 – Faithinvictoria (7-2): Prx shipper wanted to make initial turf try in third career start while coming off 5+ month layoff; attracts T. McCarthy who has ridden 2 winners for D. Gargan in just 3 mounts     
#8 – Mineralistic (6-1): Has finished second in 5 of 10 career outings; makes MD racing circuit debut; only gets to Winners Circle when she gets early lead    
Race 4
#4 – Weekend Oasis (12-1): $$$ LONGSHOT $$$ Away from the gate like a bat outta hell in debut but got leg weary in final furlong; gets distance break and in 11 lbs. lighter          
#1/1A – Perfect Party Girl / Big Girl Nation (6-1): "PPG" is FTS w/ nice work tab; "BGN" adds blinkers after throwing in towel early when sent off 2-1 in debut       
#9 – Next Street (3-5): Folded going 4½f after being pressed early in last two; won't get a breather in here either; vulnerable M/L favorite
Race 5 is OFF THE TURF
#10 – Euro Indian Girl (5-1): With field depleted by scratches this mare should get an easy, early lead and be able to hold off late charges of classier foes     
#8 – Delightful Erin (10-1): On sheer class and fact F. Lynch is fighting for riding title, if she can overcome "off" track, could give top pick some surprising early company
#7 – Vianney Lane (4-1): Makes first start of '16; will have to do it all on her own late as she'll get no pace help           
Race  6
#1 – Sherini (1-2): Was runner-up when she was supposed to walk over a MSW field @ Del as she was sent off 1-5 coming off 9 month layoff where in debut @ Sar ran behind a couple next out winners
#4 – Yes Its Factual (9-2): Third career start for high profile outfit; should like stretching out to two turns and an off track IF that's Mother Nature's intent    
#5 – Desi Dublin (6-1): After four career starts, all sprints, she's yet to hit the board but running lines have the look of a filly who wants to go a route of ground; gets that opportunity today
Race 7 is OFF THE TURF
 #9 – La Nina (7-2): *** BEST BET *** Fresh off maiden win that saw runner-up come back to win; needs to be quick from the gate and take this field gate to wire    
#10 – Holiday Wishes (12-1): Second start after layoff; stumble coming out of gate compromised her '16 debut; look for J. Pimentel to be more forwardly placed in here          
#2 – Smart N Smokin (5-1): usually will scratch when off the turf, but gives main track a try; sheds blinkers and that recent bullet may indicate it's a good move   
Race 8 is OFF THE TURF
#10 – Winter (6-1): Third race after layoff and should benefit from coming off 9f and 10f events while others in here will be stretching out for first time       
#6 – Capucine (15-1): Tall task to stretch out from 5½f to two turns but gets Lasix for first time in fourth career start; T. McCarthy seeking riding title jumps back on
#9 – Truly Striking (15-1): Shows early speed but has lacked stamina when routing; long odds while second start w/ blinkers often result in big payoffs
YESTERDAY'S NEWS
On Sunday June 19th at Pimlico had 4 winners from the 8 race card (3 Top Selections; payoff in BOLD) having $2 WIN pay-off of $3.00 (1st race), $7.40 (2nd), $3.20 (5th) and $5.80 (6th). Of suggested Multi-race wagers hit the $2 Double in R1-R2 for $12.80 (cost: $8). Note: Year-to-date Top Selections are 176 for 659 (26.70%).
BEST BET of the Day (72: 24-13-9) Crystal Pier (7th race: 3-1 M/L; 9-5 PT) saved ground leaving the half mile marker, angled out mid turn, raced four to five wide in upper stretch and offered up a mild response returned $2.20 to SHOW.
LONGSHOT PLAY of the Day (68: 5-8-11) Surfspun (3rd race: 8-1 M/L; 7-1 PT) briefly a four wide factor down the backstretch, was all done on the turn and finished 8th.   

NAME A RACE
Ever wanted a race named in your honor?  Want to recognize a friend's birthday, anniversary or achievement?  But you can't make it out to the track?
Now you can have that race named just the way you want it — FREE — right here at The Racing Biz!
Simply fill out the form below, and we'll let the world know.  Your race will be named here, as part of The GQ Approach handicapping selections!
Why handicap race number one, when you can handicap "Race 1 – The Bob's Big Day Special"?!?
Note: This offer is NOT done in conjunction with the Maryland Jockey Club and does NOT provide you any benefits or recognition at Laurel Park, Pimlico Race Course, or any other facility owned or operated by the MJC. It applies only to this website.