The GQ Approach – Pimlico June 18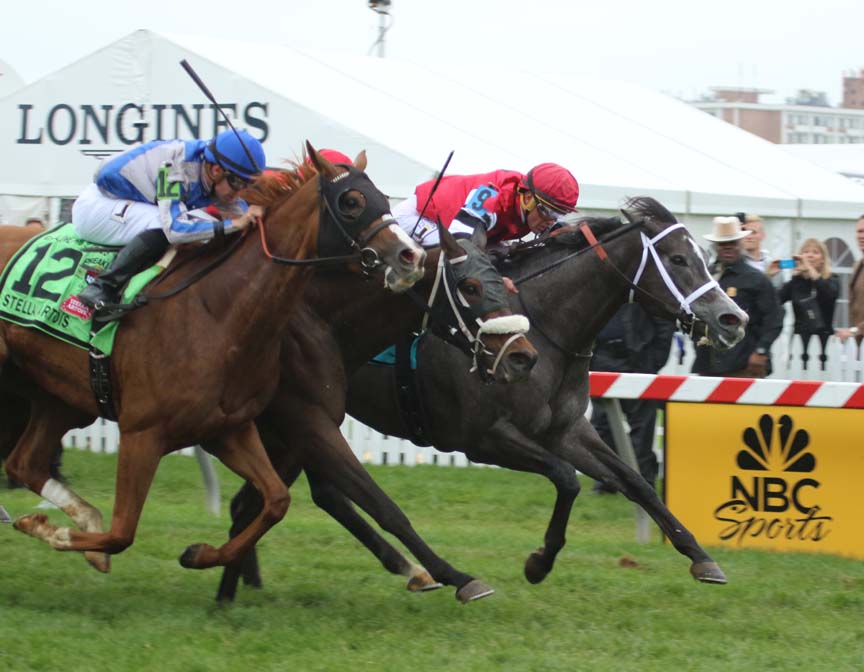 Mizz Money (#9) held off Vielsalm (in between) and Heath (#12) to win the Grade 3 Gallorette. Photo by Laurie Asseo.
The GQ Approach features full-card selections from Pimlico (28-day meet w/ live racing Thursday-Sunday through June 26th; Post Time 1:10pm EDT), including a daily Best Bet, Longshot Play, and multi-race wagers — including the 20 cent Rainbow Pick-6 (1,583 carryover), 50 cent Jackpot Pick-5, as well as Pick-4s and rolling Doubles, Pick-3s and the Super High-5.
BEST BET OF THE DAY
Race 7 / #1 – Sweet Fortune (5-1)
LONGSHOT PLAY OF THE DAY
Race 6 / #13 – Whippo (12-1)
[su_heading size="21″ align="left"]Multi-race wagers[/su_heading]
Race 1: $5 Double  3  w/ 2, 6  ($10)
Race 3: $0.50 Pick-3  1, 2, 5  w/ 1, 10, 11 w/ 1, 4, 7  ($13.50)
Race 6: $0.50 Pick-4 5, 7, 12, 13  w/ 1, 3 w/ 4, 6, 9 w/ 5, 6 ($24)
Race 8: $2 Double  4, 6, 9 w/ 5, 6, 8 ($18)
[su_heading size="21″ align="left"]Analysis[/su_heading]
* Pimlico has five (5) races (2nd, 4th, 6th, 8th and 9th) scheduled to be run on the TURF. Forecast for northwest Baltimore is for Mostly Sunny skies with high temps in the low-80s and ZERO chance of precipitation. The below selections are based on the races being run ON THE TURF while the main dirt track listed as FAST. 
Race 1
#3 – Voluntario (2-5): Morning Line reflects how much of a standout this colt is in this field; runner-up in Sir Barton stakes to highly regarded American Freedom     
#1 – I Came to Party (6-1): Earned Show purse in Tesio just 3¼ lengths behind Governor Malibu (4th in Belmont Stakes) but off form since adding blinkers and trying grass                 
#6 – Jump Jive an Wail (12-1): Toss his two off track races and you have a game MD-bred colt who continues to get better   
Race 2 is ON THE TURF
#2 – Carrauntoohil (3-1): Been knocking on the door since arriving in J. Secor barn and switching to turf; appropriate drop gets diploma today    
#6 – Moonshine Mistress (12-1): Stretches back out to two turns for third race after layoff; encountered traffic in both distance turf tries last year while showing some late interest        
#5 – Proud Maid Marian (7-5): Vulnerable favorite in that she'll face early pressure from #1 & #3; can't see her staying on to get the 9f     
Race 3
#2 – Eve (4-5): A tempting single as she goes for natural Hat Trick since D. Capuano claim but needs pace help    
#5 – Goldiebuxx (7-2): Could go gate-to-wire as this field lacks runners with early presence; the fact she's just 1 for 22 on fast track and K. Francois is in the irons (1 for 43 at meet) curbs any "All In" enthusiasm     
#1 – Dumpster Diva (8-1): Seems her lightbulb went on once W. Llagas got in the irons… stranger things have happened! Catches a weak field while trying to go 2 for 2 @ Pim    
Race 4 is ON THE TURF
#1 – Capital Fellow (8-1): Has earned career best turf BRIS# of this group; gets needed class relief and Pim turf course that has been kind to early speed of late          
#11 – Ouotofthedepths (6-1): This old guy hasn't lost a step and seems to love running on his home turf (6: 3-1-0); should be closer to early pace w/ switch to A. Cintron       
#10 – Intrepid Citizen (9-2): Game third at this level in first start for a tag in quite a while; third race after a layoff
Race 5
#7 – Pagan Power (3-1): Beaten even money favorite two classes higher in last outing; follows the Stronach Stable pattern of dropping to bottom level in hopes of cutting losses     
#4 – Hushhushmushmush (9-5): NY-bred came south for a turf try (5th by 7) v. better; hits bottom of the barrel but question his will to win (1 for 29)
#1 – Sabbiadoro (8-5): Hard to take this price on one who just broke maiden for $10k; did improve in 3 races at that level but question quality of field he destroyed by 9 lengths in latest           
Race 6 is ON THE TURF
#13 – Whippo (12-1): $$$ LONGSHOT $$$ On AE list but needs just one scratch to get in; fought GP speed bias turf at this level, then failed against better on Mth grass; fits in here    
#5 – Slick William (3-1): Second start w/ blinkers; BRIS#s have been climbing since getting to go two turns on grass; cut back from 1 1/8 miles is a winning strategy    
#12 – Lord Earl Grey (30-1): Broke maiden here 3 years ago for $25k tag sprinting; OTB in six other turf starts since, a few going long but v. better than these; last race/first off bench not bad while sprinting; worth a spot in exotics 
Race 7
#1 – Sweet Fortune (5-1): *** BEST BET *** Lone speed from the rail… a spot this gal doesn't mind at all; need to toss that Pid synthetic clunker and believe J. Pimentel back aboard he cashes in here  
#3 – Lake Sebago (8-1): Game 4 y.o. filly who has been part of Exacta 4 of 5 tries at this distance; might be a victim of slow early fractions in trying to get up late for the win  
#7 – Mom'z Laugh (7-2): Came up empty v. top pick and #6 in here last start but blame the off track and rail? M. Vitali runners always dangerous  
Race 8 is ON THE TURF
#4 – Inspiration (6-1): First start in nearly a year; benefits from anticipated early duel between #8 and #10       
#6 – Leafy Shade (3-1): North American debut was filled with trouble when sent off 7-2 v. much better on BES Day; E. Graham is a good turf trainer in spite of 0 for 6 '16 record
#9 – Moon Virginia (12-1): Ham Smith runner has 3 turf starts, all sprints; gets to stretch out w/ second time blinkers and F. Lynch up after "game run" in last (4th; one length back)
Race 9 is ON THE TURF
#5 – Pret Say Eye (4-1): Can get a nice stalking trip in third race after layoff; can turn the tables on #8 from two races back
#6 – Leroys Jewel (2-1): Conner only mount on card as he comes in to ride Pen shipper who is quick from the gate but makes first start since Oct. '15; that final tune-up (34 3/5) @ Pen says she's ready         
#8 – Sunshine Heart (9-2): Never OTB when racing on Pim grass (3:1-1-1); F. Lynch has tough task to nurse her through potential hot, early pace scenario   
YESTERDAY'S NEWS
On Friday June 17th at Pimlico had 4 winners from the 8 race card (2 Top Selections; payoff in BOLD) having $2 WIN pay-off of $11.40 (1st race), $17.20 (3rd), $5.00 (4th) and $3.00 (5th). Of suggested Multi-race wagers hit 50 cent Pick-3 in R3-R5 for $26.35 (cost: $13.50). Note: Year-to-date Top Selections are 173 for 651 (26.57%).
BEST BET of the Day (70: 24-13-8) Skip the Punch (1st race: 3-1 M/L; 4-1 PT) stumbled leaving the starting gate, set the pace along the rail and faltered approaching the eighth pole to finish dead last (8th).
LONGSHOT PLAY of the Day (66: 5-8-11) Anna May Our Queen (7th race: 8-1 M/L; 5-1 PT) was three wide leaving the turn and outrun while finishing 7th.  
NAME A RACE
Ever wanted a race named in your honor?  Want to recognize a friend's birthday, anniversary or achievement?  But you can't make it out to the track?
Now you can have that race named just the way you want it — FREE — right here at The Racing Biz!
Simply fill out the form below, and we'll let the world know.  Your race will be named here, as part of The GQ Approach handicapping selections!
Why handicap race number one, when you can handicap "Race 1 – The Bob's Big Day Special"?!?
Note: This offer is NOT done in conjunction with the Maryland Jockey Club and does NOT provide you any benefits or recognition at Laurel Park, Pimlico Race Course, or any other facility owned or operated by the MJC. It applies only to this website.