The GQ Approach – Pimlico June 17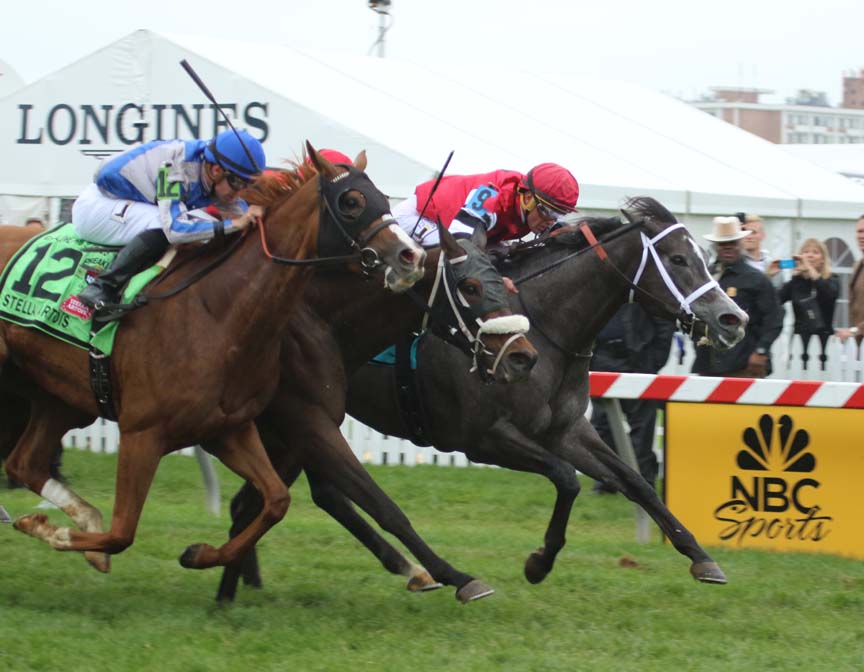 Mizz Money (#9) held off Vielsalm (in between) and Heath (#12) to win the Grade 3 Gallorette. Photo by Laurie Asseo.
The GQ Approach features full-card selections from Pimlico (28-day meet w/ live racing Thursday-Sunday through June 26th; Post Time 1:10pm EDT), including a daily Best Bet, Longshot Play, and multi-race wagers — including the 20 cent Rainbow Pick-6 ($648 carryover), 50 cent Jackpot Pick-5($4,721 carryover), as well as Pick-4s and rolling Doubles, Pick-3s and the Super High-5.
BEST BET OF THE DAY
Race 1 / #5 – Skip the Punch (3-1)
LONGSHOT PLAY OF THE DAY
Race 7 / #5 – Anna May Our Queen (8-1)
[su_heading size="21″ align="left"]Multi-race wagers[/su_heading]
Race 1: $2 Double  5 w/ 1, 3, 6  ($6)
Race 3: $0.50 Pick-3  4, 5, 8  w/ 1, 4, 6 w/ 12  ($9)
Race 5: $0.50 Pick-4 12  w/ 1, 4, 5, 8, 9 w/ 2, 3, 5 w/ 6, 7, 10 ($22.50)
Race 7: $2 Double  2, 3, 5 w/ 6, 7, 10 ($18)
[su_heading size="21″ align="left"]Analysis[/su_heading]
* Pimlico has three (3) races (2nd, 4th and 7th) scheduled to be run on the TURF. Forecast for northwest Baltimore is for Mostly Cloudy skies with high temps in the mid-70s and 20% chance of precipitation throughout the day. The below selections are based on the races being run ON THE TURF while the main dirt track listed as GOOD early due to overnight rain then upgraded to FAST by mid-card. 
Race 1
#5 – Skip the Punch (3-1): *** BEST BET *** Probable pace-setter gets needed break in distance and G. Almodovar in irons for only mount on the card for K. Magee… combo wins at 32%     
#2 – My Team (3-1): Game runner-up effort behind prohibitive favorite when dropped down to this level in first start for new barn
#1 – Late Caller (6-1): Trouble getting to Winners Circle (2 for 24) but has been part of Tri 13 of 24 starts; W. Potts calls on K. Davis to ride only class dropped in this field   
Race 2 is ON THE TURF
#6 – Town Hero (2-1): Just missed by a head to heavy favorite in latest start; if he runs back to that, it's Graduation Day      
#3 – Spoiled by God (6-1): Third race after layoff; should show marked improvement in second start on the lawn while getting attention at the window      
#1 – Pitch 'n Putt (10-1): Perennial maiden (0 for 24) has flashed ability when facing better in the past; 4th at this level in most recent outing     
Race 3
#5 – Arrogant Officer (9-5): Served time in Claiming Jail to come right back at same level for new barn (J. Ness) who gets 'em to the Winners Circle first race after claim at 32% clip      
#8 – Touchdown (3-1): Has been a different/better runner since Rudy Rod equipped him w/ blinkers; curious drop off a win     
#4 – Dixie Deputy (4-1): Will be looking for oxygen that final 1/16th but game enough to be part of Tri if not Exacta as he's been in 13 of 19 starts going 6f   
Race 4 is ON THE TURF
#4 – Zipping By (5-2): Has disappointed WIN bettors in both turf tries at low odds; excuse in latest may have cost the "W"; gauge chances on how #6 – Town Hero in race 2 today does, as this one was a length behind him          
#6 – Atticus Finch (2-1): Hard to trust on top as he's been runner-up in 5 of 10 starts, one was via DQ from 1st; K. Demasi only entry on card and adds blinkers       
#1 – Smart Dixie Jones (7-2): Needs to be quick from the gate with rail assignment; gate-to-wire score is the only way
Race 5
#12 – Because He Can (7-5): Against this Capper's religion to make a 7-5 a BEST BET; toyed w/ similar in last outing on huge drop; a head scratcher as to why he's back in for a bargain price of $5k?     
#3 – Last Confession (15-1): Taking a shot on drop after being outrun following antics in prerace where he was not focused; A. Aguirre having nice meet w/ limited starters
#1A – Flavor (12-1): Needed a few scratches to draw in from #15 post and got them as KTL got entrymate scratched to get this one in; deep Closer gets extra 1/16th to help catch fading speed      
Race 6
#9 – Tizsomethingroyal (5-2): She's been a bridemaid in 3 of 4 career starts; it's only a matter of time before this $420k Apr. '15 purchase develops into the racehorse connections thought she could be    
#1 – Bawlmer Hon (7-2): Has raced behind top pick locally twice, by just a neck in latest when second time blinkers; breaking from rail is a disadvantage though    
#5 – Gloria Patri (6-1): Barn must have been very high on this Not For Love as she was sent off 1-2 in debut 19 days ago, but ran a troubled third; got an education and adds blinkers for second start
Race 7 is ON THE TURF
#5 – Anna May Our Queen (8-1): $$$ LONGSHOT $$$ Nothing but an Also-Ran in two starts since layoff, both sprinting on turf but while facing better; has back class on grass to think third race after layoff and class relief will be a confidence builder    
#3 – Another Badge (8-1): Only have one previous turf try for this Badge of Silver filly where she flashed early speed then tired against better company and a few next out winners          
#2 – More Stormyweather (7-2): This "Closing Sprinter" gets a field filled with early speed and "Special K" back in the irons, who last rode this one five back to her last victory   
Race 8
#6 – R Lucifer (5-1): Banking on the turf and slop was not to her liking and can revert back to that runner-up effort sprinting on dirt; jock stay aboard after that woeful turf start in latest       
#10 – Wind Damage (7-5): Big class drop from $40k MCL at Bel when eased on an off track; gelded since then; a case of you could be damned if you single him or damaged if you toss him based on red flags
#7 – Church Monkey (6-1): Showed speed in both career starts at this level; looking for just the slightest of improvement here to get diploma  
YESTERDAY'S NEWS
On Thursday June 16th at Pimlico had just 3 winners from the 8 race card (1 Top Selection; payoff in BOLD) having $2 WIN pay-off of $19.20 (2nd race), $13.20 (3rd) and $13.80 (6th). Note: Year-to-date Top Selections are 171 for 643 (26.59%).
BEST BET of the Day (69: 24-13-8) Colton's Grand (6th race: 4-1 M/L; 9-2 PT) between runners into the backstretch disputing the pace, rated off the winner and stalked three wide into the far turn, came under a ride after six furlongs, pursued four wide in mid-stretch, steadied when herded inward by MY JERSEY BOY leaving the sixteenth pole finishing fourth but was elevated to the Show spot via disqualification of MY JERSEY BOY and returned $3.00 to SHOW.
LONGSHOT PLAY of the Day (65: 5-8-11) Rock Hard Doll (7th race: 10-1 M/L; 7-1 PT) was steadied entering the first turn, was not factor after that and finished 6th.  


NAME A RACE
Ever wanted a race named in your honor?  Want to recognize a friend's birthday, anniversary or achievement?  But you can't make it out to the track?
Now you can have that race named just the way you want it — FREE — right here at The Racing Biz!
Simply fill out the form below, and we'll let the world know.  Your race will be named here, as part of The GQ Approach handicapping selections!
Why handicap race number one, when you can handicap "Race 1 – The Bob's Big Day Special"?!?
Note: This offer is NOT done in conjunction with the Maryland Jockey Club and does NOT provide you any benefits or recognition at Laurel Park, Pimlico Race Course, or any other facility owned or operated by the MJC. It applies only to this website.