The GQ Approach – Pimlico June 16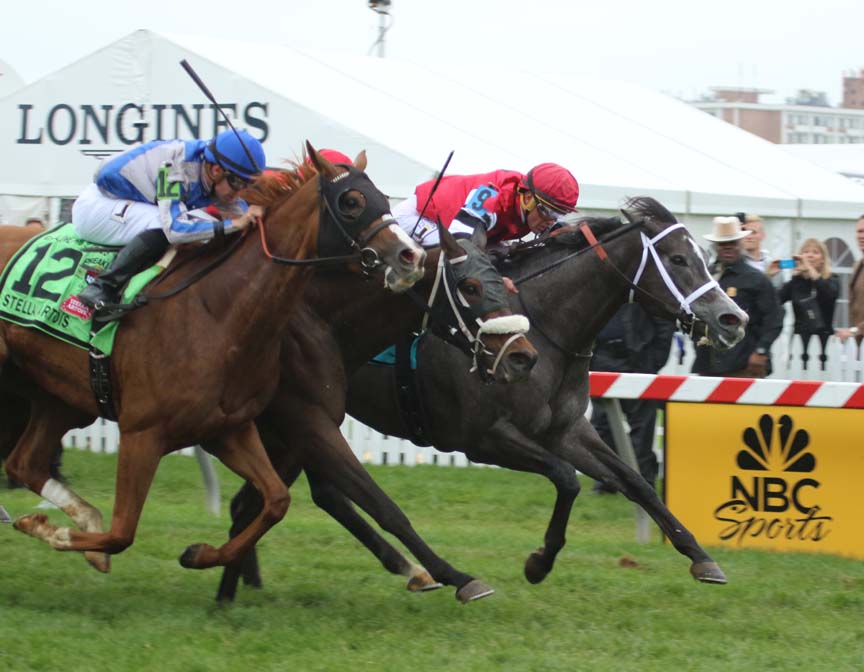 Mizz Money (#9) held off Vielsalm (in between) and Heath (#12) to win the Grade 3 Gallorette. Photo by Laurie Asseo.
The GQ Approach features full-card selections from Pimlico (28-day meet w/ live racing Thursday-Sunday through June 26th; Post Time 1:10pm EDT) including a daily Best Bet, Longshot Play, and multi-race wagers — including the 20 cent Rainbow Pick-6, 50 cent Jackpot Pick-5 as well as Pick-4s and rolling Doubles, Pick-3s and the Super High-5.
BEST BET OF THE DAY
Race 6 / #8 – Colton's Grand (4-1)
LONGSHOT PLAY OF THE DAY
Race 7 / #5 – Rock Hard Doll (10-1)
[su_heading size="21″ align="left"]Multi-race wagers[/su_heading]
Race 1: $2 Double  2, 4  w/ 1, 2, 7  ($12)
Race 3: $0.50 Pick-3  2, 3, 4  w/ 1, 4, 7 w/ 4, 7, 8  ($13.50)
Race 5: $0.50 Pick-4  4, 7  w/ 8, 9 w/ 5, 9, 10 w/ 2, 4, 6 ($18)
Race 7: $2 Double  5, 9, 10 w/ 2, 4, 6 ($18)

[su_heading size="21″ align="left"]Analysis[/su_heading]
* Pimlico has five (5) races (1st, 3rd, 5th, 6th and 8th) scheduled to be run on the TURF. Forecast for northwest Baltimore is for Partly Sunny skies with high temps in the mid-70s and ZERO chance of precipitation. The below selections are based on the races being run ON THE TURF while the main dirt track listed as FAST.
Race 1
#2 – Brassy Ben (9-2): This N2L has been facing better; last one not a true indication of talent; A. Pecoraro has does well w/ limited runners at Pim /Lrl this year     
#4 – Mountain Hero (7-2): Could be lone speed… IF track is FAST and runs back to those low-80s BRIS#s he recorded in both career wins                 
#7 – Midnight Surfer (5-2): Giving this Rudy Rod runner another chance as an off track isn't his preferred surface, much like the #4   
Race 2 is ON THE TURF
#1 – Dance With Gio (6-1): Continues to improve those BRIS#s giving hope this 7 y.o. may be regaining some of his old form in spite of not having a clean trip in last 3; E. Prado in irons    
#7 – Issheit (2-1): Was in way over her head in first race off G. Brooks claim last outing; back to her winning level      
#2 – Jade With Envy (5-2): Never off-the-board (4:1-2-1) at this distance; just missed (a neck) behind #7; needs pace help to turn tables     
Race 3
#3 – To Blave (8-5): Away since from races since Feb. but hasn't skipped a beat in the A.M., possibly to mature    
#4 – Souper True (6-1): Turf wasn't the answer for this E. Plesa, Jr. trainee in from Mth and for $40k tag after 5 off the board races to start career v. MSW     
#2 – Tough Teddy (3-1): Was tough when clearly second best in most recent effort sprinting and first time in for tag    
Race 4 is ON THE TURF
#7 – Secret Garden (4-1): Has run behind a few others in here in the past but that was on dirt; past turf efforts were v. better; trust J. Corrales decision on surface switch          
#4 – Star Black (10-1): Less than a year ago, this 6 y.o. mare was winning at this level; banking on fact she needed that last one which was first outing of'16       
#1 – Mizz Martha (9-2): Hard to endorse a 0 for 21 trainer and 0 for 13 jock but last year this combo got this one to Winners Circle multiple times; rail another hurdle to overcome
Race 5 is ON THE TURF
#7 – Alma Llanera (6-1): Been wanting to make local bow for the past month but has been scratched 3x due to being on AE and washed off turf; adds blinkers and gets hot jock (V. Carrasco)     
#4 – Bring It On Home (10-1): Has faced a bunch of tough fillies in both career outings while showing early speed only to fade; best combo of early and late pace numbers in this group could mean it's graduation day
#8 – Tizasong (3-1): Heavily backed at the windows in both career starts but only could manage Show spot; G. Motion runner will eventually figure it out; third time is a charm?           
Race 6
#8 – Colton's Grand (4-1): *** BEST BET *** Taking a leap of faith by tossing last two in w/ AlwN1X on turf and mud to boot; the other early speed in here (#1) won't match his strides early and the #7 sheds blinkers; foresee a gate-to-wire score  
#9 – Seventy Niner (6-1): Seems stuck at this condition while showing some promise of breaking though for a "W"; 5-wide trip in last may have been costly    
#5 – King Dix C (5-2): Solely on class drop and fact C. Gonzalez takes over for an 0 for 27 conditioner, but C.G. is only 1 for 23 when he sends out runners first time for barn; vulnerable fav.
Race 7 is ON THE TURF
#5 – Rock Hard Doll (10-1): $$$ LONGSHOT $$$ Makes first turf start after nearly a one year layoff; 4 y.o. daughter of Rock Hard Ten out of a Theatrical mare, what's not to like about her turf chances? M. Pino (4:2-1-0 at meet) only entry on the card; if she's "live" be happy with 3-1  
#10 – Hanover Honey (3-1): Deserving M/L fav. has best last out turf BRIS# of this bunch and top Prime Power#        
#9 – Super Sharp (6-1): Eleven time starter has wanted to try turf twice before for M. Eppler, only to be washed off; second time blinkers after recording career best fig first time going two-turns  
Race 8 is ON THE TURF
#6 – Bronze Bull (10-1): Watched replay of last; was "Checked" not only at 3/8 pole but also stopped along rail just beyond 1/8 pole, yet regrouped and finished willingly; better luck and 83 BRIS# like two back gets him the diploma   
#4 – Daniel Le Deux (10-1): One look at the comments of past races tells a story of willingness but finds trouble or goes too wide; top two efforts have come going tow turns on grass
#2 – So Quiet (12-1): Jenkins (42% at meet) is 21% w/ runners first start on grass; gelded since last start which was 10 months ago while showing nothing going 5f on dirt  
YESTERDAY'S NEWS
On Sunday June 12th at Pimlico had 5 winners from the 8 race card (4 Top Selections; payoff in BOLD) having $2 WIN pay-off of $8.40 (2nd race), $3.20 (4th), $7.20 (5th), $10.80 (6th), $10.40 (7th) and $13.40 (8th). Of suggested Multi-race wagers hit 50 cent Pick-4 in R5-R8 for $271.40 (cost: $18) and $2 Double in R7-R8 for $74.20 (cost: $12). Note: Year-to-date Top Selections are 170 for 635 (26.77%).
BEST BET of the Day (68: 24-13-7) Bridge of Luck (4th race: 5-2 M/L; 3-1 PT)… saved ground on the turns, waited for room leaving the far turn, altered out in upper stretch, lacked room near the three sixteenths pole, was taken back to the inner rail in mid-stretch, closed gamely but came up a nose short and returned $4.00 to PLACE and $2.60 to SHOW.
LONGSHOT PLAY of the Day (64: 5-8-11) Avellaneous (5th race: 11-1 M/L; 13-1 PT) circled the turn five deep and was not a factor while finishing 8th.

NAME A RACE
Ever wanted a race named in your honor?  Want to recognize a friend's birthday, anniversary or achievement?  But you can't make it out to the track?
Now you can have that race named just the way you want it — FREE — right here at The Racing Biz!
Simply fill out the form below, and we'll let the world know.  Your race will be named here, as part of The GQ Approach handicapping selections!
Why handicap race number one, when you can handicap "Race 1 – The Bob's Big Day Special"?!?
Note: This offer is NOT done in conjunction with the Maryland Jockey Club and does NOT provide you any benefits or recognition at Laurel Park, Pimlico Race Course, or any other facility owned or operated by the MJC. It applies only to this website.