The GQ Approach – Pimlico June 12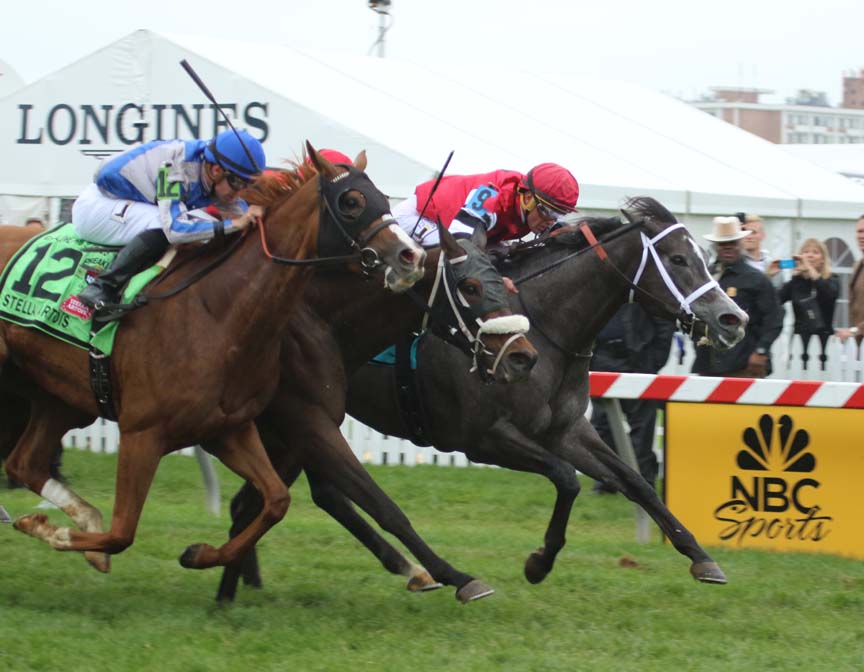 Mizz Money (#9) held off Vielsalm (in between) and Heath (#12) to win the Grade 3 Gallorette. Photo by Laurie Asseo.
The GQ Approach features full-card selections from Pimlico (28-day meet w/ live racing Thursday-Sunday through June 26th; Post Time 1:10pm EDT) including a daily Best Bet, Longshot Play, and multi-race wagers — including the 20 cent Rainbow Pick-6 ($614 carryover), 50 cent Jackpot Pick-5 as well as Pick-4s and rolling Doubles, Pick-3s and the Super High-5 ($11,163 carryover) .
BEST BET OF THE DAY
Race 3 / #2 – Bridge of Luck (3-1)
LONGSHOT PLAY OF THE DAY
Race 5 / #11– Avellaneous (12-1)
[su_heading size="21″ align="left"]Multi-race wagers[/su_heading]
Race 1: $2 Double  3, 6, 7  w/ 1, 5, 7 ($18)
Race 3: $0.50 Pick-3  2  w/ 2, 8 w/ 4, 10, 11  ($3)
Race 5: $0.50 Pick-4  4, 10, 11  w/ 6, 10  w/ 2, 3, 6  w/ 6, 8 ($18)
Race 7: $2 Double  2, 3, 6 w/ 6, 8 ($12)
[su_heading size="21″ align="left"]Analysis[/su_heading]
* Pimlico has five (5) races (1st, 3rd, 5th, 6th and 8th) scheduled to be run on the TURF. Forecast for northwest Baltimore is for Partly Sunny skies with high temps in the mid-70s and ZERO chance of precipitation. The below selections are based on the races being run ON THE TURF while the main dirt track listed as FAST.
Race 1 is ON THE TURF
#3 – Dr. K'eogh (5-1): Still a maiden based on flat races as he won a steeplechase non-winners event in last outing; sheds blinkers     
#6 – Pro Daddy (3-1): Runner-up in unlucky #13 start here 2 weeks ago at same level; has been part of the Trifecta in all 3 turf starts
#7 – High Above Georgia (7-2): Makes tenth career start managing no better than Show purse while plodding along in two turn turf races; extra distance can only help   
Race 2
#5 – Convoyarie (3-1): Huge class drop to this bottom level in last outing indicated barn gave up on she, yet she still couldn't deliver; shortening up to 5½f could help v. this weak group      
#1 – Mrs. Brenner (9-5): Has shown steady improvement since C. Juarez claim four races back but rail isn't the ideal spot
#7 – Little Kitten (5-2): Took another shot at turf v. $16kN2L off a short layoff w/ same so-so results in the past; switches back to dirt and drops to where she was bridesmaid in last two
Race 3 is ON THE TURF
#2 – Bridge of Luck (3-1): *** BEST BET *** Fresh off maiden win and what appears to be a prudent claim for D. Capuano as this former $100k Kee yearling purchase simply took time to realize his potential; can continue to move forward against these      
#8 – Wolftrap (7-2): This Capper has tossed many tickets while backing this 1 for 23 gelding who seems to find trouble regardless of who's in the irons; can't bail on him now     
#3 – Mr. Magician (5-1): Should benefit from that 9f turf try as he cuts back is distance in first start after K. Magee claim (28%)    
Race 4
#2 – Empower (9-5): Seems like connections are willing to "cut bait" and move on, dropping below tag level claim at two back; switches back to dirt where he's had most of his success (12: 3-2-1)      
#8 – Strike 'n Spare (3-1): Just out of jail off W. Potts claim when runner-up v. open $5k; trainer/jock (D. Amiss) quietly have been a potent combo (32%)
#3 – Puget Sound (7-2): Uncoupled stablemate of the #2 steps up in first race off Magee claim on Jan. 29th; had been idle (not even a work) until late Apr.; cautiously optimistic
Race 5 is ON THE TURF
#11 – Avellaneous (12-1): $$$ LONGSHOT $$$ Is on a streak of bad racing luck over past three efforts being Steadied, Shuffled and Wide on turn, yet just missed by a neck in latest when 7-1; M/L seems a bit generous     
#4 – Get Air Lex (7-2): A rare Eddie Plesa, Jr. starter in MD, comes down from Mth after wasting her winter @ GP starting just once and disappointed backers
#10 – On a Star (5-2): Prx shipper has been on the shelf since Nov. but current work pattern indicates she could be ready though being offered for just $16k raises the caution flag           
Race 6 is ON THE TURF
#10 – Not Today (7-2): Who named this gelding?! Doesn't give one a warm and fuzzy feeling about his chances especially when he makes just his 13th career start… at age 9 and gives sprinting a shot for first time, but those works are nothing to sneeze about    
#6 – Thirteenth Avenue (9-2): Claimed for $11k in last race when beaten fav. going long on turf; new barn logically returns her to sprints where she been most successful (9:2-1-4) compared to her career record 22:2-5-5    
#5 – Conscience (2-1): If I didn't have one this gelding would not be on my ticket, but can't ignore a Glen Hill Farm (T. Proctor) turf runner, especially a class drop who won here last year sprinting on turf in N1X
Race 7
#3 – Bullets Fever (5-1): Undefeated (5 wins) WV-bred exits the bull rings to take on tougher foes but catches a break as he should face minimal early pressure; gate-to-wire trip runs streak to 6    
#6 – Cho Time (6-1): Strangely in his 35th career start refused to break @ Del off a short layoff; showed fondness for Pim dirt last year (2:1-1-0)      
#2 – Team Tim (6-1): This game Sharp Humor gelding makes 4 y.o. debut after well-deserved four month rest; works indicate he'll be ready today  
Race 8 is ON THE TURF
#6 – Hush Hush Henny (5-1): Hole's only mount on the card; in only two turf outings, in spite of wanting turf three other times, he displayed running style and willingness to go further       
#8 – Captainly (9-2): Made debut on Mth lawn two weeks ago for $20k tag, went off 7-2 and ran like a 35-1; not many Kitten's Joy runner are busts, giving this one a second chance
#5 – Colmont Moon (10-1): FTS by Bullsbay out of a Malibu Moon mare should take to turf, R. Graham gets 25% of Debut Mdn Claimers to Winners Circle, like the 5f works but winning career debut going 9f is a stretch, but others in here have already proven lack of ability or heart to win.  
 YESTERDAY'S NEWS
On Saturday June 11th at Pimlico had 5 winners from the 9 race card (1 Top Selection; payoff in BOLD) having $2 WIN pay-off of $8.00 (1st race), $5.00 (5th), $6.00 (6th), $7.80 (7th) and $9.40 (8th). Note: Year-to-date Top Selections are 167 for 636 (26.25%).
BEST BET of the Day (67: 24-12-7) Maryland Mystique (3rd race: 5-2 M/L; 2-1 PT) dueled on a short lead to the inside of a rival, ceded command into the lane and kept on well to hold the place position and returned $3.20 to PLACE and $2.40 to SHOW.
LONGSHOT PLAY of the Day (63: 5-8-11) American Progress (3rd race: 6-1 M/L) was SCRATCHED.  


NAME A RACE
Ever wanted a race named in your honor?  Want to recognize a friend's birthday, anniversary or achievement?  But you can't make it out to the track?
Now you can have that race named just the way you want it — FREE — right here at The Racing Biz!
Simply fill out the form below, and we'll let the world know.  Your race will be named here, as part of The GQ Approach handicapping selections!
Why handicap race number one, when you can handicap "Race 1 – The Bob's Big Day Special"?!?
Note: This offer is NOT done in conjunction with the Maryland Jockey Club and does NOT provide you any benefits or recognition at Laurel Park, Pimlico Race Course, or any other facility owned or operated by the MJC. It applies only to this website.