The GQ Approach – Pimlico June 11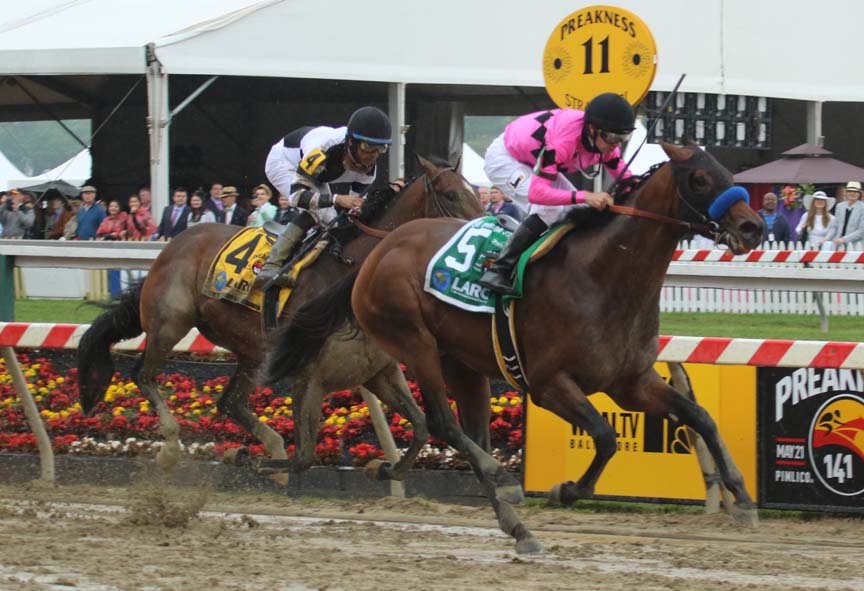 American Freedom took the Sir Barton Stakes at Pimlico Race Course. Photo by Laurie Asseo.
The GQ Approach features full-card selections from Pimlico (28-day meet w/ live racing Thursday-Sunday through June 26th; Post Time 1:10pm EDT) including a daily Best Bet, Longshot Play, and multi-race wagers — including the 20 cent Rainbow Pick-6, 50 cent Jackpot Pick-5 as well as Pick-4s and rolling Doubles, Pick-3s and the Super High-5.
BEST BET OF THE DAY
Race 4 / #4 – Maryland Mystique (5-2)
LONGSHOT PLAY OF THE DAY
Race 3 / #4 – American Progress (6-1)
[su_heading size="21″ align="left"]Multi-race wagers[/su_heading]
Race 1: $2 Double  1, 4  w/ 1, 2, 7  ($12)
Race 3: $0.50 Pick-3  1, 4  w/ 2, 4, 7 w/ 1, 2, 7, 8  ($12)
Race 6: $0.50 Pick-4 1, 2, 7  w/ 1, 3, 6, 7 w/ 1, 3, 6 w/ 7, 8 ($36)
Race 8: $2 Double  1, 3, 6 w/ 5, 7, 8 ($18)
[su_heading size="21″ align="left"]Analysis[/su_heading]
* Pimlico has five (5) races (2nd, 4th, 6th, 8th and 9th) scheduled to be run on the TURF. Forecast for northwest Baltimore is for Partly Cloudy skies with high temps near 90 and just a slight chance of precipitation. The below selections are based on the races being run ON THE TURF while the main dirt track listed as FAST.
Special Belmont Stakes Day First Race Post Time at Pimlico is 12:45pm EDT
Race 1 is the John Robison "Hagertown/Monmouth" Marathon
#4 – Understanding (3-1): Should get a perfect stalking trip behind a potential speed duel     
#1 – Miss Wilby (8-5): Seeks natural Hat Trick for second time in the past year; faced better in past two but stretches out to two turns for only second time in career (3rd in first)                 
#5 – Pure Lemon (7-2): Makes North American debut after conquering Peruian racing circuit (12: 7-3-1), romping in a G2 in her latest   
Race 2 is ON THE TURF
#1/1A – Jonestown Jonesy/Joe Tess (7-5): A nice 1-2 punch for H. McMahon as "Joe" will be on or near pace and "Jonesy" can pick up the pieces late    
#7 – Karfagen (10-1): Speed of the speed makes turf debut for K. Patterson/G. Almodovar combo (40%) w/ only runner on the card        
#2 – Thorny (10-1): Third race after layoff; got lead in mid-stretch in last but couldn't hold off eventual winner who came back to win yesterday while stepping up     
Race 3
#4 – American Progress (6-1): $$$ LONGSHOT $$$ Beaten favorite in same condition just 16 days ago when caught in a speed duel; should make amends as this field lacks his kind of early speed      
#1 – Gursky (7-5): He seems too good to be stuck in this N1X level; exits two turf races where he had issues at the start; never off the board at distance (4:1-2-1)     
#5 – Retire Fifty Five (9-2): Game gelding runs best on an off track but has been consistent in getting a minor share at this level regardless of the surface    
Race 4 is ON THE TURF
#4 – Maryland Mystique (5-2): *** BEST BET *** Catches a weak Alw7500S IMHO; third start after layoff for Eppler who took a shot w/ her in a loaded BES Day Allowance event; will find the talent level in here much more to her liking          
#7 – Synergist (9-2): Just 3 wins from 55 career outings but silver lining is 2 for 19 on turf; field lacks early speed so Pimentel should try to steal this on front end       
#2 – Mucho Blessings (8-1): N2L seems a bit over her head but she has faced better in all 4 of her previous turf starts (4:1-0-2)
Race 5
#1 – Uno Emayo (5-2): NY-bred shipped in a couple races ago and underperforms regardless of aggressive class drops; hits bottom level seeking elusive second career win; runner-up in $10kN2L last race; should be popular in the Claim Box     
#8 – Shouk (4-1): His best two career outings have come in only two starts on this Pim dirt oval where he trains… maiden win a year ago and runner-up in last try
#7 – Savage River (6-1): Another class dropper who should appreciate fast track and take advantage of a quick, early pace           
Race 6 is ON THE TURF
#7 – Glamour Queen (3-1): Runner-up in local turf bow v. OC$25k after Closer spent winter racing on the speed favoring GP grass  
#1 – Kadie'shorseplay (7-2): Late runner gets tough rail assignment; boasts top turf BRIS#; Toledo takes over for McCarthy who opted for just two mounts @ Prx on a pair of maidens for C. Lynch (might be worth checking out)    
#2 – Azia Brown (2-1): Seems J. Ness has discovered what makes this one tick as she fired from gate-to-wire first race off the bench; PT fav, in past four outings but only delivered last time
Race 7
#3 – Praise the Moon (6-1): Turf try did not go well at all ("Checked early; eased"); dirt sprints have the look of one who wants more distance and gets it here; Karamanos staying on is a positive    
#1 – Souper Awesome (7-2): Second time blinkers; this Awesome Again colt should relish getting back to two turns     
#6 – Oyster Soup (9-2): Barring early speed from FTS (#7), this gelding will be on the lead and X-Man should be able to lead this weak MSW group through dawdling fractions and have something left in the tank to hold off rivals late  
Race 8 is ON THE TURF
#6 – Royal Renege (5-1): DQ'd from Show spot in state-bred turf stakes @ Pen; can bounce back as this distance, her best w/ adventure-free trip; been knocking on the door at this level       
#1 – Inside Out (3-1): An automatic use is a Lael Stables runner for A. Delacour on the turf; first race in nearly a year; hasn't run a bad race in 5 career starts
#3 – Charm City (15-1): Faced a tough group in last effort when overmatched as 3rd place finisher came back to win yesterday; can handle stretch out  
Race 9 is ON THE TURF
#8 – Spring Equinox (4-1): Only two previous turf tries came here last year when he held his own against two future turf monsters, Phlash Phelps and Pool Winner; '16 debut was taken off turf, but not today
#7 – Jo Way Java (5-1): Can boast best career turf BRIS# of this group and repeat that winning effort on step up to next level 
#5 – Magnum Opus (6-1): Even though this N2L is in w/ N3L, he gives a 110% each race while seeming to find trouble; can get a nice stalking trip and if good enough prevail late   
* Belmont Stakes is Race 11 at Belmont
#2 – Destin (6-1): Was the best 3 y.o. on the KY Derby Trail IMHO, but eight week layoff leading up to Derby was too much to overcome, yet still ran a creditable 6th; has the bloodlines to get the distance and should get a nice, clean stalking trip to take over in the stretch  
#10 – Lani (20-1): Who's laughing now?! Has gained respect of Clockers as he looks like a more mature colt than the one who arrived/trained @ CD just 2 months ago; unorthodox training style of Japanese trainer will come in handy in this Test of Champions as he'll be only one not searching for oxygen mask turning for home
#11 – Exaggerator (9-5): The Iron Horse in that he can quickly bounce back from tough races in a short period of time; won't get help from Mother Nature today but has the heart of his daddy   
YESTERDAY'S NEWS
On Friday June 10th at Pimlico had 6 winners from the 8 race card (1 Top Selection; payoff in BOLD) having $2 WIN pay-off of $5.00 (1st race), $3.00 (2nd), $3.20 (4th), $11.00 (5th), $4.40 (6th) and $6.00 (7th). Of suggested Multi-race wagers hit $2 Early DOUBLE in R1-R2 for $9.00 (cost: $18; ouch!). Note: Year-to-date Top Selections are 166 for 627 (26.47%).
BEST BET of the Day (66: 24-11-7) Sun and Moon (7th race: 6-1 M/L; 8-5 PT) chased the pace, looked the eventual winner in the eye turning for home but weakened in the final furlong to finish 4th just 2 lengths behind the winner.
LONGSHOT PLAY of the Day (63: 5-8-11) Frasero (3rd race: 10-1 M/L; 40-1 PT) chased the pace, gained a two wide lead turning for home and weakened late, getting beat by just 1½ lengths but only good enough for 4th.
NAME A RACE
Ever wanted a race named in your honor?  Want to recognize a friend's birthday, anniversary or achievement?  But you can't make it out to the track?
Now you can have that race named just the way you want it — FREE — right here at The Racing Biz!
Simply fill out the form below, and we'll let the world know.  Your race will be named here, as part of The GQ Approach handicapping selections!
Why handicap race number one, when you can handicap "Race 1 – The Bob's Big Day Special"?!?
Note: This offer is NOT done in conjunction with the Maryland Jockey Club and does NOT provide you any benefits or recognition at Laurel Park, Pimlico Race Course, or any other facility owned or operated by the MJC. It applies only to this website.