The GQ Approach – Pimlico June 10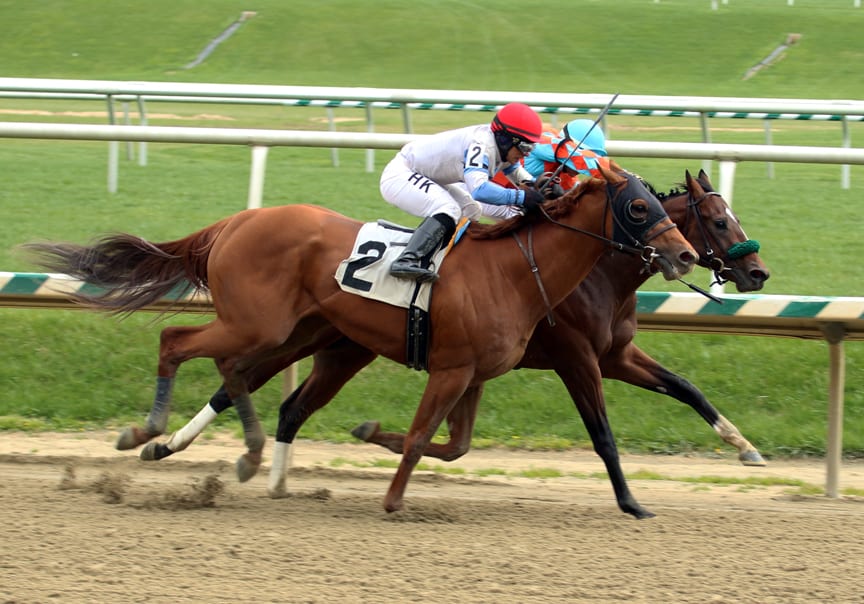 Photo by Laure Asseo.
The GQ Approach features full-card selections from Pimlico (28-day meet w/ live racing Thursday-Sunday through June 26th; Post Time 1:10pm EDT) including a daily Best Bet, Longshot Play, and multi-race wagers — including the 20 cent Rainbow Pick-6 ($2,530 carryover), 50 cent Jackpot Pick-5 as well as Pick-4s and rolling Doubles, Pick-3s and the Super High-5.
BEST BET OF THE DAY
Race 7 / #9 – Sun and Moon (6-1)
LONGSHOT PLAY OF THE DAY
Race 3 / #8– Frasero (10-1)
[su_heading size="21″ align="left"]Multi-race wagers[/su_heading]
Race 1: $2 Double  2, 3, 7  w/ 2, 3, 5 ($18)
Race 3: $0.50 Pick-3  3, 6, 8  w/ 1, 2, 3 w/ 3, 7, 9  ($13.50)
Race 5: $0.50 Pick-4 3, 5, 7, 9  w/ 1, 3, 8 w/ 5, 9 w/ 1, 4, 7 ($36)
Race 7: $2 Double  5, 9 w/ 1, 4, 7 ($12)
[su_heading size="21″ align="left"]Analysis[/su_heading]
* Pimlico has five (5) races (1st, 3rd, 5th, 7th and 8th) scheduled to be run on the TURF. Forecast for northwest Baltimore is for Partly Sunny skies with high temps in the mid-70s and ZERO chance of precipitation. The below selections are based on the races being run ON THE TURF while the main dirt track listed as FAST.
Race 1 is the Tom Erisman "Too Cheap To Stay" Invitational ON THE TURF
#3 – Indian Bucks (5-2): Has been a better horse since J. Ness switched him to the grass; goes for natural Hat Trick on the lawn
#7 – Queequeg (6-1): Need to look beyond last start, first one after L. Albert claim; only previous turf start was forgettable
#2 – Great Smoke (20-1): Starts for third different barn in last three starts; has ability to come from off the pace while switching to turf; might benefit from pace meltdown   
Race 2
#2 – Katie's Caddie (2-1): Looks like the best candidate to benefit from potential speed duel between top two rivals    
#5 – Have Hope (7-2): Adds blinkers, drops a level and returns to dirt and might get hooked up in a speed duel w/ #3
#3 – Serenready (8-5): One glaring weakness after 11 career starts… she hasn't been able to carry her early speed beyond 5f and goes 6f today on drop, second start for J. Ness and adds blinkers    
Race 3 is ON THE TURF
#8 – Frasero (10-1): $$$ LONGSHOT $$$ Just three lifetime starts on turf but has a gate-to-wire victory at this distance to boot while earning 87 BRIS#, the best in this field… albeit it was 18 months ago  
#6 – Reach for Yield (5-1): May have been dealing w/ issues when transferred from M. Nevin barn in NY as that last race 4 months ago indicates; nice, recent work pattern  
#3 – Mr. Game Seven (9-2): Lone turf try came in second career start, a runner-up effort while racing @ SA in MSW; Lord only knows why previous two trainers haven't run him back on grass since   
Race 4
#2 — Crookit (4-1): Stretch-out to two turns seems to have done the trick, as L. Albert trainee rallied nicely for the place against major class-dropper at long odds 
#1 — Favorite Niece (8-5): Morning line feels too short on a runner thrashed by similar in last on conventional dirt; two from last won in next start but both dropped to lower level to do it; McCarthy in the irons a plus
#3 — Passing Parade (7-2) — Ham Smith trainee got plenty of respect at the windows on debut; intriguing short comment and return engagement for jockey Toledo both positives
Race 5 is ON THE TURF
#3 – Favorite Heir (3-1): Owns top turf BRIS# and will take action simply due to having E. Prado in irons; can repeat v. this group
#9 – My Giant (9-5): First race after "Magic" Magee claim (28%) but previous trainer, T. Morley is no slouch; distance suits (3:1-0-1) and adds blinkers
#7 – Daystrike (9-2): Versatile runner can sprint and go two turns, but willingness to get to wire first seems to be the issue; hoping rider switch changes that attitude       
Race 6
#1 – Sweet Honesty (9-2): When the rest look hapless, turn to one that has yet to prove she's bad; FTS by Flower Alley has tough assignment from rail for owner/trainer M. Trombetta
#8 – Huna Buna (15-1): Debut on turf just 6 days ago was bad, possibly due to slow start; her only two published workouts on dirt here shows she can run so if A.C. gets her out of gate quickly, she could surprise  
#3 – Derwin's Decision (7-2): Has improved since being equipped w/ blinkers two back; switch to leading rider and shorter distance sprinting could result in gate-to-wire maiden score
Race 7 is ON THE TURF
#9 – Sun and Moon (6-1): *** BEST BET *** Set blistering fractions @ Bel on grass going 7½f in latest effort before weakening; game 3rd @ Sar last summer in only other turf try at 5½f; cut back to 5f SHOULD be a piece of cake… Yeah, yeah, that's the ticket!  
#5 – Satan's Mistress (3-1): The lesser of J. Cibelli's uncoupled entry? Don't think so… as this mare has been a win machine (34: 10-5-4), though 0 for 7 on turf she's faced stakes level company quick from gate but no match v. winner in first race off bench here on BES Day       
#8 – Rocky Policy (7-2): Has been facing better (N3x) since switching to turf in last 3 outings but shows no early speed leaving too much to do late; switch to J. Toledo should improve positioning early  
Race 8 is ON THE TURF
#4 – My Tootsy (9-2): With 7 previous two turn turf tries, small barn got E. Prado to ride this one @ 13-1 sprinting while closing ground late, yet jock does not ride back on stretch out and drop?! One would think a negative move… not buying it as Penn jock is down for lone mount   
#1 – Justice for Sheena (5-2): Only runner in here to have previous raced at this 9f distance (was runner-up); disappointed backer in last on drop; Karamanos regains mount
#7 – Opie (3-1): Should be able to handle additional ground based on bloodlines and owns best turf BRIS# of this bunch but those figs have regressed since that race, when J. Ness claimed her
YESTERDAY'S NEWS
On Thursday June 9th at Pimlico had 4 winners from the 8 race card (2 Top Selections; payoff in BOLD) having $2 WIN pay-off of $4.40 (2nd race), $7.60 (3rd), $10.80 (4th) and $6.80 (6th). Note: Year-to-date Top Selections are 165 for 619 (26.65%).
BEST BET of the Day (65: 24-11-7) Zapata (7th race: 5-1 M/L; 5-1 PT) disputed the pace two-wide in a willing effort to salvage the third purse and returned $5.40 to SHOW.
LONGSHOT PLAY of the Day (62: 5-8-11) Counting Days (1st race: 6-1 M/L; 8-1 PT) hugged the rail, disputed the pace, opened a clear advantage in upper stretch but was run down in the final strides while holding on gamely to be runner-up and returned $11.40 to PLACE and $6.40 to SHOW.   


NAME A RACE
Ever wanted a race named in your honor?  Want to recognize a friend's birthday, anniversary or achievement?  But you can't make it out to the track?
Now you can have that race named just the way you want it — FREE — right here at The Racing Biz!
Simply fill out the form below, and we'll let the world know.  Your race will be named here, as part of The GQ Approach handicapping selections!
Why handicap race number one, when you can handicap "Race 1 – The Bob's Big Day Special"?!?
Note: This offer is NOT done in conjunction with the Maryland Jockey Club and does NOT provide you any benefits or recognition at Laurel Park, Pimlico Race Course, or any other facility owned or operated by the MJC. It applies only to this website.