The GQ Approach – Pimlico June 9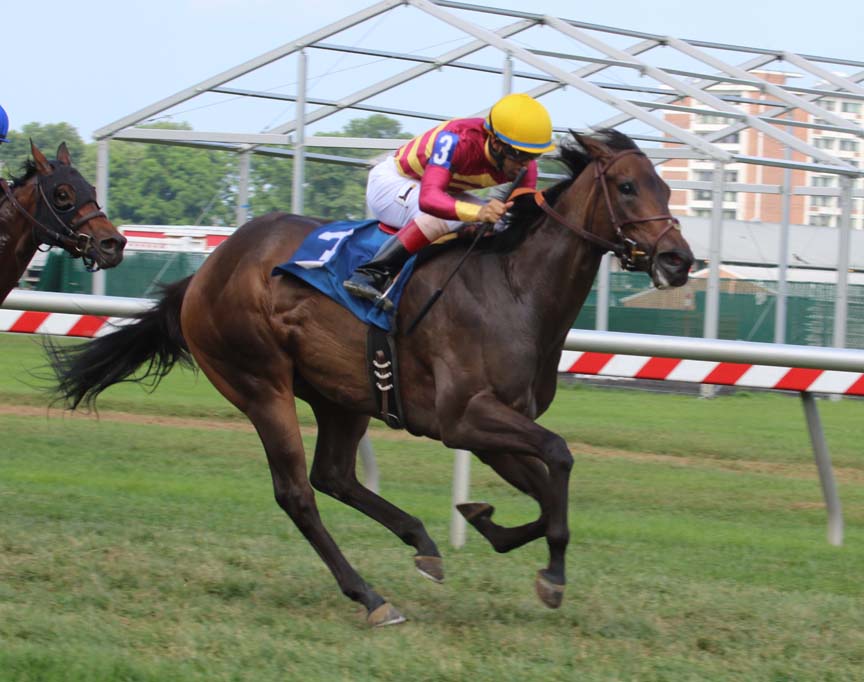 Photo, of Coco as in Chanel, by Laurie Asseo.
The GQ Approach features full-card selections from Pimlico (28-day meet w/ live racing Thursday-Sunday through June 26th; Post Time 1:10pm EDT), including a daily Best Bet, Longshot Play, and multi-race wagers — including the 20 cent Rainbow Pick-6 ($1,616 carryover), 50 cent Jackpot Pick-5, as well as Pick-4s and rolling Doubles, Pick-3s and the Super High-5.
BEST BET OF THE DAY
Race 7 / #4 – Zapata (5-1)
LONGSHOT PLAY OF THE DAY
Race 1 / #7– Counting Days (6-1)
[su_heading size="21″ align="left"]Multi-race wagers[/su_heading]
Race 1: $2 Double  4, 7, 10  w/ 5, 6, 7 ($18)
Race 3: $0.50 Pick-3  1, 3, 4  w/ 3, 6, 9 w/ 4, 6, 14  ($13.50)
Race 5: $0.50 Pick-4 1, 4, 6, 14  w/ 1, 2 w/ 1, 4 w/ 1, 7, 10 ($24)
Race 7: $2 Double  1, 4, 6 w/ 1, 7, 10 ($18)

[su_heading size="21″ align="left"]Analysis[/su_heading]
* Pimlico has six (6) races (1st, 2nd, 4th, 5th, 7th and 8th) scheduled to be run on the TURF. Forecast for northwest Baltimore is for Mostly Sunny skies with high temps in the mid-70s and a zero chance of precipitation. The below selections are based on the races being run ON THE TURF while the main dirt track listed as FAST.
Race 1 is the Longine Fegentri Championship for Lady Riders ON THE TURF
#7 – Counting Days (6-1): $$$ LONGSHOT $$$ 14 months ago made Pim debut a winning one on the lawn and at this distance earning a career best turf BRIS#; his pilot hails from Germany     
#10 – Logan Street (6-1): Can boast the best career turf BRIS# (99) in this race but this 7 y.o. hasn't been close to replicating that in quite some time; jumps down where he's hit the board in last two efforts v. similar            
#4 – Lightning Electric (2-1): Fits well at this level while in the money past four starts and knows way around Pim turf course (4:1-1-2); his rider is a local product who regularly competes in steeplechase events   
Race 2 is ON THE TURF
#5 – Conscription (9-5): Showed speed in both career outings @ WO last Fall when heavily backed but faded; transferred to G. Motion who has been extensively training her on turf at Palm Meadows before shipping to Fair Hill; sheds blinkers      
#6 – Talkless Smilemore (12-1): An Uncle Mo offspring who initially was pointed to a turf career but switched to dirt w/o any improvement; back to turf, second time blinkers and nice work pattern      
#7 – One More Wish (15-1): Stretches out to two turns after some late interest sprinting on the Pim lawn in debut; finished 4½ behind winner who returned to win $100k turf stakes here last weekend; first time Lasix today       
Race 3
#1 – Articulate (2-1): Déjà vu as she just won for fun v. similar in last effort; expect more like 6-5 come Post Time has she has back class to be an attractive claim  
#4 – Idon'tknogoaskanni (5-2): Have to consider her solely on big drop in class; 8 y.o. always seems to be in the mix (63:11-11-13)  
#3 – Sarah's Big Day (3-1): Has been sent off as the Post Time fav. in past four races only to have rewarded her backers once; that last effort came in a pace-less race; she could make amends if she gets pace help in here   
Race 4 is ON THE TURF
#6 – If You Say So (5-2): The better of two G. Motion uncoupled entries? This is one has been game in two runner-up efforts @ Tam; after a few months off to regroup it could be graduation day       
#9 – Royal Source (6-1): Second start for Tapit filly from Lael Stables who only believe in Lasix when warranted, which may be why she failed in debut 10 months ago and just resumed training in March        
#3 – Head Games (12-1): There were others who could have filled this spot (#5 attractive @ 20-1) but like this one's work pattern and past running lines have look of one wanting two turns which she gets today  
Race 5 is ON THE TURF
#6 – Soup d'Coupe (4-1): Tough Alw7500s contest but like this gelding's effort off the bench when making a winning move entering stretch but extra 1/16th was not for him     
#14 – Going to Market (12-1): Full field strangely lacks early speed; hence this one gets the nod to have a shot at stealing it on the front end
#4 – Incisive Strike (4-1): Third start after layoff while going for natural Hat Trick; loves Pim grass (4:1-3-0); Victor may have him more forwardly placed early on       
Race 6
#1 – My Cousin Lou (3-1): Typically don't hold Parx shippers in high regard but other two picks in here come off stepping up in a weak field IMHO; regular rider R. Rosado comes in to ride
#2 – Heavenly Haze (9-5): Game effort in first race after J. Hartsell claim; another step forward gets this gray to Winners Circle but may have "Second-itis" (13:1-5-2)  
#4 – Holiday Mousse (7-2): Ran behind both #2 and #3 in here in first start for D. Barr off claim; F. Lynch back in saddle after misjudging Finish Line @ Lrl two races back
Race 7 is ON THE TURF
#4 – Zapata (5-1): *** BEST BET *** Though a N2L toss the off the turf effort when beaten fav. due to stumble at gate; is the speed of the speed… w/ a clean break! Ran into a turf monster in the making (Take Cover) two back who won PA Governor's Cup @ Pen last week; 5f is perfect distance    
#1/1A – Uncle Tito/Tempt Me Twice (3-1): A formidable 1-2 punch for A. Merryman; "Tito" ran the best last race speed figure in this field and "TMT" will be at top pick's flank most of the way      
#6 – Broad Axe Bernie (6-1): This PA-bred makes MD debut after five straight tries v. state breds at this level going longer on dirt & turf; returns to distance & surface in which he graduated in open maidens  
Race 8 is ON THE TURF
#1 – Metaboss (9-5): Third time is a charm while under M. Dickinson's conditioning? Got horrible rides IMHO from different jocks in last two as beaten fav.; don't expect to see T. McCarthy trailing this field early   
#7 – Set to Music (4-1): Not far behind top pick in latest effort while encountering traffic twice along the way w/ Leparoux in the irons on BES Day; L. Garcia takes the reins today
#10 – Ack Feisty (15-1): Puts blinkers back on for first time since breaking maiden w/ them; turf BRIS#s keep climbing and faced much better when in v. N3X
 YESTERDAY'S NEWS
On Sunday June 5th at Pimlico had 6 winners from the 8 race card (3 Top Selections; payoff in BOLD) having $2 WIN pay-off of $4.00 (1st race), $6.20 (3rd), $7.20 (4th), $3.20 (5th), $6.40 (7th) and $6.80 (8th). Note: Year-to-date Top Selections are 163 for 611 (26.67%).
BEST BET of the Day (64: 24-11-6) Royal Cavier (4th race: 5-2 M/L; 5-2 PT) settled off the early pace, crept closer between rivals leaving the five eighths pole, rated kindly tracking the duel into the far turn, came called upon nearing the five sixteenths, shifted out four wide entering the lane, rallied under left handed rousing and overtook MIKE THE HAB in mid-stretch, was kept to pressure and steadily pulled away to return $7.20 to WIN, $3.40 to PLACE and $3.40 to SHOW.
LONGSHOT PLAY of the Day (61: 5-7-11) Up Hill Battle (7th race: 8-1 M/L; 6-1 PT) bumped and forced in by BIOTERP leaving the starting gate, steadied leaving the backstretch, prompted the pace two wide on the turn, gained a clear lead in mid-stretch then weakened to return $6.20 to PLACE and $4.40 to SHOW.
NAME A RACE
Ever wanted a race named in your honor?  Want to recognize a friend's birthday, anniversary or achievement?  But you can't make it out to the track?
Now you can have that race named just the way you want it — FREE — right here at The Racing Biz!
Simply fill out the form below, and we'll let the world know.  Your race will be named here, as part of The GQ Approach handicapping selections!
Why handicap race number one, when you can handicap "Race 1 – The Bob's Big Day Special"?!?
Note: This offer is NOT done in conjunction with the Maryland Jockey Club and does NOT provide you any benefits or recognition at Laurel Park, Pimlico Race Course, or any other facility owned or operated by the MJC. It applies only to this website.