The GQ Approach – Pimlico June 5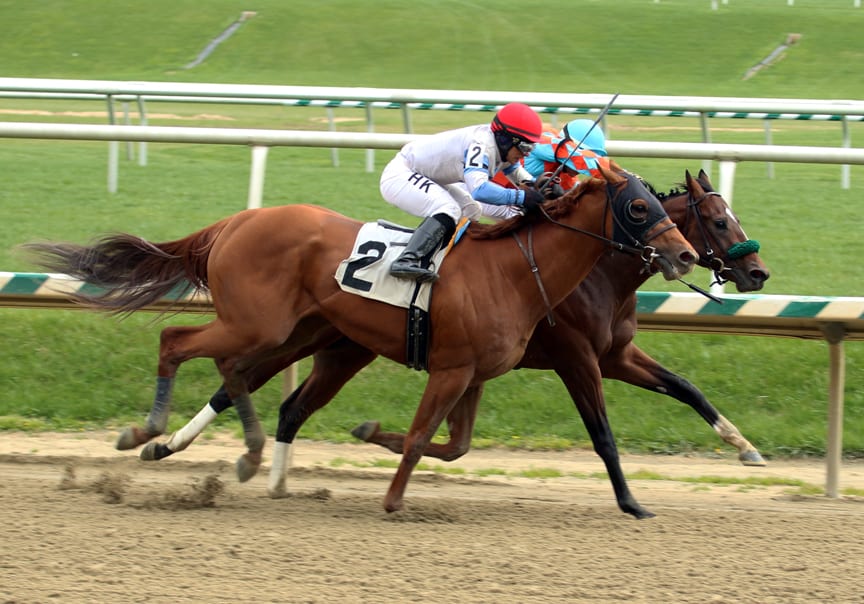 Photo by Laure Asseo.
The GQ Approach features full-card selections from Pimlico (28-day meet w/ live racing Thursday-Sunday through June 26th; Post Time 1:10pm EDT) including a daily Best Bet, Longshot Play, and multi-race wagers — including the 20 cent Rainbow Pick-6 ($718 carryover), 50 cent Jackpot Pick-5($5,271 carryover) as well as Pick-4s and rolling Doubles, Pick-3s and the Super High-5.
BEST BET OF THE DAY
Race 4 / #4 – Royal Cavier (5-2)
LONGSHOT PLAY OF THE DAY
Race 7 / #2– Up Hill Battle (8-1)
[su_heading size="21″ align="left"]Multi-race wagers[/su_heading]
Race 1: $2 Double  1, 3, 4  w/ 2, 4, 6 ($18)
Race 4: $0.50 Pick-5  4  w/ 3, 6 w/ 3, 6, 7 w/ 2, 3, 4 w/ 4, 8, 9 ($27)
Race 7: $2 Double  2, 3, 4 w/ 4, 8, 9 ($18)
[su_heading size="21″ align="left"]Analysis[/su_heading]
* Pimlico has five (5) races (1st, 3rd, 5th, 7th and 8th) scheduled to be run on the TURF. Forecast for northwest Baltimore is for Mostly Cloudy skies with high temps in the mid-70s and a 30-60% chance of showers later in the afternoon. The below selections are based on the races being run ON THE TURF while the main dirt track listed as FAST.
Race 1 is ON THE TURF
#4 – On Your Mach (2-1): Yesterday the Old Hilltop turf course was very kind to early speed; that's how we'll roll today in the 5 of 8 races to be run on turf; starting w/ this speedball up from Tam who has been tiring at the 1/16th pole; he'll tell us how the turf will play today     
#3 – King Gatto (4-1): Makes first start of '16; was last seen @ Del running well; only entry on card for A. Pecoraro    
#1 – Surfspun (6-1): Beaten fav. on dirt when dropped from this level to $5k; though 0 for 4 on turf his career best speed fig fits with this group   
Race 2
#4 – Earned It (3-1): Field of a half dozen babies and this one and the #1 previously started their career; this colt had a dreadful start in MSW but made up seven-lengths on winner in the stretch; he graduates w/ a clean break while in for $40k tag      
#2 – Kraken Glacken (3-1): NY-bred FTS by Smoke Glacken should be quick from the gate w/ L. Garcia in irons for M. Trombetta (9% w/ FTS)      
#6 – Supermensch (5-2): Most expensive colt in this field ($65K) for high-profile owner M. Dubb; watch toteboard to see who gets the early action as well as the DOUBLE Will Pays       
Race 3 is ON THE TURF
#8 – St. Louie (5-2): Third race after layoff; had a tough trip @ Bel v. $50kN3L; should find this group a bit easier  
#5 – T Sizzle (5-1): Has a ton of talent like namesake but this fellow has trouble finding Winners Circle (2 for 22) but has hit the board in all three starts at this distance  
#1 – Top of Mind (9-5): This R. Jenkins runner appeared to have a bright future after brilliant start of career, but has struggled in 4 y.o. campaign; tries turf in effort to find old form   
Race 4
#4 – Royal Caviar (5-2): *** BEST BET *** Last two at the bottom of the claiming barrel have woken him up; part of Exacta in 5 of 7 at this distance; beat open $5k in last and now faces conditional $5k          
#3 – Maximus Mike (3-1): Blew the horseshoes off his competition in first race off J. Hartsell "claim back" v. N1Y; main threat to top pick here       
#6 – Mike the Hab (5-1): Would love to have a sloppy track (2 for 2) but forecast for rain is for later in the card; might come up short on fast track 
Race 5 is ON THE TURF
#3 – Billy the Bull (7-5): Took to the Pim grass like a fish to water in latest outing; loves 5f (5 for 10) and as mentioned earlier… if speed continues to hold, we might get even money     
#6 – Fantod (12-1): 10 y.o. may have needed last one but had a horrendous trip, compounding reason for poor showing; w/ X-Man back in irons he should give top pick company early
#9 – Classic Wildcat (5-1): This KTL old-timer didn't belong against Alw7500s in most recent outing; back in w/ group he beat two back       
Race 6
#6 – Charlesbrecknridge (9-5): "Charlie" just needed a change of scenery/barn to break through in 10th career start to graduate; going w/ the "Lightbulb Theory" (i.e. wins next out after taking a while to get first win)
#3 – Willful Limit (8-1): Exits maiden win in $16k MCL but turns out to be a key race as second and third place finishers were easy next out winners
#7 – In Condition (3-1):  Goldberg ships NY-bred in from Bel; must think softer company in MD is worth getting a "W" v. NY-bred bonus money
Race 7 is ON THE TURF
#2 – Up Hill Battle (8-1): $$$ LONGSHOT $$$ Second time blinkers; couldn't hold off M/L fav. in her (#3) in her turf debut, but that was @ Lrl going an additional 1/16th; if J. Pimentel gets her to change leads she's a threat to go gate-to-wire    
#3 – Bioterp (5-2): First time J. Toledo will pilot her; needs to be more forwardly placed as T. McCarthy found out in her Pim debut; needs pace help     
#4 – Holiday Wishes (9-2): Is the wild card in here because not sure coming off the bench she'll challenge top pick for early lead; if she does then #3 is the benefactor 
Race 8 is ON THE TURF
#8 – Backseat Lover (4-1): has been very quick from the gate on the dirt in first two career starts sprinting; switch to turf gets him distance relief and R. Jenkins always sends out quality runners   
#9 – Zamzamah (6-1): FTS by Langfuhr out of a Sadler Wells mare screams turf but M. Vitali is 0 for 17 w/ MSW firsters; like jock choice in L. Garcia on turf
#4 – Not a Chance (7-5): Actually has a big chance as M/L oddsmaker just needed to see Tempt Me Twice in last race running line to know this colt will get first win sooner than later
YESTERDAY'S NEWS
On Saturday June 4th at Pimlico had 5 winners from the 9 race card (4 Top Selections; payoff in BOLD) having $2 WIN pay-off of $4.00 (1st race), $3.00 (3rd), $13.80 (5th), $5.80 (6th) and $12.40 (7th). Note: Year-to-date Top Selections are 160 for 603 (26.53%).
BEST BET of the Day (63: 23-11-6) Ramblin N Gamblin (8th race: 7-2 M/L; 2-1 PT) chased thee pace three-wide entering the stretch then faltered.
LONGSHOT PLAY of the Day (60: 5-6-11) Yolo Mon (7th race: 6-1 M/L; 5-1 PT) three wide the first turn, circled the far turn five deep, bid for the lead in upper stretch, dueled to mid-stretch then drew away and return $12.40 to WIN, $4.60 to PLACE and $3.40 to SHOW.  


NAME A RACE
Ever wanted a race named in your honor?  Want to recognize a friend's birthday, anniversary or achievement?  But you can't make it out to the track?
Now you can have that race named just the way you want it — FREE — right here at The Racing Biz!
Simply fill out the form below, and we'll let the world know.  Your race will be named here, as part of The GQ Approach handicapping selections!
Why handicap race number one, when you can handicap "Race 1 – The Bob's Big Day Special"?!?
Note: This offer is NOT done in conjunction with the Maryland Jockey Club and does NOT provide you any benefits or recognition at Laurel Park, Pimlico Race Course, or any other facility owned or operated by the MJC. It applies only to this website.