The GQ Approach – Pimlico June 4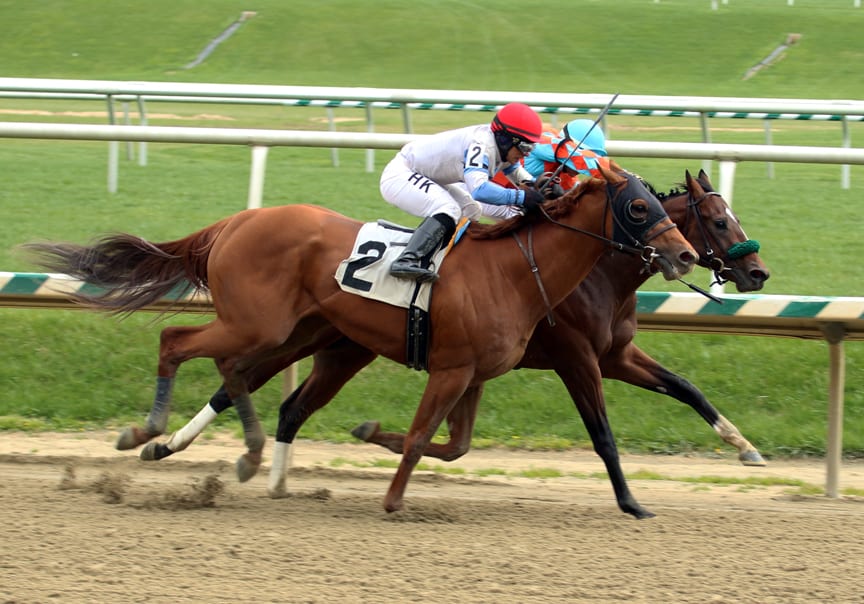 Photo by Laure Asseo.
The GQ Approach features full-card selections from Pimlico (28-day meet w/ live racing Thursday-Sunday through June 26th; Post Time 1:10pm EDT) including a daily Best Bet, Longshot Play, and multi-race wagers — including the 20 cent Rainbow Pick-6, 50 cent Jackpot Pick-5 as well as Pick-4s and rolling Doubles, Pick-3s and the Super High-5.
BEST BET OF THE DAY
Race 8 / #8 – Ramblin N Gamblin (7-2)
LONGSHOT PLAY OF THE DAY
Race 7 / #6 – Yolo Mon (6-1)
[su_heading size="21″ align="left"]Multi-race wagers[/su_heading]
Race 1: $2 Double  3, 4, 7  w/ 2, 4, 5 ($18)
Race 3: $0.50 Pick-3  1, 9, 10  w/ 3, 4, 6  w/ 3, 5, 9  ($13.50)
Race 6: $0.50 Pick-4 1, 5, 6  w/ 3, 6 w/ 8, 10 w/ 2, 3, 8 ($18)
Race 9: $2 Double  7, 8, 10 w/ 2, 3, 8 ($18)
[su_heading size="21″ align="left"]Analysis[/su_heading]
* Pimlico has five (5) races (1st, 3rd, 5th, 6th, 8th and 9th) scheduled to be run on the TURF. Forecast for northwest Baltimore is for Mostly Cloudy skies with high temps in the mid-70s and a slight chance of a thunderstorm. The below selections are based on the races being run ON THE TURF while the main dirt track listed as FAST.
Race 1 is ON THE TURF
#3 – Reilly S (9-2): FTS sire Great Notion has been a hot sire of late w/ young runners; A. Merryman/F. Lynch have scored w/ other turf sprinters this meet     
#7 – Bonjo (12-1): Are you kidding me?! Maybe… but unless either of the FTSs show early speed, this 5 y.o. mare who has been away for just over 2 years since career debut in MSW turf sprint here, could go gate to wire               
#4 – Perigee Moon Slide (9-5): Hard to be overly confident in a 0 for 17 M/L fav. whose late kick finds her coming up short at 5½f; this Pim Sat. Opener sets up for a price   
Race 2
#4 – Preciate It (7-2): This FTS by Bullsbay has a nice work pattern and M/L reflects she's the better of the two "Ham" Smith uncoupled stablemates (see #1); V. Carrasco jumps off #3      
#2 – Northern Alliance (3-1): Lynch gets 24% of FTSs to Winners Circle and does well w/ babies (22%); nice gate work in final tune-up for career debut      
#5 – Weekend Oasis (5-2): McCutchen has won w/ a couple babies this meet and the 5f bullet this IN-bred recorded here in final work caught attention of M/L maker       
Race 3 is ON THE TURF
#10 – Heavenly Perfect (8-5): Versatile $7,500 claimer has won on dirt and turf while having a nice '16 campaign (5: 3-2-0); should get hot pace to catch rivals just in the nick of time  
#9 – Countess Emma (4-1): Conventional thinking indicates this 8 y.o. mare may need one off the bench, but she won here last year in exact, same situation
#1 – To Commercial (8-1): Conner only mount on the card as he rode her last fall on Lrl grass (6th) but this speedy Cat Thief mare gets the 1/16th break in distance   
Race 4
#4 – Citation Star (4-1): Eppler $5k Claim in Dec. has been on the shelf since but been working in A.M. and gets big vote of confidence being put in v. $16kN2L; could go gate-to-wire          
#3 – Tomo Chachi (10-1): Looking for that burst of early speed he showed when breaking maiden at this distance three races back        
#6 – Savage River (12-1): Gets an half furlong today to try and run down the early speed; slop may have not been to his liking in latest  
Race 5 is ON THE TURF
#9 – Southern Equity (7-2): Need to look beyond last start when off the turf; appears best efforts on turf comes when the ground is less than firm, which Old Hilltop's could be w/ rain past 24 hrs  
#3 – D K's Brigantia (15-1): Way back last Summer earned 83 BRIS#, best of this group when breaking maiden; Keefe will give a leg up to his go-to rider despite having poor meet (2 for 32)
#5 – Key d'Oro (5-2): Vulnerable M/L favorite (1 for 21 lifetime) who burned bettors $$$ as PT fav. in last two; an underneath play candidate       
Race 6 is ON THE TURF
#6 – Class and Cash (5-2): Cibelli ships this gray in from Mth off a few conditioning works after winning for fun in first start after claim; should relish more distance
#1 – Enjoy the Show (2-1): BRIS#s have been on the decline since that 101 figure in Tropical Park Derby in Dec.; change of scenery and trainer may have helped when runner-up off the shelf  
#5 – Ousby (3-1): Folded in stretch on Preakness undercard stakes when in w/ a lot of other early speed as lofty BRIS# (96) indicates; threat to steal this one
Race 7
#6 – Yolo Mon (6-1): $$$ LONGSHOT $$$ Three time winner faces a number of rivals who have only beaten non-winners; huge 4th place effort @ Kee in last start stretching out to 9f from sprints; no shame in losing to the likes of Gursky in Mar.; sky's the limit for this late bloomer
#3 – Big House (9-5): Solid Eskendereya offspring who shows up for every start; must respect C. Gonzalez/V. Carrasco duo (24%)
#4 – Resurgence (6-1): House Horse seems to have trouble stringing more than two starts together before having to take time off; A. Serpa subs for McCarthy today  
Race 8 is the $100,000 Stormy Blues Stakes ON THE TURF
#8 – Ramblin N Gamblin (7-2): *** BEST BET *** Took advantage of GP speed favoring turf surface in first two career outings this winter; should get the jump on other speed in here and get to wire first as well; J. Servis makes excellent choice in V. Carrasco to pilot this gal   
#10 – Do What I Say (3-1): Local monster gets stern test in here; A. Cintron has options and will most likely take a stalking route
#7 – Julerette (6-1): Kee shipper for B. Colebrook is a sleeper making grass debut; has competed against three maiden fields loaded with next out winners
Race 9 is ON THE TURF
#8 – Waves On the Sea (9-2): Boyce got into this gal from the get go when going long and faded in final furlong; hoping that was a drill for today's sprint
#2 – Sundaes Baby (12-1): Makes turf debut after showing early speed in all five starts and handling an off track the best, which often transfers well to turf        
#3 – Pearl's Love (4-1): Karamanos has won the turf night cap the past two racing days; Hat Trick is possible on the drop   
YESTERDAY'S NEWS
On Friday June 3rd at Pimlico had 5 winners from the 9 race card (4 Top Selections; payoff in BOLD) having $2 WIN pay-off of $5.80 (1st race), $2.80 (3rd) $2.80 (4th), $5.00 (5th) and $4.80 (7th). Note: Year-to-date Top Selections are 156 for 594 (26.26%).
BEST BET of the Day (62: 23-11-6) Mail Order Groom (4th race: 2-1 M/L; 2-5 PT) attended the pace four deep near the half mile marker, dropped in a bit leaving the far turn and stalked, came under urging mid turn, closed under right handed rousing to overtake the leader in mid-stretch, spurted clear then was fully extended to hold off WHISKEY SOUR and return $2.80 to WIN, $2.20 to PLACE and $2.10 to SHOW.
LONGSHOT PLAY of the Day (59: 4-6-11) Eyeplayeveryday (8th race: 5-1 M/L; 5-2 PT) angled off the inside nearing the three quarter pole, tracked the leader two wide, threatened between runners in mid-stretch then gave way grudgingly and returned $3.00 to SHOW.

NAME A RACE
Ever wanted a race named in your honor?  Want to recognize a friend's birthday, anniversary or achievement?  But you can't make it out to the track?
Now you can have that race named just the way you want it — FREE — right here at The Racing Biz!
Simply fill out the form below, and we'll let the world know.  Your race will be named here, as part of The GQ Approach handicapping selections!
Why handicap race number one, when you can handicap "Race 1 – The Bob's Big Day Special"?!?
Note: This offer is NOT done in conjunction with the Maryland Jockey Club and does NOT provide you any benefits or recognition at Laurel Park, Pimlico Race Course, or any other facility owned or operated by the MJC. It applies only to this website.