The GQ Approach – Pimlico June 3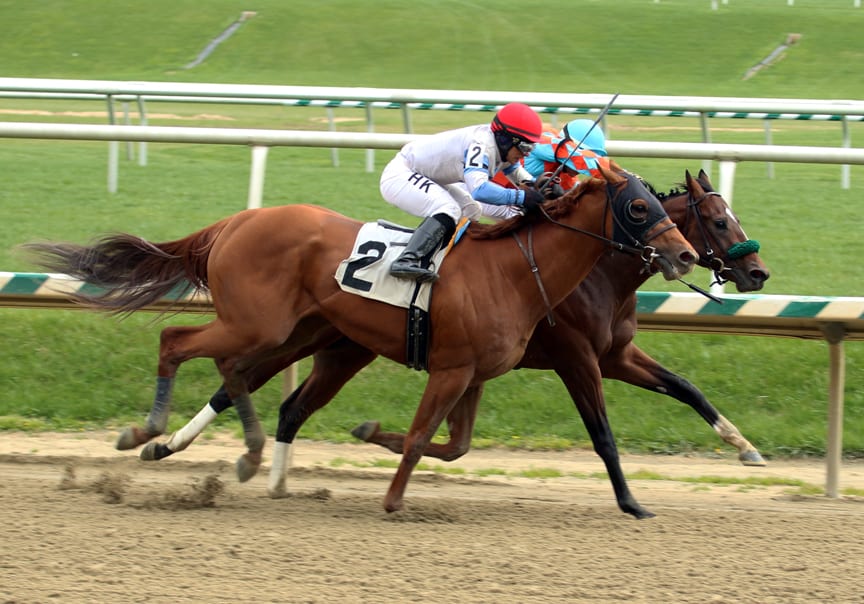 Photo by Laure Asseo.
The GQ Approach features full-card selections from Pimlico (28-day meet w/ live racing Thursday-Sunday through June 26th; Post Time 1:10pm EDT), including a daily Best Bet, Longshot Play, and multi-race wagers — including the 20 cent Rainbow Pick-6 ($3,652 carryover), 50 cent Jackpot Pick-5 ($7,061 carryover), as well as Pick-4s and rolling Doubles, Pick-3s and the Super High-5.
BEST BET OF THE DAY
Race 4 / #6 – Mail Order Groom (2-1)
LONGSHOT PLAY OF THE DAY
Race 8 / #3 – Eyeplayeveryday (5-1)
[su_heading size="21″ align="left"]Multi-race wagers[/su_heading]
Race 1: $2 Double  4, 6, 8  w/ 2, 4, 6 ($18)
Race 3: $0.50 Pick-3  3, 4, 8  w/ 1, 6, 7  w/ 1, 3, 8  ($13.50)
Race 5: $0.50 Pick-5  3, 8  w/ 6, 8, 9  w/ 1, 4, 7 w/ 3, 6 w/ 7, 8 ($36)
Race 9: $2 Double  3, 4, 6   w/ 7, 8, 10 ($18)
[su_heading size="21″ align="left"]Analysis[/su_heading]
* Pimlico has five (5) races (1st, 3rd, 5th, 6th, 8th and 9th) scheduled to be run on the TURF. Forecast for northwest Baltimore is for Mostly Cloudy skies with high temps in the mid-70s and a 60% chance of thunderstorms. The below selections are based on the races being run ON THE TURF while the main dirt track listed as FAST.
Race 1 is ON THE TURF
#4 – I'm the Lucky One (5-2): Speed of the early speed and cuts back 1/16th and down a few levels     
#6 – Mount Coronet (8-1): Turf sprint off the bench was a tune-up for two turn which is his preferred distance             
#8 – Spark Kit (8-5): First start off J. Ness claim, out of jail and drops after convincing win v. better  
Race 2
#2 – Sassy Sara (4-1): Jumps up from MCL $25k in debut to $40k but ran a better time on same day as the top two M/L choices
#4 – Quasante (6-1): FTS by Hard Spun for small but successful barn (22%) has nice work out pattern over the past two months
#6 – Start Winning (15-1): Barn had zero expectations for this Jump Start VA-bred in debut (35-1) when in for MCL $16k but showed a nice late run earning a BRIS# that competes v. these       
Race 3 is ON THE TURF
#4 – Bossypants Bianca (7-2): Could only manage to SHOW in debut on grass going two turns as 8-5 fav.; adds Lasix for expected graduation day  
#3 – Fed Up Fired Up (1-1): Hasty drop from MCL $32 @ Tam in debut to here; jock/trainer combo is 29% w/ limited runners over past year  
#8 – Buffed (20-1): Yet to hit the board in 12 previous starts but faced boys for $25k in last outing and has showed ability on grass, albeit over 1½ years ago; worth a shot
Race 4
#6 – Mail Order Groom (2-1): *** BEST BET *** One of two runners in here that exits this same, open claiming condition as others looked good v. beaten claimers; runner-up as beaten fav. in last effort to a next out winner
#7 – Road Agent (9-2): Luzzi's last mount before moving tack to GP as he rides him back just 5 days after SHOW effort for $7500N1Y
#1 – Burning Mandate (4-1): Broke from rail in latest gunning to lead going 5½f, bothered in stretch then backed out  
Race 5 is ON THE TURF
#8 – Shinobi (5-2): Earned best turf BRIS fig in latest, maiden breaking start when claimed by R. Sillaman from A. Delacour; hoping he continues to move forward in spite of barn switch     
#3 – Brevard (3-1): Broke maiden first time for M. Vitali after claim w/ E. Prado up who rides back; needs pace help
#1 – Senor Star (8-1): Very unruly in pre-race last outing but held his own v. similar when stepping up in second race after layoff
Race 6 is ON THE TURF
#9 – De Marquee (2-1): A turf superstar in the making for Sagamore Farm; makes 4 y.o. debut while shooting for natural Hat Trick; H. DePaz/E. Prado combo a perfect 2 for 2
#6 – Broken Bridle (10-1): Gary Capuano trainee shows good efforts against similar in last two; Broken Vow filly never worse than third in three turf tries
#8 – Emelina (8-1): Best shot is going gate-to-wire and should get lead w/o much effort; BRIS speed figs have been ascending
Race 7
#4 – Girls Got Rhythum (5-2): Second start w/ blinkers and drops in first time for a ($25k) tag    
#1/1A – Spun Copper/Up Hill Battle (5-1): Like the #1 here as she gets back on main oval; entrymate may be distance challenged beyond 5½f      
#7 – Reckless Humor (9-2): Has been well backed since being claimed form L. Rice two races back but second career win has still eluded her; should be in the mix throughout 
 Race 8 is ON THE TURF
#3 – Eyeplayeveryday (5-1): $$$ LONGSHOT $$$ Lone turf try came in last start… over 9 months ago in restricted stakes behind best MD-bred turf runner in training (Phlash Phelps)   
#6 – Procurement (2-1): T. Proctor w/ Glen Hill Farm turf runners have been a winning combination for quite a while; gets to Winners Circle if he duplicates effort from two back
#4 – English Minister (5-2): Field has just a couple runners who want early lead; here's one of them who shortens up and can outlast all others if a moderate pace ensues
Race 9 is ON THE TURF
#8 – Map Room (7-2): Three straight bullet works @ Fai after registering best turf BRIS fig in this group @ Kee in second career start/first on grass
#7 – Black Tie Event (6-1): FTS by Distorted Humor out of a Stormy Atlantic mare has extensive work tab @ Tam and Fai; hails from WinStar Farm         
#10 – Brucarita (9-2): Matz barn has been bringing live runners to Pim (11: 4-2-2); add this one to the list but will need pace help   
YESTERDAY'S NEWS
On Thursday June 2nd at Pimlico had just 4 winners from the 9 race card (2 Top Selections; payoff in BOLD) having $2 WIN pay-off of $4.20 (2nd race), $19.60 (4th) $4.80 (5th) and $8.00 (6th). Note: Year-to-date Top Selections are 152 for 585 (26.04%).
BEST BET of the Day (61: 22-11-6) Whatifiwaswilling (9th race: 5-2 M/L; 1-1 PT) no response from the back of the pack through dawdling early fractions and could only pass tired rivals in the stretch managing to finish 5th.
LONGSHOT PLAY of the Day (58: 4-6-10) Debbie's Tude (4th race: 10-1 M/L; 8-1 PT) quickly gained a four-length advantage into the first turn, set reasonable fractions without being pressed and never was challenged when set down for the drive entering the stretch and held sway to win by 2½ lengths to return $19.60 to WIN, $11.00 to PLACE and $6.00 to SHOW.
NAME A RACE
Ever wanted a race named in your honor?  Want to recognize a friend's birthday, anniversary or achievement?  But you can't make it out to the track?
Now you can have that race named just the way you want it — FREE — right here at The Racing Biz!
Simply fill out the form below, and we'll let the world know.  Your race will be named here, as part of The GQ Approach handicapping selections!
Why handicap race number one, when you can handicap "Race 1 – The Bob's Big Day Special"?!?
Note: This offer is NOT done in conjunction with the Maryland Jockey Club and does NOT provide you any benefits or recognition at Laurel Park, Pimlico Race Course, or any other facility owned or operated by the MJC. It applies only to this website.