The GQ Approach – Pimlico June 2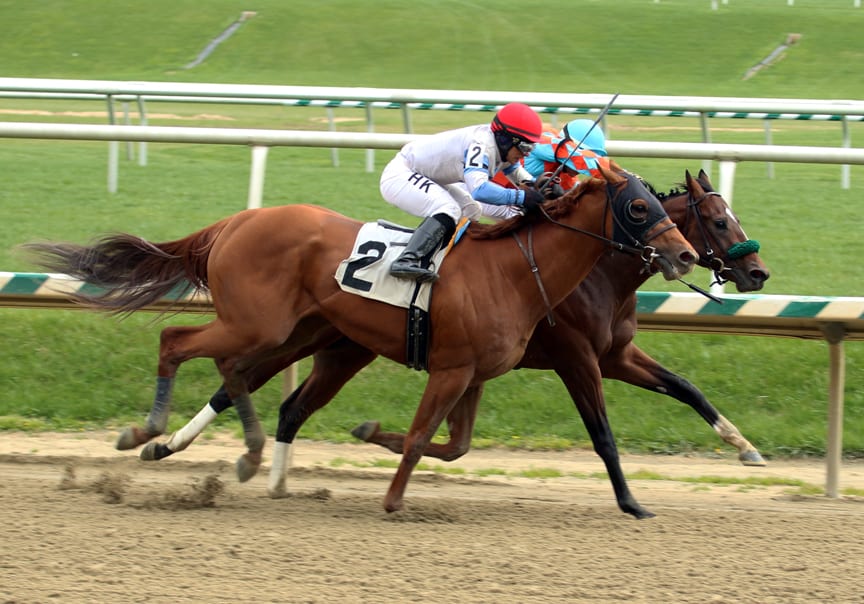 Photo by Laure Asseo.
The GQ Approach features full-card selections from Pimlico (28-day meet w/ live racing Thursday-Sunday through June 26th; Post Time 1:10pm EDT), including a daily Best Bet, Longshot Play, and multi-race wagers — including the 20 cent Rainbow Pick-6 ($2,011 carryover), 50 cent Jackpot Pick-5 as well as Pick-4s and rolling Doubles, Pick-3s and the Super High-5.
BEST BET OF THE DAY
Race 9 / #10 – Whatifiwaswilling (5-2)
LONGSHOT PLAY OF THE DAY
Race 4 / #5 – Debbie's Tude (10-1)
[su_heading size="21″ align="left"]Multi-race wagers[/su_heading]
Race 1: $2 Double  1, 3, 7  w/ 2, 4, 7 ($18)
Race 3: $0.50 Pick-3  1  w/ 1, 5, 7  w/ 2, 3, 8  ($9)
Race 6: $0.50 Pick-4  4, 8, 9  w/ 5, 6 w/ 1,  2, 6  w/ 10 ($18)
Race 9: $2 Double  1, 2, 6  w/ 10 ($6)

[su_heading size="21″ align="left"]Analysis[/su_heading]
* Pimlico has five (5) races (2nd, 4th, 6th, 8th and 9th) scheduled to be run on the TURF. Forecast for northwest Baltimore is for Mostly Sunny skies with high temps in the mid-70s and a 10% chance of precipitation. The below selections are based on the races being run ON THE TURF while the main dirt track listed as FAST.
Race 1
#1 – Outfielder (1-1): Two time runner-up at this level cuts back in distance and needs pace help     
#7 – Adversary (12-1): Trainer J. McCutcheon does well with second career start runners and on 2+ class drop; switches from going long on turf to sprinting on dirt… just throwing darts?              
#3 – Keepyuriondabalado (8-1): With switch to Carrasco in the irons this one should show early foot especially on multiple class drop  
Race 2 is ON THE TURF
#7 – Smart Dixie Jones (10-1): Looks like lone speed in this turf sprint.; was compromised in first race off the bench when exiting the Starting Gate      
#2 – Rafidain (7-5): This More Than Ready colt for Shadwell Stable was a K. McLaughlin disciple when @ GP but career debut on turf was miserable; six races later has improved and returns to turf after "off the turf" second as PT fav. in Pim bow      
#4 – Town Hero (5-1): Leading CT jock J. Montano in just to ride this 4 y.o. looking to simply hit the board in eighth career outing       
Race 3
#1 – Miss Glengar (1-1): Against my religion to make an even money M/L fav. Best Bet but someone will; 5 for 7 at this distance; only breaking from the rail can possibly deny a trip to the Winners Circle  
#7 – Fair Shake (8-1): Distant third to PT fav. last trip when 23-1; upgrade to McCarthy will help but picking up 8+ lengths is doubtful  
#4 – Super Cassie Girl (6-1): A rare bottom level claim for M. Trombetta; cut back to sprint is the right move and an off the pace run with likelihood of pace meltdown gets a small piece   
Race 4 is ON THE TURF
#5 – Debbie's Tude (10-1): $$$ LONGSHOT $$$ Away since last Nov.; has done well in first race since layoff in the past; L. Luzzi should be able to dictate slow pace as he's lone speed          
#7 – Empower (4-1): Will take plenty action at the windows w/ E. Prado back on aboard for "Magic" Magee but cannot ignore fact this gelding is 0 for 7 on turf        
#1 – I'm Da Big Man (15-1): Another making '16 debut; will come running late as he did v. similar when missing by 1¼ lengths but get smarter ride w/ F. Boyce up  
Race 5
#8 – Gem Twist (8-5): Second start w/ blinkers; this former $270k Kee purchase hits rock bottom after a distant second v. $10kN2L here 3 weeks ago     
#2 – Louis the Great (7-2): Interesting that F. Lynch jumps off C. Lynch M/L fav. (#8) to stay on this gelding after just missing at this level on BES Day
#3 – Topara (4-1): IN-breds first start in 11 months was nothing to write home to mother about; "Ham" Smith calls on A. Cintron for a better effort as this combo hits at 40%       
Race 6 is ON THE TURF
#4 – Hushhushmushmush (6-1): Yikes! 1 for 20 on the turf gives an indication about this field; NY shipper has faced better The Big Apple and SHOWed at this distance in two efforts while 8 of the other 10 in here have never raced this far; In Karamanos on the turf We Trust?
#9 – Don't Make Me Cry (5-1): Has hit the board in 7 of 9 career starts but those 2 OTB were on grass from 3 starts on the green; a legitimate threat or a late closing sprinter?  
#8 – Fifty Two (10-1): Has the pedigree to go 9f on turf; late running style was hindered while racing @ GP speed favoring turf course in all 6 previous starts
Race 7
#5 – Another Badge (3-1): Magee swooped in to claim this gal from L. Jones on the drop when getting second career win after runner-up @ Kee v. better; is there improvement to be had?    
#6 – Toe Curls (5-2): Strong effort in last v. better getting the nose-bob; finds nice race to be protected while going for natural Hat Trick
#3 – Oh What a Delite (9-2): Has two runner-up efforts in the three recent starts v. similar; would behoove short-timer L. Luzzi to get a few wins before heading to GP  
Race 8 is ON THE TURF
#6 – Bobbi Grace (6-1): Competed in graded stakes and ran behind recent winner Isabella Sings last Fall; looking at that turf sprint in first race after layoff as a tune-up for today   
#1 – Candida H. (8-1): Solid MD-bred runner did well (3rd) in only turf start when in first time v. N2X and had an excuse; bred for this distance
#2 – Quiet Kitten (2-1): One of M. Vitali stable up from winter @ GP; figures against this group as she has knocked heads in graded stakes while hitting the board in past six turf races v. lesser
Race 9 is ON THE TURF
#10 – Whatifiwaswilling (5-2): *** BEST BET *** By far has earned the best turf BRIS number of those who have tested the grass; has improved on those figures in each of her past two turf races; just needs a little pace to run at late
#1 – Champagne Time (6-1): Voss takes over training duties from I. Wilkes; two game turf tries when cold on the board (13-1 & 21-1)
#2 – Mesmerize (4-1): Stretches out for L. Gaudet on turf after getting SHOW purse in "off the turf" two turn affair at this level; a threat to go gate-to-wire   
YESTERDAY'S NEWS
On Monday May 30th at Pimlico had 5 winners from the 9 race card (3 Top Selections; payoff in BOLD) having $2 WIN pay-off of $4.80 (1st race), $6.60 (2nd), $2.80 (3rd) $6.00 (4th), $3.60 (5th) and $5.40 (6th). Of the suggested Multi-Race wagers hit on $2 DOUBLE in R1-R2 for $20.80 (cost: $18) and 50 cent Pick-3 in R3-R5 for $2.90 (cost: $13.50, ouch!). Note: Year-to-date Top Selections are 150 for 576 (26.04%).
BEST BET of the Day (60: 22-11-6) Blu Moon Ace (8th race: 9-2 M/L; 4-1 PT) rated off the dueling leaders while off the rail, gathered steam mid-turn, circled four wide into the lane, raliied to command under strong urging with a sixteenth to go, kept on gamely but just could not withstand the winner's charge and got beat by a neck to return $5.80 to PLACE and $4.40 to SHOW.
LONGSHOT PLAY of the Day (57: 3-6-10) Moonshine Mistress (4th race: 6-1 M/L; 8-1 PT) hugged the rail to no avail and was outrun finishing 8th. 

NAME A RACE
Ever wanted a race named in your honor?  Want to recognize a friend's birthday, anniversary or achievement?  But you can't make it out to the track?
Now you can have that race named just the way you want it — FREE — right here at The Racing Biz!
Simply fill out the form below, and we'll let the world know.  Your race will be named here, as part of The GQ Approach handicapping selections!
Why handicap race number one, when you can handicap "Race 1 – The Bob's Big Day Special"?!?
Note: This offer is NOT done in conjunction with the Maryland Jockey Club and does NOT provide you any benefits or recognition at Laurel Park, Pimlico Race Course, or any other facility owned or operated by the MJC. It applies only to this website.