The GQ Approach – Pimlico May 30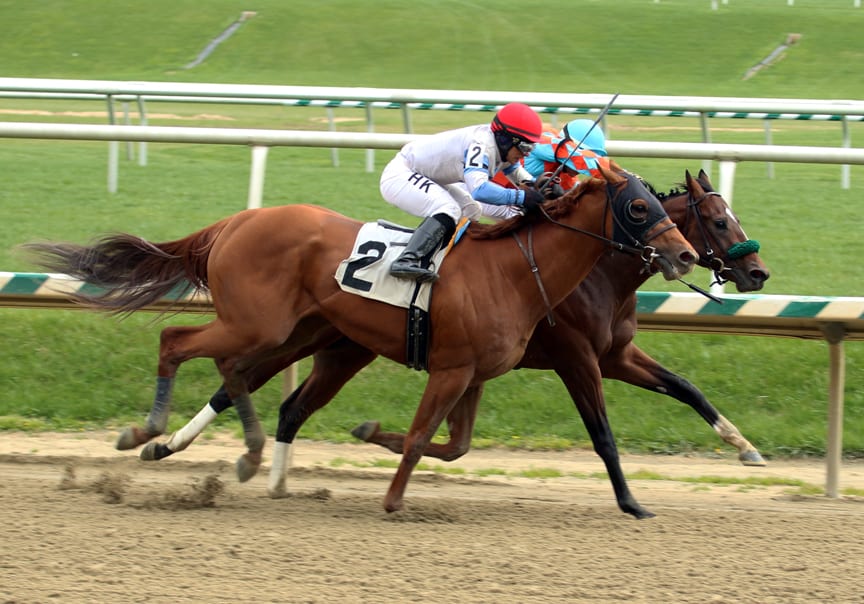 Photo by Laure Asseo.
The GQ Approach features full-card selections from Pimlico (28-day meet w/ live racing Thursday-Sunday through June 26th, in addition to Memorial Day, Monday May 30th; Post Time 1:10pm EDT) including a daily Best Bet, Longshot Play, and multi-race wagers — including the 20 cent Rainbow Pick-6, 50 cent Jackpot Pick-5 as well as Pick-4s and rolling Doubles, Pick-3s and the Super High-5.
BEST BET OF THE DAY
Race 8 / #9 – Blu Moon Ace (9-2)
LONGSHOT PLAY OF THE DAY
Race 4 / #1 – Moonshine Mistress (6-1)
[su_heading size="21″ align="left"]Multi-race wagers[/su_heading]
Race 1: $2 Double  1, 4, 6  w/ 1, 3, 8 ($18)
Race 3: $0.50 Pick-3  3, 5, 7  w/ 1, 3, 7  w/ 2, 5, 8  ($13.50)
Race 6: $0.50 Pick-4 3, 5, 8  w/ 1, 7 w/ 9, 11 w/ 5, 6, 9 ($18)
Race 9: $2 Double  6, 9, 11  w/ 5, 6, 9 ($18)
[su_heading size="21″ align="left"]Analysis[/su_heading]
* Pimlico has five (5) races (2nd, 4th, 6th, 8th and 9th) scheduled to be run on the TURF. Forecast for northwest Baltimore is for Mostly Cloudy skies with high temps in the low-80s and the probability of rain on and off throughout the day. The below selections are based on the races still being run ON THE TURF while the main dirt track listed as GOOD to SLOPPY.
Race 1
#1 – Tempietto (8-5): Need to toss that turf start in last outing; beat the M/L fav. (#6) two back even w/o a clean trip
#4 – Henrys Way (5-1): Ran just behind top pick in first after Magee claim but will be saddled by K. Cartagena today 
#6 – Sabbiadoro (7-5): Seems to have found this level as where he could break maiden after a third and second going long   
Race 2 is ON THE TURF
#3 – Just Funnin' Ya (5-1): Was in way over her head on Black-Eyed Susan undercard; steadied two back when in for same tag, finishing just two lengths behind winner    
#1 – Chesapeake Spring (9-2): Ambitiously placed in first start of '16; drops back to level where she can compete      
#8 – Archer Queen (9-5): Comes off victory v. $12,500 open claimers @ GP after two other late runs v. better on that speed favoring GP grass; has hit the board in two previous starts @ Pim (2: 0-1-1)       
Race 3
#7 – Articulate (8-5): Made a living on synthetic surfaces in SoCal and WO; still looking for first natural dirt win (11:0-4-2); bridesmaid in past two at this level  
#5 – Lightnin Fast Gal (4-1): Had business trying turf and was ridden as if she didn't want lead; back on main oval and jock switch instructions should be "go to the lead and let's see what happens" Pim debut  
#3 – Fifth Amendment (12-1): Not much on a fast track but will use if track comes sloppy (6:2-1-1)  
Race 4 is ON THE TURF
#1 – Moonshine Mistress (6-1): $$$ LONGSHOT $$$ This 4 y.o. filly gets services of Feargal Lynch who does well on the grass; has had her share of bad racing luck and can score with a smarter ride          
#3 – Sippy Cup (4-1): Beaten favorite w/ E. Prado in irons last outing; takes another class drop and hoping apprentice L. Luzzi can get job done       
#7 – Azia Brown (7-2): Has been sent off as heavy favorite in her past three only to disappoint backers in a big way; is it insane to think she does not lack a winners mentality?
Race 5
#5 – Becki Kecki (7-5): Adds blinkers and drops a level in hopes of getting back to Winners Circle as she did over a sloppy track @ Pen at this distance three races ago     
#2 – Pony Romo (2-1): Runner-up in last after having a perfect rail trip; will need to same to beat these rivals
#8 – Stormy Mama (6-1): Ran behind "Romo" three back yet beat "Becki" going longer but then the latter got best of her last outing; 1 for 2 @ Pim 
Race 6 is ON THE TURF
#5 – La Nina (2-1): Got lead late on turf going 5½f @ Lrl in last effort but couldn't hold on late; only needs to go 5f today
#8 – Hymnotic (8-1): A C. Clemente cast-off that may be better sprinting on turf; A. Delacour/F. Boyce combo wins at 41% clip  
#3 – Fort Rosalie (8-1): Sheds blinkers after two disappointing efforts coming off 18 month layoff; could earn diploma in initial turf try w/ Karamanos on board
Race 7
#7 – Better Wise Up (5-1): MD-bred FTS by Jump Start has the look in the A.M. of one who is ready to win at first asking    
#1 – Gloria Patri (2-1): Tough assignment from rail for this Not For Love FTS from M. Eppler barn who gets 21% of her firsters to Winners Circle      
#6 – Yes Its Factual (5-2): $150k yearling purchase for Live Oak Plantation ran to 11-1 odds in debut; needs a more alert start to graduate in second outing
Race 8 is ON THE TURF
#9 – Blu Moon Ace (9-2): *** BEST BET *** Ran into a buzzsaw (Bobcat) in second carrer start after impressive debut; has pedigree to handle switch to turf   
#11 – Tempt Me Twice (7-2): Needs a defection as he's on AE list; addition of blinkers and cutting back to turf sprints has been the magical formula for this A. Merryman trainee
#6 – Gursky (3-1): Got caught flat-footed, or would that be falt-hooved, in last start; needs to be quicker from the gate and a stalking trip gives her a shot
Race 9 is ON THE TURF
#6 – Mexicali Sun (7-2): Showed quick early foot in debut on grass but weakened late; jock switch to E. Prado will attract bettors
#5 – Kitty's Right (6-1): Drops back in for $25k tag after 4 month layoff and gives turf a try in hopes of breaking maiden; bloodlines indicate it's a good move        
#9 – Howyaformints (6-1): Took some action in debut (6-1) in slop but stumble at start did her in; lone A.M. drill on the turf was a bullet, so this gray could be live  
YESTERDAY'S NEWS
On Sunday May 29th at Pimlico had just 4 winners from the 9 race card (x Top Selections; payoff in BOLD) having $2 WIN pay-off of $6.40 (1st race), $4.80 (2nd) $4.80 (3rd) and $7.80 (6th). Note: Year-to-date Top Selections are 147 for 567 (25.93%).
BEST BET of the Day (59: 22-10-6) Moonlit Friday (2nd race: 9-2 M/L; 3-1 PT) between rivals early, saved ground leaving the half mile pole, eased out and faded to 6th.
LONGSHOT PLAY of the Day (56: 3-6-10) Justice for Sheena (6th race: 5-1 M/L; 5-1 PT) brushed nearing the first turn, chased outside a rival, swung six wide for the drive but lacked a bid to finish 5th. 

NAME A RACE
Ever wanted a race named in your honor?  Want to recognize a friend's birthday, anniversary or achievement?  But you can't make it out to the track?
Now you can have that race named just the way you want it — FREE — right here at The Racing Biz!
Simply fill out the form below, and we'll let the world know.  Your race will be named here, as part of The GQ Approach handicapping selections!
Why handicap race number one, when you can handicap "Race 1 – The Bob's Big Day Special"?!?
Note: This offer is NOT done in conjunction with the Maryland Jockey Club and does NOT provide you any benefits or recognition at Laurel Park, Pimlico Race Course, or any other facility owned or operated by the MJC. It applies only to this website.