The GQ Approach – Pimlico May 29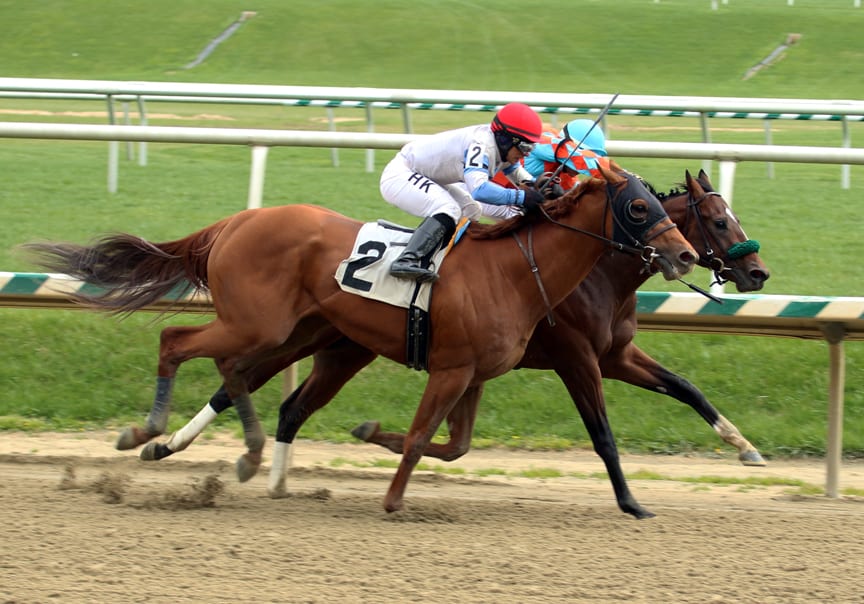 Photo by Laure Asseo.
The GQ Approach features full-card selections from Pimlico (28-day meet w/ live racing Thursday-Sunday through June 26th, in addition to Memorial Day, Monday May 30th; Post Time 1:10pm EDT including a daily Best Bet, Longshot Play, and multi-race wagers — including the 20 cent Rainbow Pick-6, 50 cent Jackpot Pick-5 as well as Pick-4s and rolling Doubles, Pick-3s and the Super High-5.
BEST BET OF THE DAY
Race 2 / #5 – Moonlit Friday (9-2)
LONGSHOT PLAY OF THE DAY
Race 6 / #5 – Justice for Sheena (5-1)
[su_heading size="21″ align="left"]Multi-race wagers[/su_heading]
Race 1: $2 Double  1, 2, 3  w/ 1, 4, 5  ($18)
Race 3: $0.50 Pick-3  2, 3, 7  w/ 5, 6, 7  w/ 4, 6, 8  ($13.50)
Race 6: $0.50 Pick-4  5, 6, 9  w/ 1, 6 w/ 3, 7 w/ 1, 3, 7 ($18)
Race 8: $2 Double  3, 7 w/ 1, 3, 7 ($12)
[su_heading size="21″ align="left"]Analysis[/su_heading]
* Pimlico has five (5) races (2nd, 4th, 6th, 8th and 9th) scheduled to be run on the TURF. Forecast for northwest Baltimore is for Partly Cloudy skies with high temps in the low-80s and a 20% chance of a shower. The below selections are based on the races being run ON THE TURF while the main dirt track listed as FAST.
Race 1
#2 – Luck With a Kiss (8-5): No luck required here as he drops to lowest level in 50 race career; last fast track outing was runner-up effort 3 back a couple levels higher     
#3 – Daniel Did It (5-2): Damn Daniel! Not a great $15k claim for C. Lynch offering this one for $5k just 3 races later… maybe "Magic" will take him back?               
#1 – Fairy Cat (4-1): BRIS speed figs are improving thanks to score @ Pen but 7 y.o. ridgling got buried v. similar @ Lrl prior to that   
Race 2 is ON THE TURF
#5 – Moonlit Friday (9-2): *** BEST BET*** Found plenty of trouble in most recent outing when in against the #1 and #4; A. Serpa is also looking to break Pim maiden (0 for 21)    
#4 – Longing to Travel (5-1): Will need pace help but also gets additional 1/16th; been knocking on the door for too long; won't be a maiden for long
#1 – Shan Dian Kia (5-2): Got the best of the top two in last outing; runner-up in both starts at this level but stamina will be challenged this time       
Race 3
#3 – New Yawker (7-2): This 10 y.o. may have needed one coming off the bench when Lrl surface wasn't as kind to early speed as this Pim dirt oval may be today  
#2 – Blue Chips Only (1-1): Third race after layoff but interesting that he wasn't heavily bet on class drop last time; hard to gauge what tactics Carrasco will use… off the pace or go early  
#7 – Andy Picked Me (4-1): Never ran a lick in first try off C. Lynch claim but did step up a couple levels yet was sent off 3-5; F. Lynch off could be a caution flag or smoke screen  
Race 4 is ON THE TURF
#5 – Credit Ready (2-1): Was well clear for 5f in turf debut @ Lrl last month but couldn't hold on; runner-up that day came back on Thu. to run third while stepping up v. MSW
#7 – Caboppo (7-2): Not much value for WV-bred who spit out the bit here in off the turf at same level for barn that's seeking first win in '16; thinking return to grass (5: 0-2-2) will yield better results
#6 – Pitch 'n Putt (15-1): Only an idiot would think an 0 for 23 (0 for 11 on turf) has a shot in here; guilty as charged but T. Hole has been best fit in past on this gelding  
Race 5 
#4 – Love Rules All (7-5): Failed by a head as favorite in last in spite of registering a gaudy BRIS speed fig (82) for this bottom level; stretches out to two turns while this 3x winner still seeks first dirt surface win     
#8 – It's My Perogative (15-1): Only his third time going two-turns on dirt after 30 career starts; outfit has had success stretching out (20%); attracting Trevor can only be seen as a plus
#6 – American Blend (9-5): Winless in nearly 2½ years but has hit the board in all 5 races since being imported from SoCal; new barn might be able to right this ship       
Race 6 is ON THE TURF
#5 – Justice for Sheena (5-1): $$$ LONGSHOT $$$ Can turn the tables on both the #1 and #4 with switch to K. Francois who should allow this gal to relax off the pace and come running late in her third race after layoff
#9 – Rise to the Top (15-1): Though outfit is 0 for 10 w/ runners first grass attempts this daughter of Poineerof the Nile should like the green and be a nice price  
#6 – Saint Abbey (3-1): Draw a line thru first start off C. Bradley (aka R. Preciado barn) claim as it was an off the turf affair; runner protected and will attract action w/ E. Prado up
Race 7
#1 – Manando (4-5): Steps up one level after winning for fun and was claimed by "Magic" Magee from himself for same owner… Hmmm.    
#6 – It's a Bang (8-1): Rushed early in last v. open claimers for $11k; should be able to hang with this group; career 2 for 4 @ Pim      
#8 – Uncle Todd (20-1): Ran just behind It's a Bang and tries to stretch out another 1/16th; has never been off the board @ Pim (3:1-1-1)  
Race 8 is ON THE TURF
#3 – Cowgirl Creed (7-2): Idle since last Oct. on Lrl lawn going 5½f; gets Lasix for 1st time and should get early lead and get to wire first
#7 – Pauline's Pride (3-1): Third race after layoff and gave similar efforts in first two; cuts back to sprint and will need help to create hot early pace
#5 – Sweet Sililoquy (10-1): Owns best career turf BRIS number in this field; may need one off the bench but worth using in exotics
Race 9 is ON THE TURF
#3 – Aqua Teen L (7-2): It's asking a lot for a FTS to go two turns on turf in debut, but this son of Street Cry has the pedigree and one of the best first time, turf trainers (21%) to get it done
#1 – Justcallme K (6-1): Been improving since switching to turf two back; if he avoids slow start and trouble, it could be graduation day
#7 – Lovely Notion (6-1): Ortiz nearly stole her last effort when 46-1 coming up a few strides short while being second best on drop; faces similar in here   
YESTERDAY'S NEWS
On Saturday May 28th at Pimlico had 6 winners from the 10 race card (2 Top Selections; payoff in BOLD) having $2 WIN pay-off of $6.20 (2nd race), $4.20 (3rd) $42.20 (5th), $4.00 (6th), $5.20 (8th) and $13.20 (9th). Note: Year-to-date Top Selections are 147 for 558 (26.34%).
BEST BET of the Day (58: 22-10-6) My Music (7th race: 7-2 M/L; 5-2 PT) came in after stumbling badly leaving the starting gate, was five deep turning for home and failed to rally and finished 6th.
LONGSHOT PLAY of the Day (55: 3-6-10) Jonestown Jonesy (5th race: 8-1 M/L; 5-2 PT) saved ground on the turn, was well positioned in upper stretch and failed to rally while finishing 5th. 

NAME A RACE
Ever wanted a race named in your honor?  Want to recognize a friend's birthday, anniversary or achievement?  But you can't make it out to the track?
Now you can have that race named just the way you want it — FREE — right here at The Racing Biz!
Simply fill out the form below, and we'll let the world know.  Your race will be named here, as part of The GQ Approach handicapping selections!
Why handicap race number one, when you can handicap "Race 1 – The Bob's Big Day Special"?!?
Note: This offer is NOT done in conjunction with the Maryland Jockey Club and does NOT provide you any benefits or recognition at Laurel Park, Pimlico Race Course, or any other facility owned or operated by the MJC. It applies only to this website.