The GQ Approach – Pimlico May 28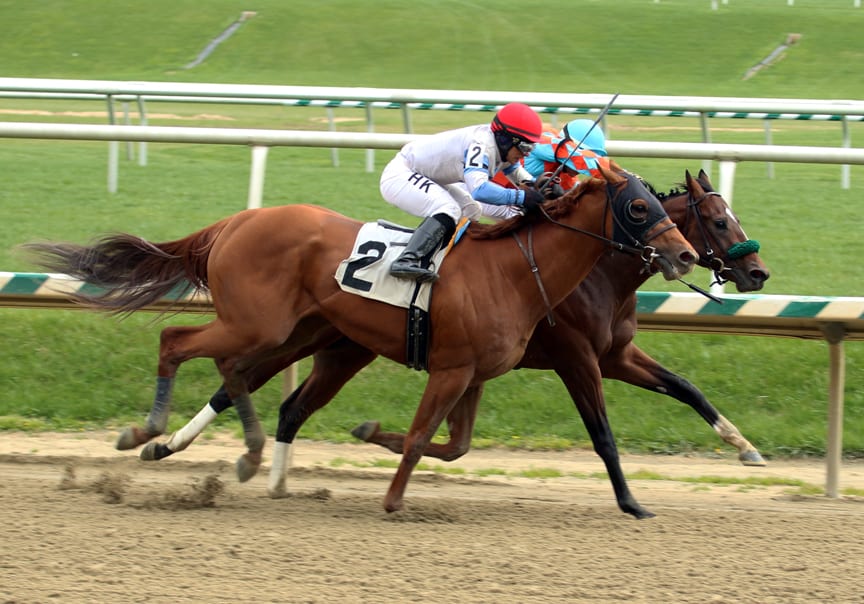 Photo by Laure Asseo.
The GQ Approach features full-card selections from Pimlico (28-day meet w/ live racing Thursday-Sunday through June 26th, in addition to Memorial Day, Monday May 30th; Post Time 1:10pm EDT), including a daily Best Bet, Longshot Play, and multi-race wagers — including the 20 cent Rainbow Pick-6 ($187,196 carryover), 50 cent Jackpot Pick-5 as well as Pick-4s and rolling Doubles, Pick-3s and the Super High-5.
BEST BET OF THE DAY
Race 7 / #4 – My Music (7-2)
LONGSHOT PLAY OF THE DAY
Race 5 / #3 – Jonestown Jonesy (8-1)
[su_heading size="21″ align="left"]Multi-race wagers[/su_heading]
Race 1: $2 Double  5, 6, 7  w/ 2, 4, 8 ($18)
Race 3: $0.50 Pick-3  3, 6, 10  w/ 1, 2, 6  w/ 3, 8 ($9)
Race 5: $0.20 Rainbow Pick-6 2, 3, 8  w/ 1, 5, 8 w/ 4 w/ 2, 6 w/ 2, 7 w/ 2, 4 ($14.40)
Race 9: $2 Double  2, 4, 7  w/ 2, 4, 7 ($18)
[su_heading size="21″ align="left"]Analysis[/su_heading]
* Pimlico has five (5) races (3rd, 5th, 7th, 9th and 10th) scheduled to be run on the TURF. Forecast for northwest Baltimore is for Partly Cloudy skies with high temps in the mid-80s and a 10% chance of rain. The below selections are based on the races being run ON THE TURF while the main dirt track listed as FAST.
Race 1
#6 – Full Quest (4-1): Going with the one that is only runner w/ race experience and is the oldest (Feb. foal) of this late blooming group of babies     
#7 – Argento (8-1): Meaning "silver" this gray FTS by Songandprayer recorded a couple bullets in first two official works over Pim dirt
#5 – Worth His Salt (5-2): Can't deny J. Ness record w/ FTS (24%) and that final gate work (1:01 4/5) jumps off the page; took stand against Sagamore $110k purchase FTS (#4) w/ E. Prado   
Race 2
#2 – Convoyarie (3-1): Draw a line thru that initial turf try in last outing; still the big class drop is suspect but M. Eppler may have convinced owners time to get more than a 4th place purse check   
#4 – Mrs. Brenner (4-1): Has improved BRIS speed figures since C. Juarez claim 4 races back; no worries that son Nik not back on today as he's riding a few @ Mth      
#8 – She's On a Roll (5-2): Seems to be having issues since debut win v. $25k MCL last Oct. @ Lrl; based on placings v. $15k Claimers this level should be more to her liking
Race 3 is ON THE TURF
#10 – True to Form (2-1): This gelded son of Dynaformer should show more interest on drop in for a tag after that initial turf try was so-so w/o much backing (12-1) v. MSW  
#6 – Zoo (6-1): Speaking of which "Brew at the Zoo" this weekend @ Balto. Zoo; this one has had 13 chances on turf; third race after layoff angle
#3 – Greyscale (9-2): Let's call a spade a spade… there's nothing in his PPs that indicate he's a must use; attraction is T. Morley (21% dirt to turf) but 2+ level class drop not so much (0 for 3)  
Race 4
#6 – Perfect Game Cain (4-1): Third race after layoff; can get a perfect stalking trip in here w/ plenty of early speed to pounce on late
#1/1A – Patrick Rocks/Mr. Game Seven (7-2): Latter was a prudent claim last race for J. Robb but only one w/ L. Garcia listed on both; if so, either is worth a look        
#2 – Daystrike (3-1): Has contracted a case of "Second-itis" since his last trip to Winners Circle last Sept.; beaten fav. in turf sprint returns to main track  
Race 5 is ON THE TURF
#3 – Jonestown Jonesy (8-1): $$$ LONGSHOT $$$ McMahon go to situational jock A. Rodriguez only mount on the card; booted this one home twice last year sprinting on this Pim turf     
#8 – Devil Rising (10-1): Have to respect trainer K. Patterson (39%) CT shipper w/ G. Almodovar up; last felt hooves on grass v. much better @ Dmr and GP
#2 – Hymn's Sylvia (15-1): Clinton Potts sighting; both jock and runner last seen @ Lrl in Nov. on turf going 5½; Pim 5f distance should be more to his liking       
Race 6
#5 – Because He Can (6-5): Wonder how many bargain hunters will have the "cojones" to put in a Claim for this steep class dropper? The tote will tell the story on whether he's well-meant today
#8 – My Team (15-1): Gave W. Kee first win of '16 but was claimed from the barn; will try to do the same for D. Lezell on the drop from just off what may be a hot early pace
#1/1A – Zipzapzapper/Skip the Punch (2-1): Too short a price to take on this pair of class droppers who both seem distance challenged beyond 5½f
Race 7 is ON THE TURF
#4 – My Music (7-2): *** BEST BET *** Lesser of the two M. Matz uncoupled entries? Don't believe it! This Augustin Stables runner earned best turf BRIS fig in last effort, 3 behind impressive next out winner on yesterday's card    
#1 – Victory Square (2-1): Logical M/L fav. for M. Matz as she finally gets class relief, first time in for tag in 9th career outing      
#7 – Carrauntoohil (6-1): Not too shabby as she was just three-quarters of a length behind top pick in last start; Serpa looking to get off the Pim schneid (0 for 18)  
Race 8
#2 – Risky Persuasion (6-1): Away since last July when runner-up at this level; gelded for his valiant effort and putting in steady works since mid-Apr. for return   
#6 – Pistol Posse (7-2): Through first 3 races has the running lines of one who wants more ground as sire did best work going one mile; Magee/Pimentel are 2 for 3 at meet
#7 – Fergus Maximus (10-1): Might be off base thinking this NY-bred FTS by Albertus Maximus can get the job done, but work tab impressive ending w/ two consecutive bullets
Race 9 is ON THE TURF
#2 – Sprinklesmiddle Ez (3-1): Typical J. Ness move in that steps up first off claim while "in jail" then drops back to a winnable level
#7 – Delightful Liz (12-1): If she can outbreak top pick in here, L. Luzzi may be able to hold her together for a monster gate-to-wire score ending many P6 players dreams         
#4 – Lulu Island (20-1): Got a nice stalking trip w/ C. Stoddard in the irons last time; see same scenario in third race after layoff   
Race 10 is ON THE TURF
#4 – Pro Daddy (7-2): If he runs back to either of his only two turf efforts @ Del last year, he'll graduate today  
#2 – New Kid in Town (15-1): Guessing he ran away w/ Lauralea in last race; if so and she gets to relax him on the drop, a Winners Circle photo is possible           
#7 – Silver Wraith (8-1): As bad as the last couple races have been, there is talent here on the grass as shown in that one shining moment three races back   
YESTERDAY'S NEWS
On Friday May 27th at Pimlico had just 3 winners from the 9 race card (3 Top Selections; payoff in BOLD) having $2 WIN pay-off of $11.20 (1st race), $5.60 (7th) and $6.40 (9th). Note: Year-to-date Top Selections are 145 for 548 (26.46%).
BEST BET of the Day (57: 22-10-6) Kadie'shorseplay (8th race: 4-1 M/L; 3-1 PT) saved ground pursuing the pace, got through along the rail in mid-stretch but was outfinished to finish 4th just 2½ lengths behind the winner.
LONGSHOT PLAY of the Day (54: 3-6-10) Moral High Ground (2nd race: 12-1 M/L; 5-1 PT) broke a step slow, drafted in towards the rail then steadied off heels nearing the first turn, regrouped to settle off the pace, made progress along the rail nearing the half mile pole, steadied when shuffled nearing the turn, altered out and circled three wide into the lane, was guided out wider past the three sixteenths and finished up well to claim the runner-up spot and returned $6.20 to PLACE and $4.40 to SHOW.
NAME A RACE
Ever wanted a race named in your honor?  Want to recognize a friend's birthday, anniversary or achievement?  But you can't make it out to the track?
Now you can have that race named just the way you want it — FREE — right here at The Racing Biz!
Simply fill out the form below, and we'll let the world know.  Your race will be named here, as part of The GQ Approach handicapping selections!
Why handicap race number one, when you can handicap "Race 1 – The Bob's Big Day Special"?!?
Note: This offer is NOT done in conjunction with the Maryland Jockey Club and does NOT provide you any benefits or recognition at Laurel Park, Pimlico Race Course, or any other facility owned or operated by the MJC. It applies only to this website.