The GQ Approach – Pimlico May 27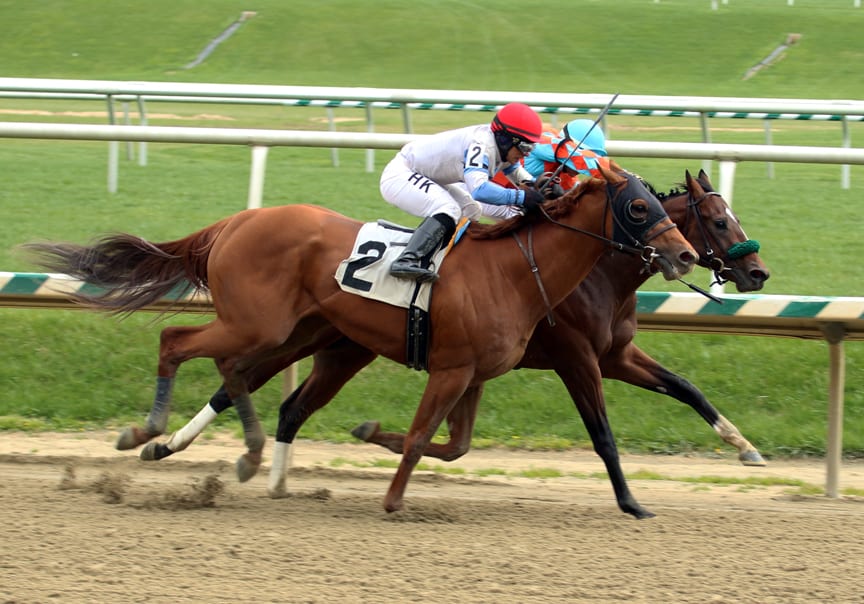 Photo by Laure Asseo.
The GQ Approach features full-card selections from Pimlico (28-day meet w/ live racing Thursday-Sunday through June 26th, in addition to Memorial Day, Monday May 30th; Post Time 1:10pm EDT), including a daily Best Bet, Longshot Play, and multi-race wagers — including the 20 cent Rainbow Pick-6 ($171,178 carryover), 50 cent Jackpot Pick-5 ($4,060 carryover) as well as Pick-4s and rolling Doubles, Pick-3s and the Super High-5.
BEST BET OF THE DAY
Race 8 / #2 – Kadie'shorseplay (4-1)
LONGSHOT PLAY OF THE DAY
Race 2 / #9 – Moral High Ground (12-1)
[su_heading size="21″ align="left"]Multi-race wagers[/su_heading]
Race 1: $2 Double  3, 5, 6  w/ 7, 8, 9 ($18)
Race 4: $0.20 Rainbow Pick-6  2, 3, 8  w/ 2, 5, 6  w/ 3, 5, 8, 10  w/ 1, 2, 3, 5  w/ 2 w/ 6, 7 ($57.60)
Race 6: $0.50 Pick-4   5, 8, 10  w/ 1, 2, 5  w/ 1, 2, 4  w/ 6, 7 ($27)
Race 8: $2 Double  1, 2, 4  w/ 4, 6, 7 ($18)
[su_heading size="21″ align="left"]Analysis[/su_heading]
* Pimlico has five (5) races (2nd, 4th, 6th, 8th and 9th) scheduled to be run on the TURF. Forecast for northwest Baltimore is for Partly Sunny skies with high temps in the mid-80s and a 40% chance of rain on and off throughout the day. The below selections are based on the races being run ON THE TURF while the main dirt track listed as FAST.
Race 1
#5 – Priss (6-1): FTS by Tale of the Cat; will debut w/o Lasix and attracts the X-Man who has ridden the M/L fav. (#4) in both of her prior starts     
#6 – Panamaniac (5-1): FTS by Wilko do well at first asking; trainer J. Corrales knows how to win w/ babies as well (24%)               
#3 – Next Street (3-1): Failed as part of a 4-5 entry in the slop after dueling early; can score if she runs back to debut effort     
Race 2 is ON THE TURF
#9 – Moral High Ground (12-1): $$$ Longshot $$$ Third race after layoff while first two were sprints while she prefers two turns which she gets today; don't bother looking for her until the final furlong    
#8 – Love That (7-2): Since F. Lynch has taken over the reins four starts ago, she's been part of the Exacta w/ 2 wins; both runner-up efforts came at this level      
#7 – Annamonarchos (3-1): Tam shipper makes second start off claim for J. Ness while dropping in for lowest tag of career; likes this distance (12: 4-0-3)
Race 3
#7 – Belle Allessandra (3-1): Looks like lone speed to me; would be Best Bet but leery about being offered for less than $5k tag; on positive side McCarthy signs on  
#6 – Dewdrop's Heart (5-1): Takes class plunge to bottom of the barrel after being ambitiously placed after just one decent race, the maiden breaker for $12,500  
#1 – Solid Silver (3-1): After struggling thru first 10 races to graduate, ran a creditable 3rd first time v. winners one level higher than today  
Race 4 is ON THE TURF
#8 – Thirteenth Avenue (4-1): Got burnt by this one last outing making 2016 debut; stretches out and F. Boyce rides him back          
#3 – Broad Moon (12-1): Last win came in August '15 at this same level and distance but connections are 0 for 23 coming off extended layoff; still need to buck trend and use
#2 – With Expression (6-1): Third start off claim for W. Potts but first time Mother Nature will allow him to run on turf for new barn; should be forwardly placed if not trying to go gate-to-wire
Race 5
#2 – Britt's Fortune (8-5): A solid runner-up finish at this level in latest attempt to graduate; SHOW filly from that race came back yesterday and romped by 15 at same level going two turns     
#6 – Jacksie (9-2): Wanted to try turf in first start for H. McMahon; washed off and still ran evenly but BRIS speed figure from that one is tops among this group
#5 – Secondhand Angel (6-1): Took action (9-2) in debut at one level higher and didn't run a lick… maybe it was the off track? 5-wide on the turn? Don't underestimate "Ham" Smith w/ MCLs       
Race 6 is ON THE TURF
#8 – Have Hope (10-1): What's not to like? Broke maiden two back sprinting on slop then wanted to make turf debut v. much better, but came off; no doubt she'll take to turf w/ Stormy Atlantic on dam side
#5 – Bonnie K (4-1): Toss last race… was in v. boys, melted down in pre-race breaking thru gate; 5 furlongs on turf fits her like a glove especially for this tag  
#10 – Summer's Here (8-1): Needs a scratch as she's on AE list; third race after layoff and encountered traffic in both previous outings; cuts back to sprint; gets Karamanos first time
note: If any scratches, use #3 – Avellaneous (6-1), always gives honest effort on grass, but Closer normally runs out of real estate
Race 7
#1 – Maximus Mike (3-1): Hartsell, Jr. reclaim is always a good sign; steps up to discourage losing him again; has beaten a couple of the more logical ones in here in the past    
#5 – Vision of Green (2-1): Backing a runner after being claimed from M. Eppler rarely results in a move forward; but rest of this group is stepping up as well; would be a great Exchange Wager play IMHO      
#2 – Trusted Choice (8-1): Hasn't been trustworthy in last 9 races, but odds have correctly reflected his chances; stretching out to 1 1/16 miles seems to be his best distance (8: 3-2-0)
Race 8 is ON THE TURF
#2 – Kadie'shorseplay (4-1): *** BEST BET *** Though D. Capuano is a woeful 5% w/ runners off 90+ day layoff; this one proved in her last race (88 BRIS fig) she by far stands above those in here   
#4 – Glamour Queen (6-1): Who is (jockey) Ashley Castrenze?! Possibly the next Julie Krone or Rosie N.; this 10 lb. bug girl has won her first 6 of 9 professional races! Only mount on the card for this Tam/GP shipper whose had trouble in her last two outings
#1 – Smokin Red Hot (5-2): Tough assignment from the rail; Cintron will need to hustle her from the get-go and try to wire this group who lacks early speed
Race 9 is ON THE TURF
#7 – Tru Greek (9-2): Just 2 for 42 lifetime; 1 for 15 on turf but if there's a jock who can get any horse to the wire first, especially on grass, it's Edgar Prado… Praise the Lord!
#6 – My Giant (5-2): All 7 starts have come on the grass; Bel shipper for T. Morley tried Lrl turf in his last two failing to hit the board v. AlwN1X; has a better chance here in for a tag         
#4 – Marsden (6-1): First start since last Sept. as he only does turf; nice to see he's protected, gets N. Juarez and best distance (13:2-3-5)   
YESTERDAY'S NEWS
On Thursday May 26th at Pimlico had 7 winners from the 9 race card (5 Top Selections; payoff in BOLD) having $2 WIN pay-off of $4.20 (1st race), $3.40 (2nd) $5.20 (3rd), $3.20 (4th), $7.80 (6th), $5.40 (7th) and $32.00 (8th). Note: Year-to-date Top Selections are 142 for 539 (26.34%).
BEST BET of the Day (56: 22-10-6) Tightly Bridled (5th race: 5-2 M/L; 8-5 PT) circled the turn three deep, floated to the four path in upper stretch, drew alongside the eventual winner in mid-stretch then was out finished by that one to finish 3rd and returned $2.60 to SHOW.
LONGSHOT PLAY of the Day (53: 3-5-10) Struth (8th race: 6-1 M/L; 15-1 PT) in range three wide early on, raced in closest pursuit off the dueling leaders leaving the five sixteenths, closed four wide under a drive to join the fray a furlong from the wire, forged clear inside the sixteenth marker then held firm to win by three-quarters of a length and returned $32.00 to WIN, $11.60 to PLACE and $5.00 to SHOW.
NAME A RACE
Ever wanted a race named in your honor?  Want to recognize a friend's birthday, anniversary or achievement?  But you can't make it out to the track?
Now you can have that race named just the way you want it — FREE — right here at The Racing Biz!
Simply fill out the form below, and we'll let the world know.  Your race will be named here, as part of The GQ Approach handicapping selections!
Why handicap race number one, when you can handicap "Race 1 – The Bob's Big Day Special"?!?
Note: This offer is NOT done in conjunction with the Maryland Jockey Club and does NOT provide you any benefits or recognition at Laurel Park, Pimlico Race Course, or any other facility owned or operated by the MJC. It applies only to this website.