The GQ Approach – Pimlico May 26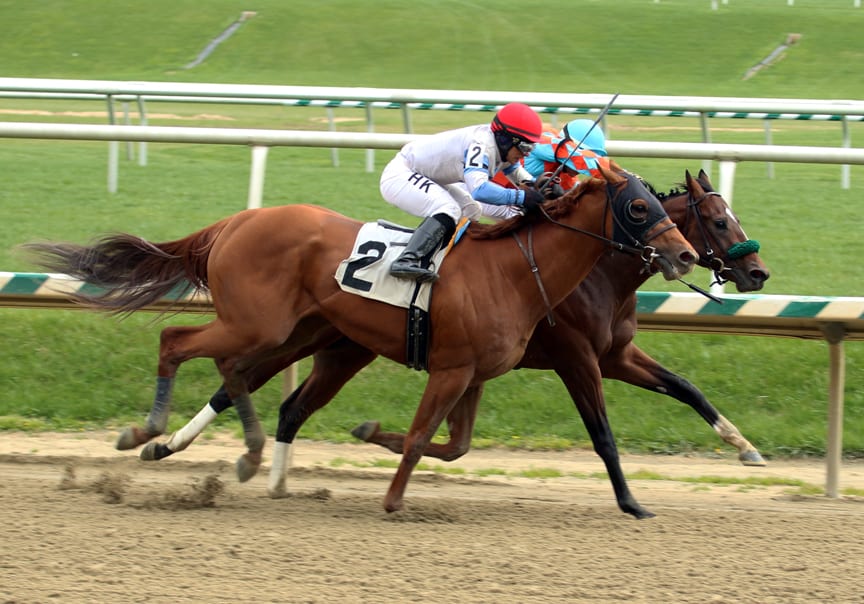 Photo by Laure Asseo.
The GQ Approach features full-card selections from Pimlico (28-day meet w/ live racing Thursday-Sunday through June 26th, in addition to Memorial Day, Monday May 30th; Post Time 1:10pm EDT), including a daily Best Bet, Longshot Play, and multi-race wagers — including the 20 cent Rainbow Pick-6 ($163,244 carryover), 50 cent Jackpot Pick-5 as well as Pick-4s and rolling Doubles, Pick-3s and the Super High-5.
BEST BET OF THE DAY
Race 5 / #9 – Tightly Bridled (5-2)
LONGSHOT PLAY OF THE DAY
Race 8 / #3 – Struth (6-1)
[su_heading size="21″ align="left"]Multi-race wagers[/su_heading]
Race 1: $2 Double  2, 6, 9  w/ 1, 3, 6  ($18)
Race 4: $0.20 Rainbow Pick-6  1, 4, 6  w/ 5, 9  w/ 4, 5, 6  w/ 3, 7, 8, 11  w/ 2, 3  w/ 2, 11  ($57.60)
Race 6: $0.50 Pick-4   4, 5, 6  w/ 3, 7, 8, 11  w/ 2, 3  w/ 2, 11  ($24)
Race 9: $2 Double  2, 3, 5  w/ 2, 9, 11  ($18)
[su_heading size="21″ align="left"]Analysis[/su_heading]
* Pimlico has five (5) races (1st, 3rd, 5th, 7th and 9th) scheduled to be run on the TURF. Forecast for northwest Baltimore is for Partly Cloudy skies with high temps in the low-80s and a 10% chance of rain. The below selections are based on the races being run ON THE TURF while the main dirt track listed as FAST.
Race 1 is ON THE TURF
#6 – Fantod (5-1): Banking on that last, poor effort being a product of failing to get the lead and jock decided to save this 10 y.o. for another day… hopefully today?!     
#2 – Sky Commander (7-2): First race after J. Ness claim (32%) switches to turf where he owns the best turf BRIS number of this group
#9 – Billy the Bull (5-2): Same deal as top pick; the "Eased" comment typically is a great last race angle… especially when dropping back to level at which he previously won  
Race 2
#3 – Ms. Shosho (9-5): By far the best of these low level maidens on the drop; only question is will he go two turns?    
#6 – Quartet (8-5): Has shown vast improvement since being transferred to C. Lynch barn two races back; third time is a charm?
#1 – Bella Yolanda (15-1): An 0 for 10 maiden who has run some decent races in defeat; last two have been ugly; second try going two turns could be the difference       
Race 3 is ON THE TURF
#4 – Grey Fox (4-1): Tried to close ground in debut on GP turf sprinting but proved @ Kee in second start that going longer is not for him; E. Prado's only mount on the card  
#2 – Joseph (8-5): Tough assignment breaking from rail; Carrasco will need to send him early in hopes of graduating today  
#11 – Daniel Le Deux (6-1): Cuts back to turf sprint after '16 debut going long while wide trip and encountered traffic  
Race 4
#1/1A – Fitzfarris/Zippzapzapper (6-5): They are 1-2 on paper; if both run it might be wiser to make a PLACE bet on them as it could return the same or more than to WIN if they run 1-2          
#6 – J W Racer (8-1): Trying to figure the purpose behind throwing him to the wolves when even the barn had no confidence (108-1) and ran like it; appropriate drop to win or carrot dangling for someone to claim?        
#4 – Sweet Liam (7-5): Pen shipper has yet to convert success there to being competitive at Lrl or Pim; looks like a M/L underlay but is best of the rest  
Race 5 is ON THE TURF
#9 – Tightly Bridled (5-2): *Best Bet* There's a ton of speed in this turf sprint and he is the only legitimate Closer; second race after layoff and drops a level     
#5 – Magician's Bullet (8-1): Toss last "off the turf" start; third race after layoff and he hit the board in all 3 turf tries @ Pim last year (3: 0-2-1)
#2 – Cue (5-1): In spite of his riders 0 for 24 record in '16, returning to grass and if avoids traffic has a good chance against these       
Race 6
#4 – Amain (4-1): First off the C. Gonzalez claim (30%) but not so much when he drops them (17%); look for more early speed today
#5 – Surfspun (8-5): Kinda lukewarm on this M/L fav.; Rudy Rod ships om from The Big A after failing miserably as PT fav. first time wearing front wraps. Hmmm  
#6 – Not for Fun (9-2): Has a nice closing kick but never seems to get to wire first unless on an off track; is it wishful thinking he can today?
Race 7 is ON THE TURF
#7 – Desert Princess (3-1): Broke maiden in last v. $25k MCL but earned an 89 BRIS number which is tops in this group    
#11 – Opie (7-2): Traffic in last on a muddy track; returns to favorite surface and distance that she earned are lone win over; appropriate drop to get second career win      
#3 – Mucho Blessings (8-1): Has done her best work on the grass (3: 1-0-2) and Karamanos stays on after dull effort on dirt in first start of '16  
Race 8
#3 – Struth (6-1): $Longshot Play$ 4 y.o. son of Curlin been away from racing for 18 months; gelded since that time and has a nice work tab leading up to his return   
#2 – Miners Quest (8-1): Coming off two turf efforts can turn the tables on M/L #7 who is 0 for 9 at this distance; there's enough early speed in here to help this guy IF track is playing fair
#4 – Retire Fifty Five (5-2): Does best work on an off track… today will be fast; will be at the mercy of early pace and how track is playing
Race 9 is ON THE TURF
#11 – Wire Funds (5-1): Surprisingly there's not a lot of speed in this sprint but needs one to scratch as he's on the AE list; this 8 y.o. is 3 of 5 on the Pim grass; Serpa in irons is a plus
#2 – Promise and Hope (9-2): Caught an off track in last which is not to his liking when sent off PT fav. and facing N3L; this group of open $7,500 is a bit tougher but he moves up when on grass
#9 – Super Chunky (10-1): This 10 y.o. is just a shell of his former self as he hasn't won in over two years; switch to Karamanos in the irons might help         
YESTERDAY'S NEWS
On Saturday May 21st at Pimlico had 7 winners from the 14 race card (2 Top Selections; payoff in BOLD) having $2 WIN pay-off of $33.80 (6th race), $3.00 (7th) $2.80 (8th), $3.60 (9th), $4.60 (11th), $9.00 (12th) and $7.20 (13th). Note: Year-to-date Top Selections are 137 for 530 (25.84%).
BEST BET of the Day (55: 22-10-5) Cinco Charlie (4th race: 3-1 M/L; 2-1 PT) was brushed at the break, quickly recovered and went clear, secured the rail around the far turn and set the pace under a light hold, came under a ride leaving the quarter pole, could not resist the winner leaving the three sixteenths and gave way.
LONGSHOT PLAY of the Day (52: 2-5-10) Reggae Song (2nd race: 6-1 M/L; 30-1 PT) raced between horses most of the trip and gave way to finish 10th.
NAME A RACE
Ever wanted a race named in your honor?  Want to recognize a friend's birthday, anniversary or achievement?  But you can't make it out to the track?
Now you can have that race named just the way you want it — FREE — right here at The Racing Biz!
Simply fill out the form below, and we'll let the world know.  Your race will be named here, as part of The GQ Approach handicapping selections!
Why handicap race number one, when you can handicap "Race 1 – The Bob's Big Day Special"?!?
Note: This offer is NOT done in conjunction with the Maryland Jockey Club and does NOT provide you any benefits or recognition at Laurel Park, Pimlico Race Course, or any other facility owned or operated by the MJC. It applies only to this website.