The GQ Approach – Pimlico May 21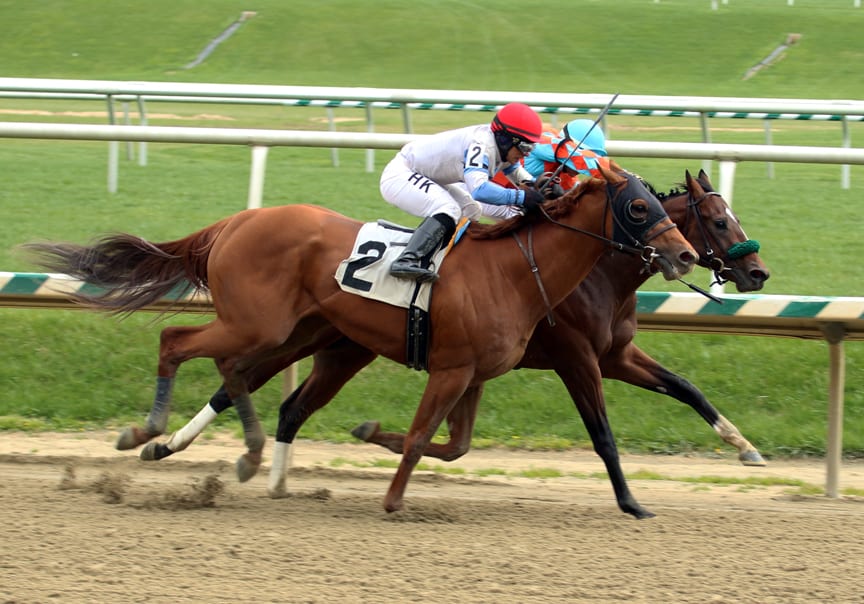 Photo by Laure Asseo.
The GQ Approach features full-card selections from Pimlico (28-day meet w/ live racing Thursday-Sunday through June 26th, in addition to Memorial Day, Monday May 30th but no racing on Sunday, May 22nd; Post Time 1:10pm w/ special early Post Times at 10:30am EDT on Preakness Day), including a daily Best Bet, Longshot Play, and multi-race wagers — including the 20 cent Rainbow Pick-6 ($36,895 carryover), 50 cent Jackpot Pick-5 as well as Pick-4s and rolling Doubles, Pick-3s and the Super High-5.
BEST BET OF THE DAY
Race 5 / #4 – Cinco Charlie (3-1)
LONGSHOT PLAY OF THE DAY
Race 2 / #11 – Reggae Song (6-1)
[su_heading size="21″ align="left"]Multi-race wagers[/su_heading]
Race 1: $2 Double  2, 5, 6  w/ 3, 10, 11 ($18)
Race 3: $0.50 Pick-3  2, 6, 7  w/ 4, 5, 8  w/ 4, 7, 2  ($13.50)
Race 6: $500k Guaranteed $0.50 Pick-4   4, 7, 8  w/ 2, 4, 8  w/ 8  w/ 1, 5, 6  ($27)
Race 9: $1 million Guaranteed $0.50 Pick-5   1, 5, 6  w/ 3, 6, 8  w/ 5, 7 w/ 3 w/ 2, 5, 12 ($27)
Race 13: $5 Double  3  w/ 2, 5, 12 ($15)
[su_heading size="21″ align="left"]Analysis[/su_heading]
* Pimlico has seven (7) races (2nd, 4th, 6th, 8th, 10th, 12th and 14th) scheduled to be run on the TURF. Forecast for northwest Baltimore is for Mostly Cloudy skies with high temps in the mid-50s and a 90% chance of rain on and off throughout the day. The below selections are based on the races remaining ON THE TURF while the main dirt track will be listed as SLOPPY.
Race 1
#5 – Golden Rings (3-1): Likes Pim (3:2-0-1) and appears to be the quickest of the early speed; fresh off D. Houghton claim she gets a perfect spot to run him back     
#2 – No Brakes (10-1): 11 y.o. has raced 15 times on the Pim dirt oval, hitting the board 11 times; though he's only 1 for 19 on a sloppy surface, he completed the Trifecta 10 of those other 18 times; Closer in with a lot of early speed               
#6 – Double Whammy (7-5): Finally came back down to earth when up against $40kN3X, just five races after M. Eppler claimed him for $5k, which made him eligible for this race  
Race 2 is ON THE TURF
#11 – Reggae Song (6-1): $$$ Longshot $$$ 4 y.o. in w/ majority of 3 y.o. fillies just missed when 8-5 favorite @ GP on the turf; bloodlines are just as strong on an "off" track if race comes off turf; look for her to go gate-to-wire    
#10 – Anissa (15-1): Owned in part by brother of BES winning trainer Dale Romans; should go whether on or off the turf      
#3 – Cherub (8-1): Third in most recent on turf @ Kee behind a next out winner; BRIS speed figured continue to ascend       
Race 3
#2 – Good Luck Gus (6-5): Buried in graded stakes last time but may have be partly due to being fractious in the Starting Gate  
#6 – Jump Jive an Wail (20-1): Fresh off maiden win; has a deep closer running style that fits well in here with plenty of early speed
#7 – Big House (8-1): Has blossomed since C. Gonzalez took over training duties six races ago, winning 3 of them; ran best BRIS speed figure on a muddy track in his last race  
Race 4 is ON THE TURF
#4 – Evidently (3-1): Key word of the day… Evidently… MJC is hell bent on keeping all turf races on the turf and this mare likes a soft grass surface          
#5 – Vicky Ticky Tavie (20-1): Put a line through those past two main track races; she'll come running late; boasts best career BRIS turf number at this distance in this field       
#8 – Pramedya (12-1): Lightly raced 4 y.o. tried carrying her speed 1½ miles @ Kee last month but weakened late; that was a good stamina builder for today 
Race 5 – $150,000 G3 Maryland Sprint Handicap
#4 – Cinco Charlie (3-1): *** BEST BET *** The speed of the speed; should be able to clear this field and dictate a moderate pace     
#7 – Salutos Amigos (1-1): Is a perfect 7 for 7 on an "off" track, but may make trouble catching top pick
#2 – Sonny Inspired (20-1): Not sure why connections ran him 1 1/8 miles in G2 CT Classic when sprinting has been his game       
Race 6 – $100,000 James W. Murphy Stakes is ON THE TURF
#8 – Aquaphobia (4-1): Lael Stables KY Derby winner Barbaro incident in Preakness occurred 10 years ago… the racing gods owe them one; that 3rd place effort behind Tasit & Camelot Kitten was better than
#7 – Marengo Road (10-1): After a disappointing debut on dirt, switched to turf to break maiden but has done well retuning to dirt while racing in the Lrl 3 y.o. stakes series  
#4 – Ousby (5-2): Easily won in first outing in MD since returning north from winter in So. FL; competitive in every race while encountering traffic trouble in a couple of them
Race 7
#2 – Chief Istan (7-5): 2 for 2 with combined winning margin of 16¼ lengths; obviously has had issues racing just twice in the past 19 months, albeit both were winning efforts; terrific work tab in preparation of  
#8 – Troubled Waters (6-1): Has never been off-the-board (5:2-2-1) racing on an "off" track; been stuck in this condition for quite some time; draw a line through that last start     
#4 – Cooking Up a Storm (6-1): Part of the Exacta in his last seven races; owns best BRIS Prime Power number 
Race 8 – $100,000 The Very One Stakes is ON THE TURF
#12 – Lady Shipman (3-5): Only Noah's Ark could possibly stop this turf monster from winning v. this group… then again, anything can and will happen in horse racing  
#10 – Joya Road (10-1): Nice price on a turf sprinter whose hit the board in 8 of 9 turf tries at this 5f distance
#3 – Disco Barbie (20-1): 6 y.o. makes first lifetime start on the grass but has a solid record (10:3-5-1) on synthetic aka All-Weather which is comparable to running on turf
Race 9 – $100,000 Chick Lang Stakes
#6 – Counterforce (5-2): Just a head away from being undefeated (3 for 3); gets a nice stalking trip behind speed heavy field
#5 – Never Gone South (8-1): Cuts back in distance after testing the MD version of the Derby Trail; steps up his game when the track is sloppy      
#1 – Justin Squared (9-5): Named for head of Zayat Stables (re: American Pharoah), so they knew he would be a good one; ran lights out in first two career outings in So Cal   

Race 10 – $150,000 G3 Gallorette Handicap is ON THE TURF
#8 – Josdesanimeaux (4-1): Switched from Chad Brown barn to Mark Casse after running a 100 BRIS speed number; failed as 6-5 favorite in restricted stakes at Tam; can bounce back  
#6 – Nisharora (12-1): Has had traffic troubles in her last two v. weaker; still needs to step up her game as she tries graded stakes company for the first time           
#3 – Tiger Ride (7-2): Scratched out of 1 1/8 mile graded stakes yesterday in the sunshine to go here… 1/16th of a mile shorter   
Race 11  – $100,000 Sir Barton Stakes
#7 – Dazzling Gem (9-2): Was on the KY Derby Trail but didn't accumulate enough points to draw into the field; saw him @ CD in the mornings during Derby week and he looked great!    
#5 – American Freedom (5-2): After just one start was bet heavily @ CD in G3 Pat Day Mile but compromised at the start and did nothing thereafter; chance to redeem himself in here  
#4 – Voluntario (10-1): Nice start to career climbing the class ladder until he was outrun in Private Terms Stakes, tried turf but didn't go well; second start w/ blinkers
Race 12 – $300,000 G2 Longines Dixie Stakes is ON THE TURF
#9 – Ring Weekend (9-2): Graham Motion is a master at getting horses ready first time off a layoff; been away 14 months after winning G1 Frank Kilroe @ SA  
#10 – El Kabeir (20-1): Makes initial start on the grass; was a top KY Derby contender last year and is bred to like the grass
#4 – Takeover Target (8-1): Game colt but never know when he'll put in his best… and it's often at a nice price
Race 13 – $1,500,000 G1 Xpressbet.com Preakness Stakes       
#3 – Nyquist (3-5): KY Derby answered the only remaining question about his "greatness"; will need to prove the doubters wrong once again as he's never raced on a sloppy track
#5– Exaggerator (3-1): Has run behind Nyquist in four previous outings; backers will believe the sloppy track, which brings out the best in his ability will be the difference this time
#10 – Fellowship (30-1): Will be more forwardly placed per Asst. Trainer Norman Casse instead of having to make one, late run; fourth in Pat Day Mile was to get a race in him; has looked full of energy this week
Race 14 is ON THE TURF
#5 – Gin Fuzz (12-1): Continues to try hard and be in the mix; eighth time is a charm to graduate?   
#12– Mesojet (12-1): Second start going two-turns; has some serious "off" track pedigree 
#2/2x – Bourbon Commander/Rock Harbor (6-1): The former was a distant second first time on an "off" track; the latter hit the board in first main track start last outing
YESTERDAY'S NEWS
On Friday May 20th at Pimlico had 7 winners from the 14 race card (4 Top Selections; payoff in BOLD) having $2 WIN pay-off of $9.00 (2nd race), $5.60 (4th) $8.80 (5th), $3.00 (6th), $7.00 (8th) $9.00 (9th) and $7.40 (14th). Note: Year-to-date Top Selections are 135 for 516 (26.16%).
BEST BET of the Day (54: 22-10-5) Involuntary (4th race: 7-2 M/L; 9-5 PT) dueled outside TAP DIVA while under a rating hold, responded when asked entering the lane, forged clear leaving the three sixteenths under strong left handed rousing then held firm to return $5.60 WIN, $3.60 to PLACE and $3.40 to SHOW. BEST BET ROI = $2.27 ($122.70 / 54)
LONGSHOT PLAY of the Day (51: 2-5-10) Simple Surprise (13th race: 12-1 M/L; 30-1 PT) circled the turn four deep and gave way and finish 9th. LONGHSOT PLAY ROI = $0.22 ($15.80 / 51)
NAME A RACE
Ever wanted a race named in your honor?  Want to recognize a friend's birthday, anniversary or achievement?  But you can't make it out to the track?
Now you can have that race named just the way you want it — FREE — right here at The Racing Biz!
Simply fill out the form below, and we'll let the world know.  Your race will be named here, as part of The GQ Approach handicapping selections!
Why handicap race number one, when you can handicap "Race 1 – The Bob's Big Day Special"?!?
Note: This offer is NOT done in conjunction with the Maryland Jockey Club and does NOT provide you any benefits or recognition at Laurel Park, Pimlico Race Course, or any other facility owned or operated by the MJC. It applies only to this website.