The GQ Approach – Pimlico May 20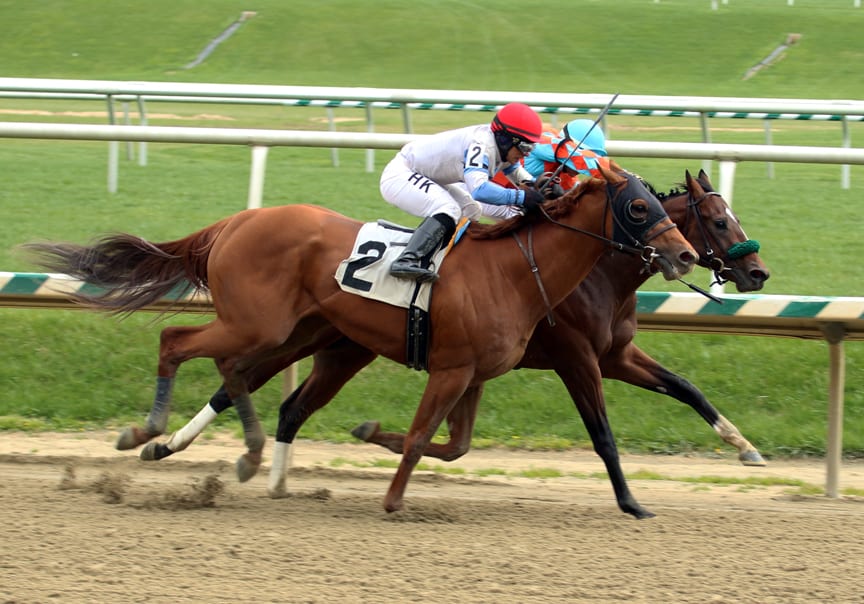 Photo by Laure Asseo.
The GQ Approach features full-card selections from Pimlico (28-day meet w/ live racing Thursday-Sunday through June 26th, in addition to Memorial Day, Monday May 30th but no racing on Sunday, May 22nd; Post Time 1:10pm w/ special early Post Times at 11:30am EDT on Black-Eyed Susan Day & 10:30am EDT on Preakness Day), including a daily Best Bet, Longshot Play, and multi-race wagers — including the 20 cent Rainbow Pick-6 ($x,xxx carryover), 50 cent Jackpot Pick-5 as well as Pick-4s and rolling Doubles, Pick-3s and the Super High-5.
BEST BET OF THE DAY
Race 4 / #5 – Involuntary (7-2)
LONGSHOT PLAY OF THE DAY
Race 13 / #10 – Simple Surprise (12-1)
[su_heading size="21″ align="left"]Multi-race wagers[/su_heading]
Race 1: $2 Double  5, 6, 8  w/ 4, 7, 10 ($18)
Race 3: $0.50 Pick-3  1, 8, 9  w/ 5, 7, 8  w/ 4, 6, 9 ($13.50)
Race 7: $0.50 Pick-5  1, 3, 5  w/ 2, 7  w/ 5, 10  w/ 4, 8, 14  w/ 3, 6  ($36)
Race 11: $0.50 Pick-4  3, 6  w/ 3, 8, 11  w/ 8, 9, 10 w/ 1, 10,, 11  ($27)
Race 13: $2 Double  8, 9, 10  w/ 1, 10, 11 ($18)
[su_heading size="21″ align="left"]Analysis[/su_heading]
* Pimlico has seven (7) races (2nd, 4th, 6th, 8th, 10th, 12th and 14th) scheduled to be run on the TURF, but anticipate MJC will take races 2, 4, 6, 12 and 14 OFF THE TURF and leave the two stakes races (8th and 10th) ON THE TURF. The below selections are based on this assumption with the TURF listed as "Good" while the main dirt track will be listed as FAST. Forecast for northwest Baltimore is for Mostly Sunny skies with high temps in the mid-60s and a ZERO chance of precipitation, but rain moving in Friday evening and into Saturday, Preakness Day.
Race 1
#8 – Touch and Smile (9-5): Trainer Wesley Ward + first time starter = heavy favorite; she was and delivered by a neck then couldn't repeat when sent off 7-5 @ Kee              
#5 – High Dive (12-1): Yeah, she won her debut @ CT at age 4 but the impressive part is the runner-up came back to break her maiden by 5-lengths and the third place finisher did the same by a head; could get early lead and not look back         
#6 – Anna Rae (6-1): Away since last October as something went amiss in the G1 Frizette because she didn't resume training until end of March but has been every 7 days since; adds blinkers       
Race 2 is ON THE TURF
#10 – Top Sheet (3-1): Adds blinkers after losing all chance at the start when betting favorite first race after 7 month layoff; bullet work on the farm indicates he's fit  
#4 – Do What I Say (5-2): Rocketed to the front in maiden score when blinkers were added and going a 1/16th further; same performance in here gets win #2         
#7 – Anna May Our Queen (30-1): Was compromised at the start in last outing off the bench; has run better in past turf tries  
Race 3 – $100,000 Skipat Stakes
#9 – Sweet on Smokey (5-1): Catches a group that has a ton of early speed which will benefit his stalking style; cut back from 7f is a key
#8 – Fantastic Style (1-2): Baffert shipper is a multiple graded stakes winner sprinting; rightfully so is prohibitive favorite but if another w/ early speed goes with her early it could spell trouble  
#1 – Sweetrayofsunshine (12-1): This seven-year-old mare is as game as they come; part of the Exacta in all sic sprint starts     
Race 4 is ON THE TURF
#5 – Involuntary (7-2): *** BEST BET *** Had the look of being something special in debut @ Tam going two turns on turf as she was "in hand"; runner-up was a "next out" winner
#8 – Magican's Vanity (12-1): Ugly lifetime record (1 for 21) and that one came on synthetic not turf; always makes a late run and maybe jock upgrade will make the difference  
#7 – Leafy Shade (5-1): IRE-bred makes North American debut, first time Lasix and trainer has success with these imports      
Race 5
#9 – Tale of Life (7-5): It took nine starts to figure out this JPN-bred prefers running on dirt than turf; earned a triple-digit BRIS number in initial dirt try     
#4 – The Sandman (3-1): Last race was first real clunker he's run from nine starts; has a couple workouts since the clunker; should bounce back     
#6 – Top of Mind (9-2): Third race after layoff; expectations have high as he's been sent off betting choice five of seven starts
Race 6 is ON THE TURF
#4 – Sunnysammi (5-2): Very quick from the gate and can hold off all challengers thanks to getting a 1/16th mile break
#15 – Satan's Mistress (7-2): Took the winter off and has been training well for 2016 debut; has versatile running style when on grass      
#13 – Charm City (15-1): Seems to need every bit of 5½f but cut back to 5 f may be able to get her in gear quicker      
Race 7 – $300,000 Pimlico Special (GIII)
#1 – Page McKenney (5-2): Carries 2 lb. less while Stanford adds 6 lb. (an 8 lb. positive shift) compare to their assigned weight in the CT Classic plus Stanford will be pressed early in this contest leaving "Page" run his race, free to stalk v. press the early speed
#3 – Savoy Stomp (15-1): Buying into his two worst races have been on an "off" track and not that he has distance limitations based on the fact he's bred to run all day
#5 – Idolo Porteno (ARG) (12-1): Makes his third start of the year and in North America; considering the 1 3/16 mile is shorter than he race in 6 of his 12 lifetime races indicates he shouldn't be looking for oxygen when the field turns for home and could outlast others for a minor purse day       
Race 8 – $100,000 Jim McKay Sprint is ON THE TURF
#7 – Rocket Heat (5-2): A "new shooter" as far as taking on the local hero Ben's Cat as this guy explodes out of the gate and the 5f fits him perfectly   
#2 – Ben's Cat (9-5): This 10 y.o. gelding continues to defy logic; most recent example was neck victory 2016 debut after a 6 month layoff      
#5 – Night Officer (3-1): Somehow in his 45th start (most recent one) he never switched leads which may have cost him; J. Rosario back in the irons as he was two back
Race 9 – $150,000 Allure DuPont Distaff Stakes (Grade III)
#10 – Tiger Ride (8-1): A pattern seems to be emerging from this gals past performances… she's 2 for 2 in dirt races when coming off a turf race. The third time is a charm?!
#5 – Ahh Chocolate (5-1): Ran a creditable third in last years Black-Eyed Susan; gives her best every time she breaks from the Starting Gate; third race after a layoff angle is in play here
#9 – Super Majesty (15-1): First time going two turns will surely be on the lead without too much pressure. If the Old Hilltop dirt oval favors early speed, then this gal has a fighting chance to go gate-to-wire or at least hit the board.    
Race 10 – $100,000 Hilltop Stakes is ON THE TURF

#4 – Spinamiss (9-2): Has the running lines that suggest he wants this additional 1/16th as she always picks off rivals in the stretch
#8 – Koala Queen (10-1): Adds Lasix and sheds blinkers for fourth career outing after failing as 6-5 favorite @ Tam in first start as 3 y.o.
#14 – Wessex (8-1): Nice debut on GP turf to break maiden as Show filly was a convincing next out winner on Kee turf; this Juddmonte home bred only needs to move a bit forward to be a threat v. these          
Race 11 – $250,000 Black-Eyed Susan Stakes (Grade II)
#3 – Land Over Sea (2-1): Typically avoid KY Oaks participants because three-year-old fillies require more than two weeks to bounce back from the toughest test of their young career, but after seeing her in the A.M. at Pimlico this week, she looks no worse for wear       
#6 – She's a Warrior (6-1): Here's a maiden that has a legitimate shot at capturing the Susans; regardless that Songbird was geared down in the G1 SA Oaks; this gal made up ground in the stretch just missing the runner-up spot
#2 – Dothraki Queen (15-1): Earned the Show purse last Fall in the Breeders' Cup Juvenile yet got shut out from starting in thee KY Oaks; might have been a blessing in disguise getting additional time off after getting spanked in on the Keeneland turf by Catch a Glimpse            
Race 12 is ON THE TURF
#11 – Metaboss (9-2): Bet off the board in first start in 13 months largely due to his trainer, M. Dickinson aka "The Mad Genius" coming out of retirement; had an awful trip and was never given a chance to run; look for vast improvement today
#3 – Mutasaawy (15-1): Was out of his element trying 1½ miles in last outing and carrying 151lb.; Y. Ortiz back in the saddle and will be rallying late with a little pace help
#8 – Bank Float (10-1): A perfect 3 for 3 at this distance; second start after layoff as first one proved to be a "tightener"; gets D. Centeno back up and a nice stalking trip          
Race 13 – The Adena Springs' Miss Preakness Stakes (Grade III)
#10 – Simple Surprise (12-1): $$$ Longshot $$$ Has the tactical speed and outside run to get a clean trip, something she hasn't had in her past two outing; addition of blinkers should help as well
#9 – Banree (7-2): Overmatched in G1 Ashland first time going two turn; gets back to sprinting where she's won and been runner-up from two starts
#8 – R Girls a Charmer (4-1): Got caught up in a speed duel in the G3 Beaumont and it cost her; jockey L. Saez won't let that happen again even though there's plenty of other early speed to challenge her                   
Race 14 is ON THE TURF
#11 – Cruise More (4-1): Runner-up last time he ran v. similar at this distance; been facing better while just missing       
#1 – Barney Rebel (10-1): Owns the best turf BRIS number for this 9f distance; does best turf work when "firm" and it will be today    
#10 – Soup d'Coupe (5-1): Third race after D. Capuano claimed this on last Fall for $7,500 which qualifies him for this condition; needs pace help as he comes from the clouds            
YESTERDAY'S NEWS
On Thursday May 19th at Pimlico had just 3 winners from the 9 race card due to races being taken off the turf, selections were decimated by scratches (2 Top Selections; payoff in BOLD) having $2 WIN pay-off of $7.40 (5th race), $7.80 (7th) and $4.80 (8th). Note: Year-to-date Top Selections are 133 for 510 (26.07%).
BEST BET of the Day (53: 21-10-6) Charlie's Darlin (5th race: 2-1 M/L; 9-5 PT) four deep in upper stretch, passed tired horses and barely got up for third to return $2.20 to SHOW.
LONGSHOT PLAY of the Day (51: 2-5-11) Itsallaboutthebens (3rd race: 10-1 M/L; 7-2 PT) saved ground, swung out leaving the far turn and flattened out in the stretch and salvaged third to return $3.40 to SHOW.
NAME A RACE
Ever wanted a race named in your honor?  Want to recognize a friend's birthday, anniversary or achievement?  But you can't make it out to the track?
Now you can have that race named just the way you want it — FREE — right here at The Racing Biz!
Simply fill out the form below, and we'll let the world know.  Your race will be named here, as part of The GQ Approach handicapping selections!
Why handicap race number one, when you can handicap "Race 1 – The Bob's Big Day Special"?!?
Note: This offer is NOT done in conjunction with the Maryland Jockey Club and does NOT provide you any benefits or recognition at Laurel Park, Pimlico Race Course, or any other facility owned or operated by the MJC. It applies only to this website.