The GQ Approach – Pimlico May 19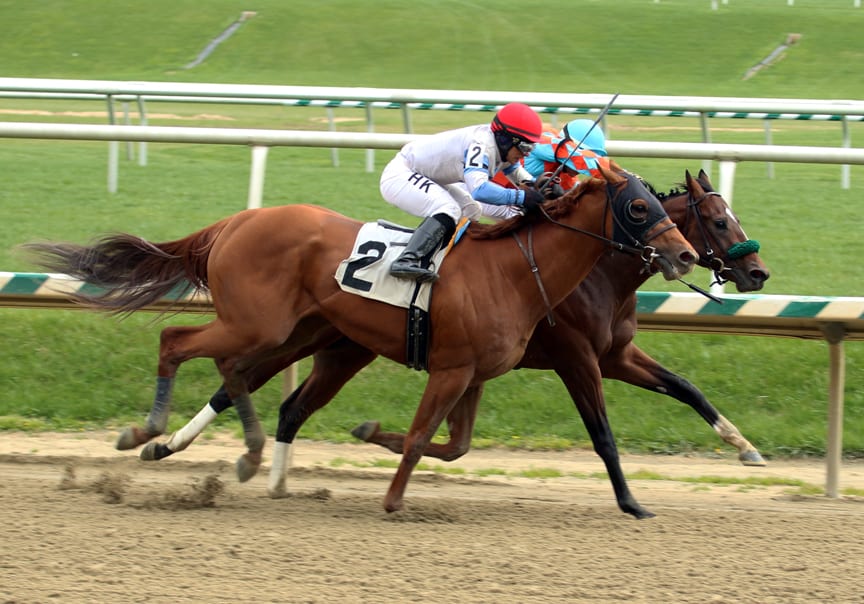 Photo by Laure Asseo.
The GQ Approach features full-card selections from Pimlico (28-day meet w/ live racing Thursday-Sunday through June 26th, in addition to Memorial Day, Monday May 30th but no racing on Sunday, May 22nd; Post Time 1:10pm w/ special early 11:30am EDT Post Time on Black-Eyed Susan Day & 10:30am EDT on Preakness Day), including a daily Best Bet, Longshot Play, and multi-race wagers — including the 20 cent Rainbow Pick-6 ($5,551 carryover), 50 cent Jackpot Pick-5 as well as Pick-4s and rolling Doubles, Pick-3s and the Super High-5. 
BEST BET OF THE DAY
Race 5 / #5 – Charlie's Darlin (2-1)
LONGSHOT PLAY OF THE DAY
Race 3 / #1 – Itsallaboutthebens (10-1)
[su_heading size="21″ align="left"]Multi-race wagers[/su_heading]
Race 1: $2 Double  2, 3, 6  w/ 10, 11, 13 ($18)
Race 3: $0.50 Pick-3  1, 2, 8  w/ 7, 12, 15  w/ 1, 4, 5 ($13.50)
Race 6: $0.50 Pick-3  7, 8, 11  w/ 2, 6, 11  w/ 3, 6, 9  ($13.50)
Race 8: $2 Double  3, 6, 9  w/ 7, 9 ($12)
[su_heading size="21″ align="left"]Analysis[/su_heading]
* Pimlico had four (4) races (2nd, 4th, 6th and 8th) scheduled to be run on the TURF, but in an attempt to save the soft turf for stakes races on Friday and Saturday, all race have been taken OFF THE TURF. Forecast for northwest Baltimore is for Mostly Cloudy skies with high temps in the high-60s and a 60% chance of thunderstorms in the late afternoon. The below selections have been adjusted for OFF THE TURF while the main dirt track will be listed as FAST.
Race 1
#6 – Articulate (1-1): Runner-up v. similar in last on huge drop w/o heavy backing (9-2) on sloppy surface, which may have not been to her liking              
#2 – Herecomesmisskitty (5-1): Missed by a head at same level when 5-wide at ¼ pole after a 2 month layoff         
#3 – Heidi's Holiday (8-1): Need to draw a line through recent "jog" (last by 23) around a sloppy Lrl; 4 for 52 lifetime but liked Pim in the past (2:1-0-1)          
Race 2 is OFF THE TURF
#10 – Hey Willie (15-1): With switch to dirt he's a threat to go gate to wire but at a much shorter price than Morning Line  
#13 – HushHushMush (12-1): Will likely draw in due to anticipated "off the turf" scratches; ran good enough on main track @ Aqu a level higher         
#11 – Thirteenth Avenue (7-2): Used to sprinting on the grass, as he did in first race after layoff, getting Show purse; only two-turn turf races resulted in a 3rd and 4th better but has been runner-up on dirt in 4 of 8 starts on main oval
Race 3
#1 – Itsallaboutthebens (10-1): $$$ Longshot $$$ Continues to drop in class, trying to regain dirt form that found him competing at higher level; chalking up last dull effort to clipping heels early      
#2 – Exposed (2-1): Ran one of his best races in last outing @ Lrl one step higher than today; will need track to help hold his early speed  
#8 – Don't Be Fooled (8-1): May not have liked the CT bullring because previous starts @ Lrl showed willingness to compete     
Race 4 is OFF THE TURF
#15 – Picnic Party (10-1): Gets another shot to draw in off AE List should A. Merryman decide dirt is better than nothing
#12 – Capucine (12-1): Did well sprinting last summer and should be able to stretch out here  
#7 – Ms. ShoSho (20-1): Has done well in first three starts sprinting on dirt; daughter of Limehouse should stretch out      
Race 5
#5 – Charlie's Darlin (2-1): Makes third start after layoff following two runner-up finishes at this same level; will need pace help    
#4 – Carmine Toy (5-2): The Lynch Mob (Cathal & Feargal) give this guy a try on dirt after two promising turf outings to start career      
#1/1A – Fight for Freedom/Guns and Rosies (9-2): It's likely one will scratch; #1 gets blinkers for second time& should show early speed while entrymate will make debut after just a few works
Race 6 is OFF THE TURF
#7 – I'm Da Big Man (8-1): Ran first and third on Pim lawn last year; positive jock switch gives 6 y.o. deep closer a fighting chance in '16 debut
#8 – Empower (3-1): "Magic" Magee claimed him (28%) out of most recent race, runs him one step higher while still in "jail"; there's enough early lead in here to come back to closers    
#11 – Broad Moon (20-1): Took the winter off as he's 0 for 11 on dirt while 3 for 14 on turf; has had the habit of finding trouble during the race; a clean trip might help    
Race 7 
#2 – Devonson (6-1): Foes in here lack early speed, something this gelding has but gets leg weary in the lane; adds blinkers and got catch a speed favoring Pim dirt oval to help the cause
#11 – Outfielder (8-5): No excuse in last when dropped a few levels, second time w/ blinkers and was a distant runner-up and chilly on the board; starting to question his will to win at any level  
#6 – Pro Daddy (12-1): Been away 3 months so maybe Magee figured out any issues, safely enters him for $9k and picks F. Boyce to handle irons; shows decent 5f work (1:02 1/5; 2/6) last week     
Race 8 is OFF THE TURF
#6 – Jrock (3-1): This field is overloaded with early speed; considering a pace meltdown is likely to occur, he has the best shot at taking advantage and getting up "in the shadow of the wire"   
#3 – Ayyoh (12-1): This Hard Spun 3 y.o. colt has talent as he lost his debut by a neck to Sunny Ridge last June; part of the Exacta in all 5 races; tries turf in first race over 8 months; could be the speed of the speed    
#9 – Conscience (2-1): This lightly raced 5 y.o. has been on the shelf for 11 months; won only start at distance on turf @ Pim one year ago this week; shows nice works @ Fai but concerned that he's in for a tag for first time in career and being offered for $5k less than listed race condition
Race 9
#9 – Miss Glengar (9-2): Lost for first time on an off track in 4 such starts in last outing but was first start in nearly a year… K. Magee/J. Pimentel combo have begun Pim meet on fire
#7 – Mothernaturespell (9-5): Supposedly the better of the two K. Magee runners in here won two back for $10k then was wheeled back 16 days later for $5k and could only be second best as 3-5 fav.
#4 – Missy Kim (20-1): Was making a late move, far from leaders in first race off the bench when steadied/stopped to avoid fallen foe in mid-stretch; added 1/16th and clean trip today completes Tri at a price    
YESTERDAY'S NEWS
On Sunday May 15th at Pimlico had 5 winners from the 9 race card (1 Top Selection; payoff in BOLD) having $2 WIN pay-off of $6.00 (2nd race), $13.40 (3rd), $11.00 (5th), $7.00 (6th) and $8.20 (8th). Note: Year-to-date Top Selections are 131 for 502 (26.10%).
BEST BET of the Day (53: 21-10-5) Destination Love (4th race: 4-1 M/L; 3-1 PT) stalked the pace while saving ground, came under a ride after three furlongs, eased out in upper stretch, pursued past the eighth pole and flattened out late, losing the PLACE photo to return $3.20 to SHOW. BEST BET ROI = $2.18 ($117.10 / 53)
LONGSHOT PLAY of the Day (50: 2-5-10) Hudson Miracle (9th race: 8-1 M/L; 6-1 PT) was never close and simply outrun finishing 9th. LONGHSOT PLAY ROI = $0.22 ($15.80 / 50)
NAME A RACE
Ever wanted a race named in your honor?  Want to recognize a friend's birthday, anniversary or achievement?  But you can't make it out to the track?
Now you can have that race named just the way you want it — FREE — right here at The Racing Biz!
Simply fill out the form below, and we'll let the world know.  Your race will be named here, as part of The GQ Approach handicapping selections!
Why handicap race number one, when you can handicap "Race 1 – The Bob's Big Day Special"?!?
Note: This offer is NOT done in conjunction with the Maryland Jockey Club and does NOT provide you any benefits or recognition at Laurel Park, Pimlico Race Course, or any other facility owned or operated by the MJC. It applies only to this website.