The GQ Approach – Pimlico May 15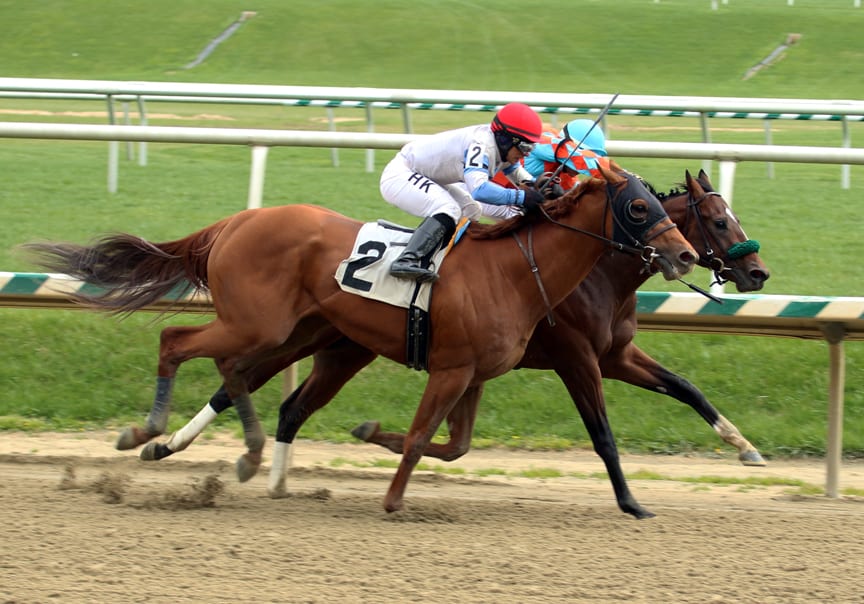 Photo by Laure Asseo.
The GQ Approach features full-card selections from Pimlico (28-day meet w/ live racing Thursday-Sunday through June 26th, in addition to Memorial Day, Monday May 30th but no racing on Sunday, May 22nd; Post Time 1:10pm w/ special early Post Times on Black-Eyed Susan Day & Preakness Day), including a daily Best Bet, Longshot Play, and multi-race wagers — including the 20 cent Rainbow Pick-6 ($4,605 carryover), 50 cent Jackpot Pick-5 as well as Pick-4s and rolling Doubles, Pick-3s and the Super High-5. 
NAME A RACE
Ever wanted a race named in your honor?  Want to recognize a friend's birthday, anniversary or achievement?  But you can't make it out to the track?
Now you can have that race named just the way you want it — FREE — right here at The Racing Biz!
Simply fill out the form below, and we'll let the world know.  Your race will be named here, as part of The GQ Approach handicapping selections!
Why handicap race number one, when you can handicap "Race 1 – The Bob's Big Day Special"?!?
Note: This offer is NOT done in conjunction with the Maryland Jockey Club and does NOT provide you any benefits or recognition at Laurel Park, Pimlico Race Course, or any other facility owned or operated by the MJC. It applies only to this website.
BEST BET OF THE DAY
Race 4 / #2 – Destination Love (4-1)
LONGSHOT PLAY OF THE DAY
Race 9 / #8 – Hudson Miracle (8-1)
[su_heading size="21″ align="left"]Multi-race wagers[/su_heading]
Race 1: $2 Double  2  w/ 3, 5, 6 ($6)
Race 3: $0.50 Pick-3  4, 5, 6  w/ 1, 2, 5  w/ 6, 7, 13 ($13.50)
Race 6: $0.50 Pick-3  1, 4, 7  w/ 5, 6, 12  w/ 1, 5, 6  ($13.50)
Race 8: $2 Double  1, 5, 6  w/ 3, 8, 12 ($18)
[su_heading size="21″ align="left"]Analysis[/su_heading]
* Pimlico has four (4) races (3rd, 5th, 7th and 9th) scheduled to be run on the TURF. Forecast for northwest Baltimore is for Mostly Sunny skies with high temps in the high-50s and a just a 20% chance of precipitation in the late afternoon. The below selections are based on the races being run ON THE TURF while the main dirt track will be listed as FAST.
Race 1
#2 – Go Daddy Girl (1-2): Goes for 7th win in past 8 starts; Pen shipper won @ Lrl in Jan. for same condition            
#3 – Lady Ann (6-1): Will be among those putting pressure on top pick early or could sit off pace depending on how race pace develops
#1 – Idon'tknogoaskanni (15-1): Been facing AlwN1x tallying a string of third place efforts; was runner-up in this condition @ Lrl in Dec.          
Race 2
#5 – Super Fund (8-5): Consistently inconsistent; runner-up in turf debut and on dirt when claimed for $25k; drops a few class levels seeking diploma  
#3 – Runaway Dude (2-1): House Horse been away since disappointing debut in Dec.; gelded and drops into $10k MCL; not exactly a sign of confidence         
#6 – Love Nor Money (20-1): Showed nothing in '16 debut when dropped in after five MSW races; only hope is second time blinkers angle
Race 3 is ON THE TURF
#5 – Tizasong (9-5): Away since debut @ Sar in Aug. when sent off as favorite in off the turf MSW affair but only managed Show purse; expect Winners Circle photo for this $440k Kee Sept. '14 purchase      
#6 – Ruthit (15-1): Augustin Stable buys turf runners and has been patience w/ this 4 y.o. $450k Kee Sept. '13 purchase; FTS by Pulpit out of a Rahy mare debuts w/o Lasix  
#4 – Coco as in Chanel (3-1): Awesome Again filly hasn't shown much in 3 dirt tries; switches to turf out of necessity not design    
Race 4
#2 – Destination Love (4-1): *** BEST BET *** Most of her foes are coming of decent efforts @ CT or Pen who rarely can cut it on MD circuit; would behoove Karamanos to get this one to the front early                  
#5 – Wilko Lovesong (7-2): Another House Horse who broke maiden at first asking but at lowest level @ CT followed by a promising runner-up effort @ Mvr at this level  
#1/1A – So Striking/Lockupthebourbon (5-1): Prefer the #1A as she'll likely have a chance to pick up the pieces late; #1 got a needed confidence boost when dropped down to face CT $5k claimers      
Race 5 is ON THE TURF
#7 – J C's Not Brown (4-1): Has top BRIS turf speed figure at this distance among this group; beaten favorite when off the turf in last race  
#13 – Don't Make Me Cry (8-1): Gelded son of Street Cry showed closing kick sprinting @ Gp and Lrl on the grass; should relish stretch out to two turns  
#6 – Favorite Heir (7-2): One of two M. Vitali runners in here; gelded since last start may help him carry that early speed further          
Race 6 
#1 – Tizsomethingroyal (5-2): Cuts back in distance after being forwardly placed and staying on to be second best going on mile; BRIS speed figures continue to ascend
#4 – Swapl (10-1): FTS by More Than Ready out of a Tapit mare should be seeking turf races but the work tab in A.M. shows she's got early foot and could go gate-to-wire
#7 – Tejana (7-2): FTS by Curlin out of a Giant's Causeway mare is a Jan. foal shows extensive worktab @ Fai; lone entry on card for Shug McGaughey gets E. Prado up… what's not to like?    
Race 7 is ON THE TURF
#12 – Malibu Preacher (6-1): The Lightbulb Theory is in play here… broke maiden in most recent outing v. $25k MCL; J. Talley/V. Carrasco combo are 4 for 11 the past year
#6 – Wolftrap (5-1): Has a history of finding trouble, no excuse in first off bench v. similar; an ugly 1 for 22 career record but that one win came on this turf course        
#5 – Proud to Say (6-1): 3 y.o. has faced elders in both career starts on turf… a sprinting debut win stretched out getting mugged on the first turn, packing it in from there           
Race 8
#6 – Crystal Pier (7-2): Lost to today's 9-5 M/L fav. (#9) last outing in a short field w/ no pace; fav. will have company early in here to set it up for this gal
#1 – Street Cruizer (9-2): Stamina wasn't there when she stretched out to one mile in last race, but held Show purse v. next out winner; should get nice stalking trip from the rail    
#5 – Girls Got Rhythum (6-1): Robb adds blinkers (25%) and switches to L. Garcia; she ran behind here three back, but has been on the improve
Race 9 is ON THE TURF
#8 – Hudson Miracle (8-1): $$$ Longshot $$$ Just one of two in here dropping in class; looking at past races, he's won and lost by a nose on GPW turf at similar level
#12 – Going to Market (4-1): Six months ago was runner-up in $40kN3X on yielding turf; has been dropping the past 6 races looking to get a check, and did getting 3rd on "good" Lrl turf
#3 – Barnards Galaxy (20-1): The other class dropper who wasted a winter trip to Tam getting buried in two turf starts while in over his head    
YESTERDAY'S NEWS
On Saturday May 14th at Pimlico had 5 winners from the 9 race card (2 Top Selections; payoff in BOLD) having $2 WIN pay-off of $15.00 (2nd race), $5.80 (4th), $7.20 (6th), $12.40 (8th) and $9.00 (9th). Of the suggested Multi-Race wagers hit the $2 DOUBLE in R8-R9 for $49.20 (cost: $12). Note: Year-to-date Top Selections are 130 for 493 (26.37%).
BEST BET of the Day (52: 21-10-4) Magnum Opus (8th race: 5-1 M/L) was SCRATCHED when the race was taken OFF THE TURF after the rains came about an hour prior to this race. BEST BET ROI = $2.25 ($117.10 / 52)
LONGSHOT PLAY of the Day (49: 2-5-10) Kippy Fox (2nd race: 10-1 M/L; 15-1 PT) sped to the early lead, was joined after a sixteenth of a mile, dueled with DELIGHTFUL ERIN to upper stretch then weakened through the final sixteenth finishing 8th.