The GQ Approach – Pimlico May 14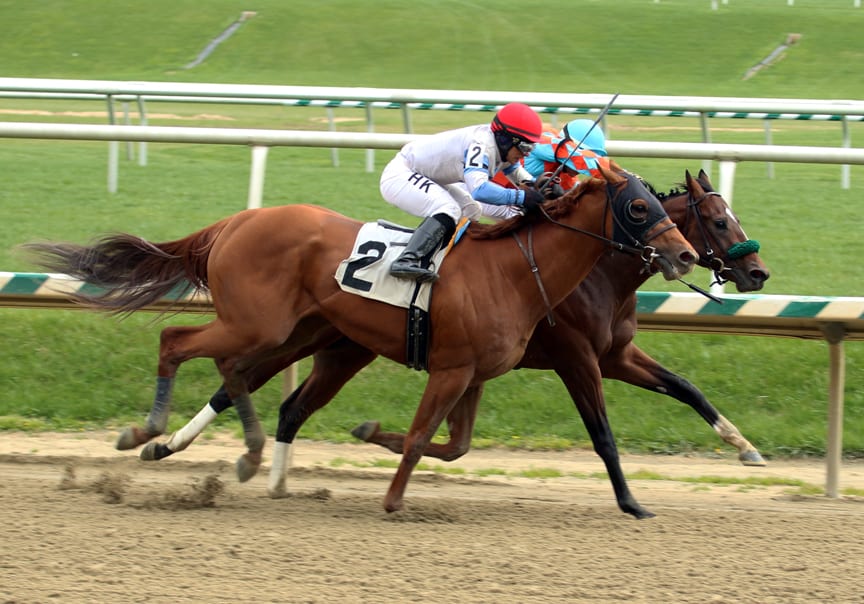 Photo by Laure Asseo.
The GQ Approach features full-card selections from Pimlico (28-day meet w/ live racing Thursday-Sunday through June 26th, in addition to Memorial Day, Monday May 30th but no racing on Sunday, May 22nd; Post Time 1:10pm w/ special early Post Times on Black-Eyed Susan Day & Preakness Day), including a daily Best Bet, Longshot Play, and multi-race wagers — including the 20 cent Rainbow Pick-6 ($3,628 carryover), 50 cent Jackpot Pick-5 as well as Pick-4s and rolling Doubles, Pick-3s and the Super High-5. 
NAME A RACE
Ever wanted a race named in your honor?  Want to recognize a friend's birthday, anniversary or achievement?  But you can't make it out to the track?
Now you can have that race named just the way you want it — FREE — right here at The Racing Biz!
Simply fill out the form below, and we'll let the world know.  Your race will be named here, as part of The GQ Approach handicapping selections!
Why handicap race number one, when you can handicap "Race 1 – The Bob's Big Day Special"?!?
Note: This offer is NOT done in conjunction with the Maryland Jockey Club and does NOT provide you any benefits or recognition at Laurel Park, Pimlico Race Course, or any other facility owned or operated by the MJC. It applies only to this website.
BEST BET OF THE DAY
Race 8 / #8 – Magnum Opus (5-1)
LONGSHOT PLAY OF THE DAY
Race 2 / #1 – Kippy Fox (10-1)
[su_heading size="21″ align="left"]Multi-race wagers[/su_heading]
Race 1: $2 Double 2, 3, 4  w/ 1, 3, 6 ($18)
Race 3: $0.50 Pick-3  4, 7, 8  w/ 2, 6, 9  w/ 1, 2, 8 ($13.50)
Race 6: $0.50 Pick-3  3, 4, 10  w/ 7, 8, 9  w/ 2, 4, 8  ($13.50)
Race 8: $2 Double  2, 4, 8  w/ 1, 4, 8 ($18)
[su_heading size="21″ align="left"]Analysis[/su_heading]
* Pimlico has four (4) races (2nd, 4th, 6th and 8th) scheduled to be run on the TURF. Forecast for northwest Baltimore is for Mostly Cloudy skies with high temps in the high-60s and a 60% chance of thunderstorms in the late afternoon. The below selections are based on the races being run ON THE TURF while the main dirt track will be listed as FAST.
Race 1
#2 – Trusted Choice (6-1): Has been competitive at this level in the past; seems to like Pim dirt surface (3:2-1-0)
#4 – Mail Order Groom (2-1): 7 y.o. is in a groove now as BRIS speed figures continue to ascend and goes for natural Hat Trick
#3 – The Pulse (3-1): Drawing a line thru last start has he lost all chance when he broke in air as PT favorite          
Race 2 is ON THE TURF
#1 – Kippy Fox (10-1): $$$ Longshot $$$ This old mare is quick from the gate and doesn't mind the rail; though she rarely visits Winners Circle (3 for 39), the 5f v. 5 ½f will help her hold on late  
#6 – Pom Pom Pistol (6-1): Interesting immediate "claim back" for J. Ness at a premium; took action in first turf try but "reared" at the break losing any chance and jock didn't abuse her         
#3 – Lulu Island (8-1): Failed as PT favorite in last start which was first race since last Oct.; showed early speed but couldn't stay on the last 1/16th which today's contest is that much shorter
Race 3
#7 – First to Fire (7-2): Veered out badly at the break sprinting in MSW; drops back in for a tag; ran big BRIS# (81) when missing by a nose two back
#8 – Meeting Francis (3-1): Lukewarm support for this M. Matz trainee who couldn't graduate @ Kee as PT favorite on drop; being offered for less than $25k just to get 2lb. break is worrisome
#4 – Porte Cochere (6-1): Drops in for a tag for first time in six career outings; switches back from turf to dirt as well    
Race 4 is ON THE TURF
#6 – Bridge of Luck (9-5): BRIS turf number stands out as the best among a small sampling in this MCL event; has burned bettors $$$ on 2 of 4 occasions as favorite                  
#2 – Moonlit Friday (8-1): Made a nice late run when stepping up in class first start for T. Wooley after getting colt from Bill Mott barn  
#9 – Shan Dian Kia (9-2): Aggressive claim for $25k from debut @ GP when runner-up; couldn't hang w/ MSW so he's back in for $25k    
Race 5
#8 – Blue Chips Only (2-1): Strangely ran a nice BRIS# (82) when 11 behind winner v. better when very chilly on the board (42-1)
#1 – Love Rules All (5-2): Wins for fun v. $7,500 N3L and now comes back in N4L and can being taken for $4,500; Magee wins at 36% clip when drops off a win
#2 – Freud's Vale (3-1): Has done well since D. Capuano claimed him five races back; no wins but earning checks to pay barn bill as his back class will return one day          
Race 6 is ON THE TURF
#3 – Take a Left (6-1): 0 for 6 to start career during 3 y.o. season in '15; tried turf in 4 of those starts and didn't run a bad race; shows nice works leading up to 4 y.o. debut
#10 – Brevard (4-1): Vitali immediately reclaimed this one @ GP after losing him a race earlier; moves up a class level and gets E. Prado in the irons hoping to graduate
#4 – De Rigueur (12-1): Gelded son of a champion turf two-turn runner; running line of last outing, a turf sprint has the look of one who wants more distance and gets it today    
Race 7 
#8 – Knee Socks (4-1): Been on the shelf since last Oct. when she took a bad stumble and lost rider; retuned to training in march @ Del and recent works say she's ready
#9 – Sippy Cup (8-1): An "evenly" effort on Lrl turf after claimed out of first race 1½ years; returns to dirt where she's run third in all three dirt sprints of career
#7 – Tango Delta (9-2): Made nice late run in debut on slop for $25k, ups the ante today as J. Robb calls on L. Garcia to ride as T. McCarthy is @ Bel to ride in G2 Peter Pan Stakes
Race 8 is ON THE TURF
#8 – Magnum Opus (5-1): *** BEST BET *** Chances in 4 y.o. debut were compromised when "steadied" at the half mile pole; turf breeding is just too good not to rebound in here
#4 – Rolin With Olin (8-1): Had lead after 5f in turf debut but couldn't hold over foes late; gets break in distance and will wear blinkers for second time
#2 – Magician's Bullet (12-1): Looking for this gelding to regain turf form from last year that saw him hit board in all three turf tries on Pim lawn (3:0-2-1)
Race 9
#8 – Uncle Carm (7-2): Form had fallen off this past winter, took some time off and returns to Pim where he won his only start
#4 – Longer Terms Doug (5-2): Old-timer has been part of the Exacta in nearly half of his races (61:16-12-7) and has performed well since W. Potts claim five races back
#1 – Magic Lion (5-1): The rest of this field either has major question marks or just have not been competitive at this bottom level; use this one by default    
YESTERDAY'S NEWS
On Friday May 13th at Pimlico had 7 winners from the 9 race card (4 Top Selections; payoff in BOLD) having $2 WIN pay-off of $5.60 (2nd race), $6.20 (4th), $6.00 (5th), $7.20 (6th), $6.20 (7th), $4.00 (8th) and $6.00 (9th). Of the suggested Multi-Race wagers hit on 50 cent Pick-3 in R6-R8 for $15.20 (cost: $13.50) and $2 DOUBLE in R8-R9 for $17.60 (cost: $18). Note: Year-to-date Top Selections are 128 for 484 (26.45%).
BEST BET of the Day (52: 21-10-4) Driving Me Crazy (6th race: 2-1 M/L 4-5 PT) brushed at the break, quickly recovered and accelerated to command, set a pressured pace along the rail, could not contain the winner leaving the three sixteenths, shifted out a bit and kept on willingly to be well clear of the rest to return $2.60 to PLACE and $2.10 to SHOW.
LONGSHOT PLAY of the Day (48: 2-5-10) Sweet Fortune (8th race: 10-1 M/L; 9-2 PT) vied between rivals early, pulled her way clear leaving the far turn, dropped towards the rail to set a rated pace, drifted out under left handed rousing inside the eighth pole, gave way late and just held the place to return $4.20 to PLACE and $2.80 to SHOW.