The GQ Approach – Pimlico May 13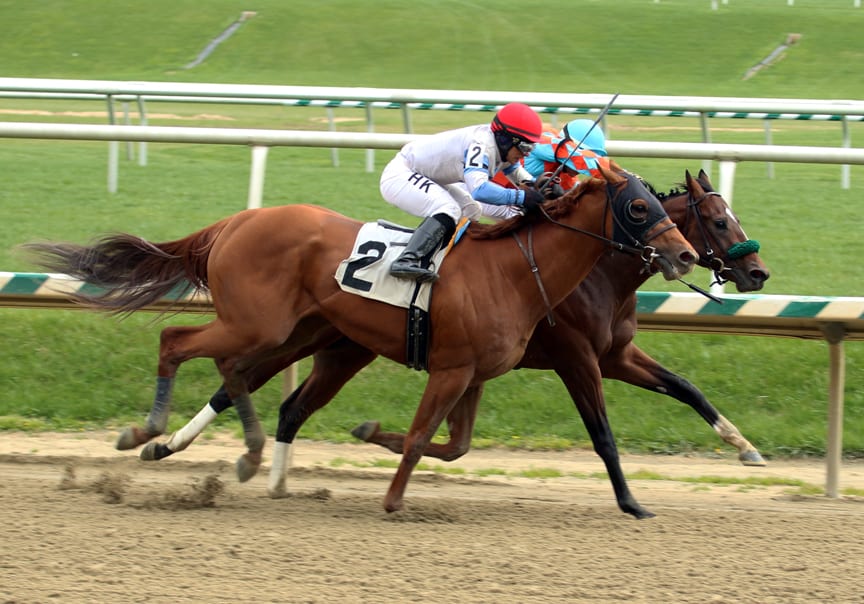 Photo by Laure Asseo.
The GQ Approach features full-card selections from Laurel Park/Pimlico (live racing switches to Pimlico on Thursday, Post Time 1:10pm), including a daily Best Bet, Longshot Play, and multi-race wagers — including the 20 cent Rainbow Pick-6 ($1,108 carryover), 50 cent Jackpot Pick-5 as well as Pick-4s and rolling Doubles, Pick-3s and the Super High-5.
NAME A RACE
Ever wanted a race named in your honor?  Want to recognize a friend's birthday, anniversary or achievement?  But you can't make it out to the track?
Now you can have that race named just the way you want it — FREE — right here at The Racing Biz!
Simply fill out the form below, and we'll let the world know.  Your race will be named here, as part of The GQ Approach handicapping selections!
Why handicap race number one, when you can handicap "Race 1 – The Bob's Big Day Special"?!?
Note: This offer is NOT done in conjunction with the Maryland Jockey Club and does NOT provide you any benefits or recognition at Laurel Park, Pimlico Race Course, or any other facility owned or operated by the MJC. It applies only to this website.
BEST BET OF THE DAY
Race 6 / #5 – Driving Me Crazy (2-1)
LONGSHOT PLAY OF THE DAY
Race 8 / #6 – Sweet Fortune (10-1)
[su_heading size="21″ align="left"]Multi-race wagers[/su_heading]
Race 1: $2 Double 3, 6, 7 w/ 2, 3, 6 ($18)
Race 3: $0.50 Pick-3  1, 3, 11  w/ 1, 4, 5  w/ 7, 9, 14 ($13.50)
Race 6: $0.50 Pick-3  1, 5, 7 w/ 1, 2, 10  w/ 3, 5, 6  ($13.50)
Race 9: $2 Double  3, 5, 6  w/ 7, 11, 15 ($18)
[su_heading size="21″ align="left"]Analysis[/su_heading]
* Pimlico had four (4) races (3rd, 5th, 7th and 9th) scheduled to be run on the TURF. Forecast for northwest Baltimore is for Mostly Cloudy skies with high temps in the high-60s and a 20% chance of thunderstorms ending by early afternoon. All races have been taken OFF THE TURF while the main dirt track will be listed as GOOD at the start of the card. Below selections reflect this information.
Race 1
#6 – Twelve Stone (5-2): Outfit continues to try him v. allowance level company but it never works out; cuts back to 6f and level he won two back            
#7 – Arrogant Officer (3-1): Drops down 2 class levels to where he's competed though not a winner; should get pace help in here
#3 – It's a Bang (12-1): Has nice off track record (4:2-0-1) and is 2 for 3 at Old Hilltop          
Race 2
#6 – Uno Emayo (7-2): One of R. Rodriguez's NY runners now stabled at Lrl; seems to have benn happy just running in the pack; hope is that competing against lesser changes that attitude  
#3 – Mountain Hero (2-1): Broke maiden in East Coast debut as PT favorite after starting career in SoCal racing 5x for $30k-$75k MCL
#2 – Minor Legend (7-5): Scary drop and cuts back to 6f which he's only tried once (in debut last summer) and was OTB; a damned if you do & damned if you don't pick
Race 3 is OFF THE TURF
#11 – Tiz Partners (15-1): Has best BRIS speed figure on dirt and if track turns up sloppy should handle it as well
#3 – Zafiro Azul (15-1): Up from winter in Tam; has been facing better while previous races at this level has yielded trips to Winners Circle
#1 – Silver Bouquet (20-1): Goes for natural Hat Trick but steps up out of his typical success level    
Race 4
#4 – Mike the Hab (2-1): First race after C. Lynch claim (22%) from M. Eppler; just outta jail looks to reverse fortune at this level being beaten favorite in last two                
#5 – Siete de Oros(6-5): Second start after Magee claim; was dropped and chilly on the board when 3rd but just a head behind runner-up came back to win easy at same level yesterday @ Pim  
#1 – My Jersey Boy (20-1): This N2L is in w/ N4L but he won 16 days after the NW6m condition; twice beaten favorite v. N3L w/ excuses in last two starts    
Race 5 is OFF THE TURF
#14 – Sally Pollock High (8-1): On AE list but should get in w/ potential scratches; 4 y.o. v. 3 y.o. has edge this time of year; could try to go gate-to-wire  
#9 – Passing Parade (6-1): FTS by Jump Start may have wanted to go long on grass but could try his luck on main track as his A.M. works are OK on fast track  
#7 – African Wildcat (20-1): On sheer class drop and adding Lasix gives this one hope to graduate in third career start          
Race 6 
#5 – Driving Me Crazy (2-1): *** BEST BET *** Got a horrible ride (pinched at start & steadied 5/16th) when runner-up in debut as favorite but L. Rice excels w/ second time starters (33%); winner came back to be distant 4th in a strong AlwN1X yesterday @ Pim
#7 – Nate's Tizzy (5-2): A Baffert SoCal castoff after just two races in '15; away since Oct. when missed by a nose going 1 mile; been working well @ Fai
#1 – Souper Awesome (15-1): Tough assignment from rail; debut @ CD 6 months ago was a bust; nice worktab @ Fai; gets E. Prado (his first mount since returning to MD)    
Race 7 is OFF THE TURF
#10 – Purnata (5-2): Consistent runner on both turf and dirt but second career win has eluded her as she's been a bridesmaid in last two starts at this level on Lrl turf; 2:1-0-1 on dirt
#1 – Eyerish Inspired (12-1): Catches a break with race taken off the turf; could be PT favorite as she won debut on dirt and was runner-up first time v. winners two back      
#2 – Key d'Oro (7-2): Brutal lifetime record (20:1-5-5) indicates lacks will to win but might try to steal this one in a depleted field         
Race 8
#6 – Sweet Fortune (10-1): $$$ Longshot $$$ Disappointed as favorite v. most of the same in here but pace scenario was different; lack of early speed in this contest today sees her go gate-to-wire  
#3 – La Madrina (9-5): Shug McGaughey ships this one in from Bel who has been beaten up in graded stakes; should find this group easier to handle and adds blinkers    
#5 – Mom'z Laugh (2-1): One of many M. Vitali runners who spend winter @ GP competing in FL-bred stakes; like the works @ Lrl since her last race
Race 9 is OFF THE TURF
#15 – Divine Confection (5-1): On AE list but likely gets in w/ plethora of scratches; has best BRIS speed figure on dirt sruface
#7 – Annies Revenge (6-1): Quick from the gate so she could steal this 5f contest; 3rd in most recent race as that winner came back to win in first try v. winners here yesterday
#11 – Secondhand Angel (10-1): FTS by E Dubai has a nicely spaced work tab for outfit who will send out well-meant runners for a tag
YESTERDAY'S NEWS
On Thursday May 12th at Pimlico had just 4 winners from the nine-race card (1 Top Selection; payoff in BOLD) having $2 WIN pay-off of $6.40 (6th race), $14.40 (7th), $3.00 (8th) and $7.80 (9th). Of the suggested Multi-Race wagers hit on 50 cent Pick-3 in R6-R8 for $24.85 (cost: $13.50) and $2 DOUBLE in R8-R9 for $14.10 (cost: $18). Note: Year-to-date Top Selections are 124 for 475 (26.10%).
BEST BET of the Day (51: 21-9-4) Willful Limit (9th race: 7-2 M/L 5-2 PT) a forward factor in the three path on the turn, swept to command entering the stretch, quickly opened up and was under pressure in the drive to win by 2¾ lengths to return $7.80 to WIN, $4.20 to PLACE and $2.60 to SHOW.
LONGSHOT PLAY of the Day (47: 2-4-10) Hard Drive (3rd race: 6-1 M/L; 9-1 PT) lagged off the pace and failed to generate any serious bid finishing seventh.