The GQ Approach – Pimlico May 12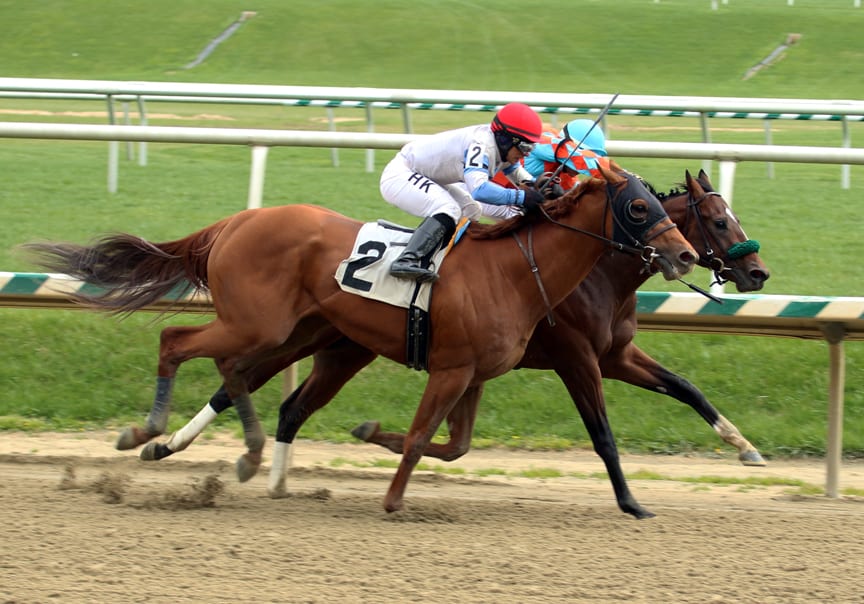 Photo by Laure Asseo.
The GQ Approach features full-card selections from Pimlico (28-day meet w/ live racing Thursday-Sunday through June 26th, in addition to Memorial Day, Monday May 30th but no racing on Sunday, May 22nd; Post Time 1:10pm w/ special early Post Times on Black-Eyed Susan Day & Preakness Day), including a daily Best Bet, Longshot Play, and multi-race wagers — including the 20 cent Rainbow Pick-6 ($1,108 carryover), 50 cent Jackpot Pick-5 as well as Pick-4s and rolling Doubles, Pick-3s and the Super High-5.
NAME A RACE
Ever wanted a race named in your honor?  Want to recognize a friend's birthday, anniversary or achievement?  But you can't make it out to the track?
Now you can have that race named just the way you want it — FREE — right here at The Racing Biz!
Simply fill out the form below, and we'll let the world know.  Your race will be named here, as part of The GQ Approach handicapping selections!
Why handicap race number one, when you can handicap "Race 1 – The Bob's Big Day Special"?!?
Note: This offer is NOT done in conjunction with the Maryland Jockey Club and does NOT provide you any benefits or recognition at Laurel Park, Pimlico Race Course, or any other facility owned or operated by the MJC. It applies only to this website.
BEST BET OF THE DAY
Race 9 / #9 – Willful Limit (7-2)
LONGSHOT PLAY OF THE DAY
Race 4 / #8 – Hard Drive (6-1)
[su_heading size="21″ align="left"]Multi-race wagers[/su_heading]
Race 1: $2 Double 2, 3, 5 w/ 2, 4, 6 ($18)
Race 3: $0.50 Pick-3  1, 6, 11  w/ 2, 3, 8  w/ 2, 10, 13 ($13.50)
Race 6: $0.50 Pick-3  1, 2, 4 w/ 1, 5, 11  w/ 2, 4, 8  ($13.50)
Race 9: $2 Double  2, 4, 8  w/ 9, 10, 12 ($18)
[su_heading size="21″ align="left"]Analysis[/su_heading]
* Opening Day at Pimlico had four (4) races (3rd, 5th, 7th and 9th) scheduled to be run on the TURF. Forecast for northwest Baltimore is for Mostly Cloudy skies with high temps in the high-60s and a 20% chance of thunderstorms. But due to 16 straight days of precipitation, Pimlico races will be OFF THE TURF and the main dirt track will be listed as GOOD.
Race 1
#5 – Boys From Boston (5-2): KY-bred FTS by Pure Prize makes debut for J. Robb Lasix free; nice worktab finishing with 2nd fastest of 16 workers going 4f work in mud
#2/2x – Twist of Lime/Jet Home (7-2): A pair of FTS with modest works; J. Salzman, Sr. looking to break out of 0 for 17 w/ debut starters
#3 – Lethal Shot (3-1): One of two in here w/ race experience makes 2nd start for owner/trainer T. Ice after 3rd in debut v. 4 others @ Aqu          
Race 2
#4 – Over Saver (5-1): Fresh off maiden score has improved since trying two-turns; sire (Super Saver) won KY Derby in slop, then nothing afterwards before retiring to stud  
#6 – Pagan Power (3-1): House horse won only two-turn dirt start to break maiden, drops back to level he should have success         
#2 – Gem Twist (9-2): The Lynch Mob take this one back after sending to GP for winter, broke maiden v. $12,500 MCL in last start; adds blinkers    
Race 3 is OFF THE TURF
#1 – Best Number (5-1): Entered for MTO; J. Salzman, Jr. has done well handling the late G. Mobberley barn
#6 – Proud Maid Marian (10-1): Wanted to make turf debut after being runner-up in last two from three career races
#11 – Fleeting Morning (5-1): Both career efforts have been on turf but Afleet Alex offspring should try main oval, he might like it
Race 4
#8 – Hard Drive (6-1): $$$ Longshot $$$ Just 1 for 30 on a "fast" track but if Pim surface is "off" come race time, he's a player (7:4-0-1)
#2 – Prime Number (2-1): Suspect drop off claim @ OP but lack of other early speed in here makes him a gate-to-wire threat… IF he's fit  
#3 – Blame Me (8-1): Returns to MD and level where he won four straight races, one in lone start at this distance  
Race 5 is OFF THE TURF
#10 – Optimistic Outcome (10-1): Outlook here got better when taken off turf; trainer A. Pecoraro had a nice Lrl meet w/ limited starters
#2x – Nour layoun (12-1): Entrymate scratched when taken off turf; away since Oct. but outfit just missed off similar layoff w/ her last year in "off turf" event  
#13 – Super Sharp (8-1): Adds blinkers for first try going two turns; look for her on the lead early; w/o pressure she goes gate-to-wire          
Race 6 
#4 – Jackson P (9-5): Ships in from NY for trainer D. Cannizzo lone entry on card; speed figures point to him as best in here
#1 – Alex Dude (4-1): Should be beneficiary of speed duel and will be heard from late if the track is playing fair
#2 – Touchdown (3-1): Lukewarm support for this R. Rodriguez NY shipper as 10 lb. bug boy (W. Kay) is just 1 for 33, but lone winner was this one in last start    
Race 7 is OFF THE TURF
#11 – Reckless Humor (3-1): Entered for MTO; NY shipper has been well backed in all three career outings; runner-up v. similar in last start
#5 – Toe Curls (7-2): Might be quickest from the gate and hold on late; fresh off maiden      
#1 – Uphill Battle (6-1): Has earned the highest BRIS speed figure of those in here on dirt         
Race 8
#2 – Joy Drive (5-1): Proved he can rate by coming off the pace in second career race to be runner-up; #1, #6 and #8 will provide targets to run at late
#8 – Colonel Sharp (4-5): Eye-popping debut @ Pen earned a 96 BRIS number, much the best among rival in here      
#4 – Just Jack (6-1): Local debut winner after overcoming troubles start for "Ham" Smith; may have gotten an education as well and will improve off that effort      
Race 9 is OFF THE TURF
#9 – Willful Limit (7-2): *** BEST BET *** First race after C. Gonzalez claim (30%); should show more early speed today
#12 – Rafidain (6-1): On AE list but should get in if connections want; up from GP and adds blinkers
#10 – Sultry Encounter (9-2): Barn typically isn't into keeping runners who cannot compete above Claiming level so the drop is understandable to entice Claim Box activity
YESTERDAY'S NEWS
On Sunday May 8th, Closing Day at Laurel Park had just 3 winners from the 10 race card (3 Top Selections; payoff in BOLD) having $2 WIN pay-off of $7.80 (3rd race), and $3.80 (4th) and $3.20 (9th). Of the suggested Note: Year-to-date Top Selections are 123 for 466 (26.10%).
BEST BET of the Day (50: 20-9-4) Another Badge (4th race: 5-2 M/L 4-5 PT) inside horses on the backstretch, eased out to the three path on the turn, bid for the lead between horses in upper stretch and drove clear to win by 2 lengths to return $3.80 to WIN, $2.80 to PLACE and $2.20 to SHOW.
LONGSHOT PLAY of the Day (46: 2-4-10) Belle Allessandra (3rd race: 10-1 M/L; 9-2 PT) bumped with BILLY THE BULL leaving the starting gate, hugged the rail and was no factor finishing eighth.