The GQ Approach – Laurel May 6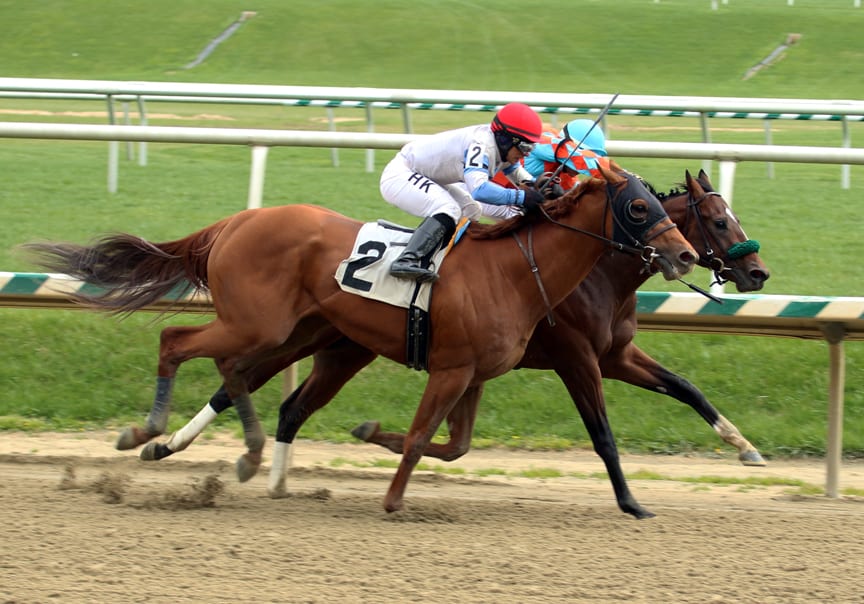 Photo by Laure Asseo.
The GQ Approach features full-card selections from Laurel Park (live racing Friday-Sunday through May 8th; Post Time 1:10pm), including a daily Best Bet, Longshot Play, and multi-race wagers — including the 20 cent Rainbow Pick-Pick-6, 50 cent Jackpot Pick-5 as well as Pick-4s and rolling Doubles, Pick-3s and the Super High-5.
NAME A RACE
Ever wanted a race named in your honor?  Want to recognize a friend's birthday, anniversary or achievement?  But you can't make it out to the track?
Now you can have that race named just the way you want it — FREE — right here at The Racing Biz!
Simply fill out the form below, and we'll let the world know.  Your race will be named here, as part of The GQ Approach handicapping selections!
Why handicap race number one, when you can handicap "Race 1 – The Bob's Big Day Special"?!?
Note: This offer is NOT done in conjunction with the Maryland Jockey Club and does NOT provide you any benefits or recognition at Laurel Park, Pimlico Race Course, or any other facility owned or operated by the MJC. It applies only to this website.
BEST BET OF THE DAY
Race 9 / #7 – High Road Ridge (9-5)
LONGSHOT PLAY OF THE DAY
Race 2 / #3 – Start Swinging (6-1)
[su_heading size="21″ align="left"]Multi-race wagers[/su_heading]
Race 1: $2 Double  1, 2, 7 w/ 2, 3, 6 ($18)
Race 6: $0.50 Pick-3  5, 8, 11  w/ 1, 3, 6  w/ 1, 4, 5  ($13.50)
Race 9: $2 Double  4, 5, 7  w/ 4, 6, 7  ($18)
[su_heading size="21″ align="left"]Analysis[/su_heading]
* Laurel Park has five (5) races (3rd, 5th, 6th, 8th and 9th) scheduled to be run on the TURF, but the forecast for the northern D.C. suburbs is for Mostly Cloudy skies with high temps in the mid-50s and rain throughout the day. The below selections are based races being taken OFF THE TURF with the main track listed as SLOPPY.
Race 1
#1/1A – Next Street / Choice Prospect (2-1): Stablemates ran 3rd and 5th, respectively v. boys in their debut, as top two were both well clear and well-meant
#2 – Anna's Bandit (5-1): One of two Jerry Robb FTS; going with the WV-bred since E. Camacho usually gets the call on 2 y.o.
#7 – She Spoke French (7-2): Fourth in debut in same race as entry; add blinkers         
Race 2
#3 – Start Swinging (6-1): Should relish the cut back in distance and potential off track (3:1-2-0)  
#2 – Anythingicandoforu (8-1): Turns the tables on the #1 with a clean trips; two runner-up efforts going 7f         
#6 – Alwaysacontest (7-2): Been facing open $5k claimers @ Pen; has done well @ Lrl (17:6-6-0) and distance (5:2-1-0)        
Race 3 is OFF THE TURF
#11 – Greyscale (10-1): Will draw in as there will be plenty of scratches; was to be his turf debut but barn shipping in from NY will gladly run on main oval        
#1 – Bourbon Commander (12-1): Bloodlines have a number of runners who could handle a sloppy track; hopefully the barn is aware of it too
#8 – Giles Fair (12-1): Bloodlines have a number of runners who could handle a sloppy track; hopefully the barn is aware of it too  
Race 4
#3 – Mr. Game Seven (7-5): Takes drop a few levels below where he won three races back; deserving prohibitive favorite v. this group                
#7 – Breezed Bayou (20-1): First start off R. Shelansky who's look for first win of '16; runner finds trouble in most races; a clean trip may lead to surprising result  
#8 – Topara (2-1): Away since last June after failing big-time in an IN-bred stakes while being conditioned by D. Romans; Ham Smith who took over wins w/ "1st start w/ trainer" at 26% clip  
Race 5 is OFF THE TURF
#2 – Intrepid Citizen (9-2): No turf, no problem! He's never been off the board in four races on an off track (4:1-2-1)   
#11 – Worldly Lion (6-5): Entered for MTO; Magee runner gets in an easy spot but might have company on the front end early  
#7 – Picadilly Pete (15-1): Those odds will come down significantly being off turf, number of scratches and he's been part of Exacta in all 3 off track races in his career          
Race 6 is OFF THE TURF
#5 – Guts and Glory (7-2): Takes advantage of recent drop in claim price two back to now be protected via Starter Allowance; just as good on a sloppy going
#8 – Hard Drive (12-1): Entered for MTO; Not going to get close to 12-1 on him based on off track record (7:4-0-1), but that's been mainly v. cheaper   
#11 – Young Dude (4-1): On turf or dirt he's a player; won 3 races back in mud easily v. cheaper
Race 7 
#1/1A – Patrick Rocks/Twisted Earl (3-1): Formidable duo for J. Robb as the latter goes for natural Hat Trick from gate-to-wire and his stablemate will be heard from late
#6 – Midnight Surfer (7-2): NY shipper for R. Rodriguez makes sense on the drop v. a bunch of locals stepping up      
#3 – Alex the Dude (6-1): Exits turf debut first race after claim while stepping up, drops back to a level he can handle       
Race 8 is OFF THE TURF
#4 – Like a Million (15-1): Won't be 15-1 w/ scratches because he's been competitive in 3 lifetime off track starts going one mile; extra 1/8 shouldn't be an issue
#1 – Special Treat (6-1): Was eased on an off track in second career start, but took a short vacation immediately thereafter; if he's in, he'll handle        
#5 – Winter (15-1): Debut last September was a bust when sent off 5-1 on fast track sprinting; bloodlines are filled w/ stamina for distance and sire could handle the sloppy going        
Race 9 is OFF THE TURF
#7 – High Road Ridge (9-5): Entered for MTO this one should definitely run for L. Rice/H. Karmanos combo who've teamed up for 3 trips to Winners' Circle from 6 starters              
#5 – R Frosty One (8-1): Won a N1X @ Prx on a "wet fast" track; should track a few speedsters           
#4 – Tide is High (5-2): Gave M. Dickinson his first win since coming out of retirement; hopefully he doesn't scratch because he broke his maiden on the slop
Race 10
#6 – Seeyouinthetown (9-2): Banking on an "off" track as this 8 y.o. mare only has 6 wins from 64 starts but is 2 for 3 when the track "off"
#7 – Miss Glengar (7-2): "Magic" Magee seems to have clicked with F. Lynch (43%) of late; this one is a perfect 3 for 3 on an "off" track
#4 – Lucky Candy (5-1): Takes a HUUUUUGE drop in class, so he'll either win this for fun OR be up the track; CT shipper actually worked out @ CD on Apr. 24?!                
YESTERDAY'S NEWS
On Sunday May 1st at Laurel Park had 6 winners from the 10 race card (3 Top Selections; payoff in BOLD) having $2 WIN pay-off of $2.80 (1st race), $7.00 (3rd), $6.00 (4th), $6.40 (5th), $5.40 (6th) and $10.40 (8th). Of the suggested Multi-race wagers hit the 50 cent Pick-3 in R3-R5 for $21.35 ($13.50). Note: Year-to-date Top Selections are 105 for 434 (24.19%).
BEST BET of the Day (47: 17-9-4) Pauline's Pride (3rd race: 4-1 M/L; 5-2 PT) shuffled back leaving the starting gate, saved ground on the turns, swung to the four path in upper stretch, closed outside horses and narrowly prevailed by a neck to return $7.00 to WIN, $3.80 to PLACE and $2.80 to SHOW.
LONGSHOT PLAY of the Day (44: 2-4-10) Nairet (2nd race: 8-1 M/L; 7-2 PT) broke a beat slow, recovered and advanced inside a rival leaving the three eighths pole, eased out to progress between rivals approaching the stretch, angled five wide for the drive, drifted in near the eighth pole while racing on her left lead, straightened and kept on willingly to close the gap and be second best to return $6.40 to PLACE and $3.80 to SHOW.