The GQ Approach – Laurel May 1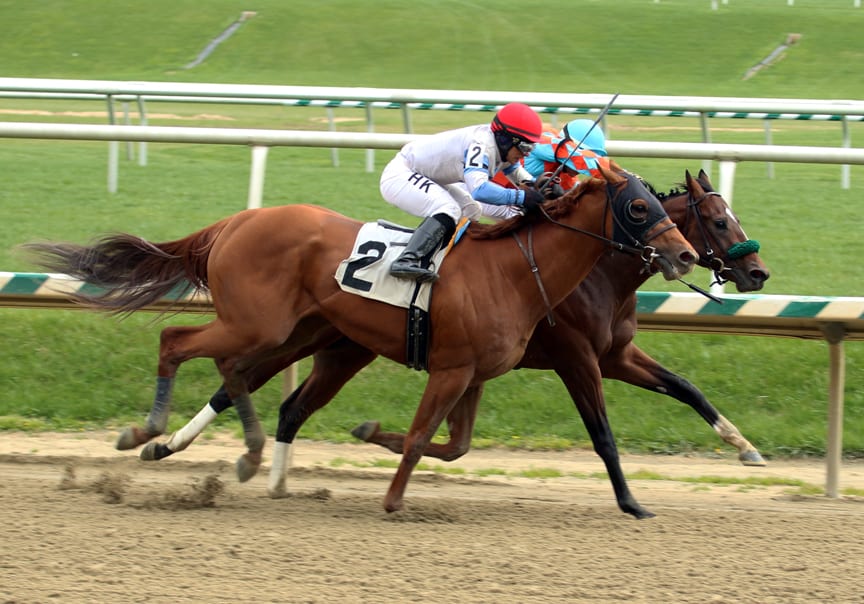 Photo by Laure Asseo.
The GQ Approach features full-card selections from Laurel Park (live racing Friday-Sunday through May 8th; Post Time 1:10pm), including a daily Best Bet, Longshot Play, and multi-race wagers — including the 20 cent Rainbow Pick-Pick-6 ($662 carryover), 50 cent Jackpot Pick-5 ($4,026 carryover), as well as Pick-4s and rolling Doubles, Pick-3s and the Super High-5.
NAME A RACE
Ever wanted a race named in your honor?  Want to recognize a friend's birthday, anniversary or achievement?  But you can't make it out to the track?
Now you can have that race named just the way you want it — FREE — right here at The Racing Biz!
Simply fill out the form below, and we'll let the world know.  Your race will be named here, as part of The GQ Approach handicapping selections!
Why handicap race number one, when you can handicap "Race 1 – The Bob's Big Day Special"?!?
Note: This offer is NOT done in conjunction with the Maryland Jockey Club and does NOT provide you any benefits or recognition at Laurel Park, Pimlico Race Course, or any other facility owned or operated by the MJC. It applies only to this website.
BEST BET OF THE DAY
Race 3 / #3 – Pauline's Pride (4-1)
LONGSHOT PLAY OF THE DAY
Race 2 / #4 – Nairet (8-1)
[su_heading size="21″ align="left"]Multi-race wagers[/su_heading]
Race 1: $2 Double  4, 6, 8 w/ 3, 4, 6 ($18)
Race 3: $0.50 Pick-3  3, 4, 7  w/ 1, 2, 8  w/ 4, 8, 10  ($13.50)
Race 6: $0.50 Pick-3  10, 12, 14  w/ 2, 3, 8 w/ 1, 4, 10  ($13.50)
Race 9: $2 Double  2, 3, 8  w/ 3, 8, 13 ($18)
[su_heading size="21″ align="left"]Analysis[/su_heading]
* Laurel Park has five (5) races (3rd, 4th, 6th, 8th and 9th) scheduled to be run on the TURF. Forecast for the northern D.C. suburbs is for Mostly Cloudy skies with high temps in the high-50s and with scattered showers all day. The below selections are based races being run ON THE TURF listed as GOOD to YIELDING and while the main dirt track is potentially GOOD to SLOPPY.
Race 1
#8 – Love That (7-5): Runner-up twice v. open claimers on turf; back on main track            
#6 – Heidi's Holiday (10-1): Seems to just follow others (4 for 51) but does better on an off track (2 for 15)         
#4 – Even Prettier (6-1): Blinkers come off after narrow miss against similar       
Race 2
#4 – Nairet (8-1): $Longshot Play$ FTS by Bob and John out of a Pulpit mare has nice, consistent work tab; H. Smith/A. Cintron combo is 4 of 6 in the past year  
#3 – Piney Blues (10-1): Has been overbet in all four career outings; runner-up at this level two back         
#6 – Stormy Mistress (6-1): 5 y.o. mare drops in for tag; been testing turf more than dirt but was runner-up two back when 32-1       
Race 3 is ON THE TURF
#3 – Pauline's Pride (4-1): *Best Bet* Second race after taking winter off; first race sprinting was an obvious tightener to come back and go two turns which she is more accustomed to running      
#4 – Southern Equity (12-1): Showed later interest sprinting in first race since Aug. '15; gets more distance today
#7 – Key d'Oro (3-1): Been running against GP turf speed bias; ships to Lrl which is more friendly to late runners  
Race 4 is ON THE TURF
#2 – Night Officer (7-2): Lost by a half-length to Ben's Cat in Mr. Diz stakes in Aug. '15; has raced well, improved BRIS# in two FL turf outings                
#8 – Ben's Cat (8-5): Maryland's most popular thoroughbred in training makes 10 y.o. debut; regardless of the couple bullets in the A.M., at his age he might need this one
#1/1A – Aztec Brave/El Botas (9-5): Formidable duo for Joe Sharp; one may scratch but either has ability to go gate-to-wire  
Race 5
#8 – Gentle Johnny (6-1): Third race after layoff/claim for D. Capuano (23%); showed signs of life on turf in last 
#4 – Afleet Skier (2-1): Huge drop for L. Rice runner after first try v. winners ($40kN2L) was a dull effort; leery about this one but could be damned if you don't use him  
#10 – Jumpin Julian (15-1): Never gets embarrassed and two-turns should be his wheelhouse        
Race 6  is ON THE TURF
#14 – Tempt Me Twice (3-1): Might get in off AE list; has best turf BRIS# in this field and just missed in first race off the bench two weeks ago
#12 – Joseph (6-1): Best effort in three lifetime starts was at this distance and surface last July when encountering all kinds of traffic   
#10 – Makenzie T (7-2): This maiden on AE List held her own v. AlwN1X when 111-1 in turf debut, but takes on the boys today    
Race 7 
#2 – J La Tache (1-1): Finally broke maiden in last outing, her 8th but has been facing many of the best on the east coast… Carina Mia, Nickname, Stageplay to name a few
#8 – Girls Got Rhythum (8-1): Two troubled trips following a very impressive debut win; gets F. Boyce in irons for first time      
#3 – Karaoke Queen (5-1): Nice debut win for L. Rice runner who in spite of victory, adds blinkers today     
Race 8 is ON THE TURF
#4 – Dancing Lounge (9-5): Appears to be lone speed in this contest; Lrl turf course plays fair but he should be able to dictate pace and set slow fractions
#10 – Mucho Mas Macho (7-2): Graded stakes winner ain't what he used to be but still has the spark to compete at this level    
#1 – Dreams Cut Short (9-2): Just 1 of 14 at distance but this Closer has been up against a speed favoring GP course all winter      
Race 9 is ON THE TURF
#2 – Hidden Treat (5-1): Nice runner owned by outfit (Lael Stables) who breed turf runners… very good ones; she can rebound from G3 drubbing and handle this group              
#3 – Awake the Day (7-2): Troubled trip in latest at this distance when facing N3X; gets class break today v. N2X
#8 – Royal Renege (6-1): Never off-the-board on Lrl turf (4:1-2-1); makes '16 debut at distance which seems to be her best                
Race 10
#3 – Academic Affair (8-1): Drops to lowest level seeking 1st win in 10 career outings; an off track should enhance his chances
#8 – James Alex (4-1): Been away since Nov. after 13 attempts to break maiden; second time blinkers                
#13 – Outfielder (6-1): Has shown promise in each of 7 starts; drops from $20k to $10k and switches to J. Toledo in irons              
YESTERDAY'S NEWS
On Saturday April 30th at Laurel Park had 7 winners from the 11 race card (2 Top Selections; payoff in BOLD) having $2 WIN pay-off of $7.80 (1st race), $7.00 (3rd), $17.40 (4th), $5.60 (5th), $4.20 (8th), $6.80 (10th) and $9.60 (11th). Of the suggested Multi-race wagers hit the 50 cent Pick-3 in R3-R5 for $48.95 ($13.50) and $2 DOUBLE in R10-R11 for $66.60 (cost: $18). Note: Year-to-date Top Selections are 102 for 424 (24.06%).
BEST BET of the Day (46: 16-9-4) Joe Tess (3rd race: 3-1 M/L; 5-2 PT) sprinted to the early lead, hugged the rail, dueled late with the winner and just missed by a nose in a game performance to return $4.00 to PLACE and $3.40 to SHOW.
LONGSHOT PLAY of the Day (43: 2-3-10) Credit Ready (4th race: 15-1 M/L; 7-1 PT) was sent to the front, set a pressured pace towards the inside, moved clear around the turn, was headed a sixteenth from home, faded but was able to salvage third to return $4.80 to SHOW.