The GQ Approach – Laurel April 30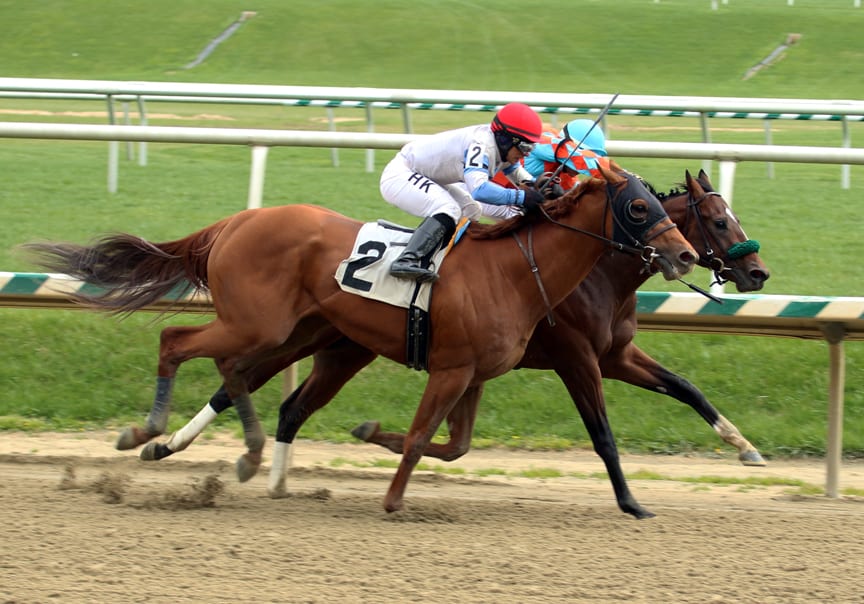 Photo by Laure Asseo.
The GQ Approach features full-card selections from Laurel Park (live racing Friday-Sunday through May 8th; Post Time 1:10pm), including a daily Best Bet, Longshot Play, and multi-race wagers — including the 20 cent Rainbow Pick-Pick-6 ($662 carryover), 50 cent Jackpot Pick-5 ($4,026 carryover), as well as Pick-4s and rolling Doubles, Pick-3s and the Super High-5.
NAME A RACE
Ever wanted a race named in your honor?  Want to recognize a friend's birthday, anniversary or achievement?  But you can't make it out to the track?
Now you can have that race named just the way you want it — FREE — right here at The Racing Biz!
Simply fill out the form below, and we'll let the world know.  Your race will be named here, as part of The GQ Approach handicapping selections!
Why handicap race number one, when you can handicap "Race 1 – The Bob's Big Day Special"?!?
Note: This offer is NOT done in conjunction with the Maryland Jockey Club and does NOT provide you any benefits or recognition at Laurel Park, Pimlico Race Course, or any other facility owned or operated by the MJC. It applies only to this website.
BEST BET OF THE DAY
Race 3 / #1 – Joe Tess (3-1)
LONGSHOT PLAY OF THE DAY
Race 4 / #2 – Credit Ready (15-1)
[su_heading size="21″ align="left"]Multi-race wagers[/su_heading]
Race 1: $2 Double  1, 2, 5 w/ 1, 5, 8 ($18)
Race 3: $0.50 Pick-3  2, 4, 7  w/ 2, 3,  5 w/ 2, 7, 8  ($13.50)
Race 6: $0.50 Pick-3  2, 4, 11  w/ 5, 9, 10  w/ 4, 7, 8  ($13.50)
Race 10: $2 Double  3, 5, 10  w/ 7, 10, 11  ($18)
[su_heading size="21″ align="left"]Analysis[/su_heading]
* Laurel Park has six (6) races (3rd, 4th, 6th, 7th, 9th and 10th) scheduled to be run on the TURF. Forecast for the northern D.C. suburbs is for Mostly Cloudy skies with high temps in the low-60s and just a slight chance of scattered showers. The below selections are based races being run ON THE TURF and a FAST main dirt track.
Race 1
#1 – Dixie Deputy (7-2): 5 for 5 at this distance; part of Exacta in 9 of 10 races @ Lrl; breaking from rail is a hindrance; Serpa might need to send him early          
#5 – Cutty Sark (5-2): Gonzalez lowering expectation after claiming this one 4 back for $15k; way over his head v. OC40kN3x in latest 
#2 – It's a Bang (6-1): Been facing much better and comes back after dull effort just six days ago       
Race 2
#5 – Holiday Mousse (4-1): Claimed by D. Barr in last when jockey stopped riding at first wire instead of second, costing him the "W" v. open $15k claimers  
#1 – Minor Legend (2-1): Gets rail trip and faces most who are testing this level for the first time; seeking 2nd win, but 1st on dirt (0 for 5)         
#8 – Barakeh (12-1): Has run at this level and has more races at this distance than the rest of this field combined; C. Clagett/A. Cortez combo scored w/ price horse earlier in meet
Race 3 is ON THE TURF
#2 – Joe Tess (3-1): *Best Bet* Owns top turf Brisnet# (95) in this field; was 3rd in VA-bred Punch Line stakes and won turf debut two years ago as 6-5 fav. @ Mth in gate-to-wire fashion going one mile      
#7 – Came Back (5-2): Makes seasonal turf debut; should like extra 1/16th based on late running style; won his final '15 turf try at this level          
#4 – Irunalatte (6-1): 7 y.o. may have needed one after taking winter off to await turf season; McCarthy stays on board  
Race 4 is ON THE TURF
#2 – Credit Ready (15-1): $Longshot Play$ Pen shipper has turf in bloodlines top & bottom; showed early speed going 6f on dirt in debut v. MSW; drops in for $25k MCL            
#3 – Straightaway (6-1): FTS by Colonel John out of a Broken Vow mare shows two recent bullets on farm; gets F. Boyce but no Lasix
#5 – Major Anthem (9-2): More logical runners are on AE and unlikely to draw in, so best of a poor lot (0 for 20; 16: 0-5-2 on turf) shipping in from FL gets the nod  
Race 5
#7 – Hero's Notion (8-1): At first glance that 3 for 42 record is alarming, but is 3 for 15 on dirt (all @ Lrl); toss turf try, first after layoff v. open claimers         
#8 – Gimme a Double (4-1): Trouble at start in local bow on turf after spending winter @ Tam; 1 for 20 on dirt looks ugly but have you seen the others?!  
#2 – Two Term Leader (4-1): First start after W. Potts claim (25%) is good angel considering barn is only 8% (16 for 196) for the Lrl meet           
Race 6 is ON THE TURF
#4 – Mesmerize (3-1): Sharp runner-up effort in debut on grass in $16k MCL for L. Gaudet; steps up one class; pay attention to what trainers sibling thinks          
#2 – Pretty Surprise (8-1): Makes 4 y.o. debut after failing to break maiden in 12 starts last year, including 4 turf tries at two-turns; cuts back to 6f   
#11 – Perigee Moon Slide (5-1): A length behind top pick in latest but closing fast; gets extra 1/16th but Lauralea needs to move earlier on her  
Race 7 is ON THE TURF
#10 – Conspirer (5-2): Never runs a bad one… on turf; been getting some leisurely works to get ready for first turf start of the year
#9 – Silver Tresor (7-2): Has just one way to go… very fast out of the gate; if she's not on top at the far turn, just head to the beer stand or bathroom before the crowd      
#5 – Chilly Start (6-1): Makes turf debut in 25th career start but synthetic record (11:2-4-0) gives a clue she'll take to the grass     
Race 8
#7 – Jump Jive an Wail (9-5): The latter is exactly what yours truly did seeing this one hang in latest; switch to Carrasco is a plus 
#4 – Vicious (8-1): Had this one in Stable Mail based on horrible stumble two back, but ran dull @ Parx next out; thinking two-turns could make the difference      
#8 – Mesojet (6-1): When nothing else in the field jumps out, go w/ second time starter adding Lasix and blinkers for 20% trainer at meet w/ leading jock      
Race 9 is ON THE TURF
#2 – Big Timer (9-2): Tam winter runners do well when coming north; hard to argue w/ G. Motion/T. McCarthy combo (21% at meet)
#4 – Gin Fuzz (6-1): Away for over 12 months after showing will to win but was DQ'd; love the the strong of 6f works w/ 7f mixed in for "Ham" Smith; will need pace help        
#11 – Makenzie T (8-1): This maiden on AE List held her own v. AlwN1X when 111-1 in turf debut; if she doesn't draw in use #6 – Aine (10-1)… she will relish stretch out.            
Race 10 is ON THE TURF
#5 – Fredericksburg (4-1): Been over two years (10 races) since last trip to Winners Circle, but has been running in graded and minor stakes races; M. Matz lone entry on card                  
#10 – Captain Dixie (3-1): Ran best last race turf Brisnet# @ GP while closing late on a speed favoring lawn                
#3 – Barrel of Love (20-1): First race after D. Houghton claim @ GG; returns east where he was 4th in MD Million Turf last year              
Race 11
#7 – Last Confession (3-1): Drops back to level barn claimed him for; not concerned about drop since Eppler may be thinking he'll just be a claimer and recoup initial investment               
#10 – At Large (9-5): Popular in Claiming Box as he's been in five different stalls the past 15 months; drop off claim usually isn't a good sign but is w/ "Magic" Magee (37%)    
#11 – Tracy's Turn (10-1): She's not at her best on an off track (3:0-0-0) but likes Lrl (6:2-2-1); runner-up v. similar two back          
YESTERDAY'S NEWS
On Friday April 29th at Laurel Park had 9 winners from the 10 race card (4 Top Selections; payoff in BOLD) having $2 WIN pay-off of $3.40 (1st race), $7.00 (2nd), $4.00 (3rd), $8.60 (4th), $23.80 (6th), $24.20 (7th), $13.60 (8th), $19.80 (9th) and $9.60 (10th). Of the suggested Multi-race wagers hit the $2 DOUBLE in R1-R2 for $22.60 (cost: $18) and 50 cent Pick-3 in R6-R8 for $250.95 ($13.50) and $2 DOUBLE in R9-R10 for $101.60 (cost: $18). Note: Year-to-date Top Selections are 100 for 413 (24.21%).
BEST BET of the Day (45: 16-8-4) Double Whammy (8th race: 9-5 M/L; 1-1 PT) eased off the rail early and took a stalking position, gained slightly after six furlongs, took a bad step just past the quarter pole while under a ride chasing between foes heading into the lane and faded from that point to finish 6th.
LONGSHOT PLAY of the Day (42: 2-3-9) No Delay (2nd race: 8-1 M/L; 6-1 PT) not away alertly, was urged to contend for the lead into the first turn but never could head the early leaders which spelled doom before the first ¾ mile marker and steadily faded to finish 9th.