The GQ Approach – Laurel April 29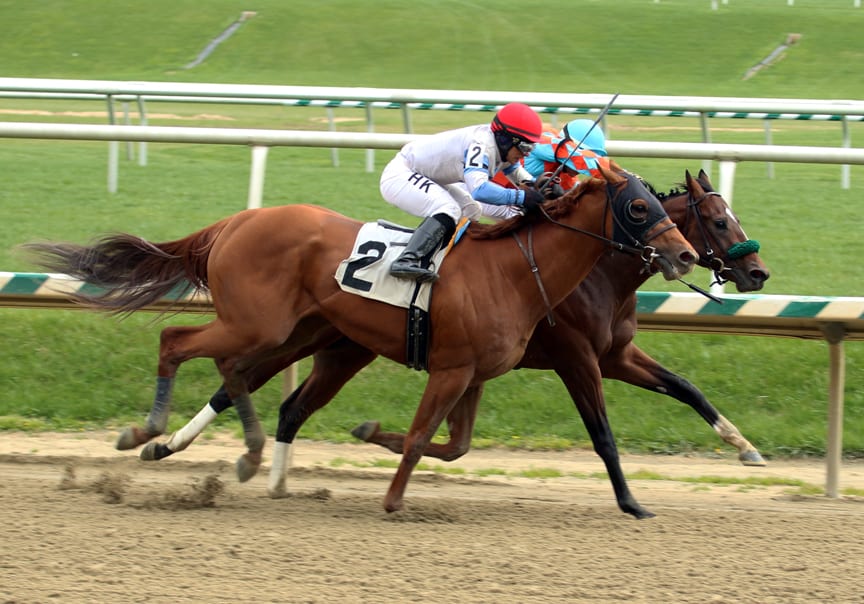 Photo by Laure Asseo.
The GQ Approach features full-card selections from Laurel Park (live racing Friday-Sunday through May 8th; Post Time 1:10pm), including a daily Best Bet, Longshot Play, and multi-race wagers — including the 20 cent Rainbow Pick-Pick-6 ($662 carryover), 50 cent Jackpot Pick-5 ($4,026 carryover), as well as Pick-4s and rolling Doubles, Pick-3s and the Super High-5.
NAME A RACE
Ever wanted a race named in your honor?  Want to recognize a friend's birthday, anniversary or achievement?  But you can't make it out to the track?
Now you can have that race named just the way you want it — FREE — right here at The Racing Biz!
Simply fill out the form below, and we'll let the world know.  Your race will be named here, as part of The GQ Approach handicapping selections!
Why handicap race number one, when you can handicap "Race 1 – The Bob's Big Day Special"?!?
Note: This offer is NOT done in conjunction with the Maryland Jockey Club and does NOT provide you any benefits or recognition at Laurel Park, Pimlico Race Course, or any other facility owned or operated by the MJC. It applies only to this website.
BEST BET OF THE DAY
Race 8 / #1 – Double Whammy (9-5)
LONGSHOT PLAY OF THE DAY
Race 5 / #7 – No Delay (8-1)
[su_heading size="21″ align="left"]Multi-race wagers[/su_heading]
Race 1: $2 Double  2, 6, 7 w/ 2, 3, 6 ($18)
Race 3: $0.50 Pick-3  2, 7, 8  w/ 1, 7, 9  w/ 3, 7, 9  ($13.50)
Race 6: $0.50 Pick-3  5, 7, 9  w/ 1, 2, 10  w/ 1, 3, 4  ($13.50)
Race 9: $2 Double  1, 5, 6  w/ 1, 3, 9 ($18)
[su_heading size="21″ align="left"]Analysis[/su_heading]
* Laurel Park has five (5) races (1st, 3rd, 5th, 7th and 9th) scheduled to be run on the TURF. Forecast for the northern D.C. suburbs is for Mostly Cloudy skies with high temps in the low-60s and 60% chance of scattered showers. The below selections are based races being run ON THE TURF and a FAST main dirt track.
Race 1 is ON THE TURF
#6 – Two Wonders (6-5): Just got beat a head in first off the bench by two-time MD Million Turf Champ Monster Sleeping in N3x; 9-year-old drops in to open $25k Claimer          
#7 – Officer Buns (5-1): Has tactical speed to be a threat in deep stretch as turf Brisnet# right there w/ M/L fav.         
#2 – Pret Say Eye (6-1): Finally gets first crack at favorite surface in 4th start this year; can handle step up       
Race 2
#3 – She Rolls (9-2): Another starting for new barn off what appears to be a prudent claim as she romped by 5¼ in last outing for same tag, but gets protected today  
#2 – Star Eighty (8-1): First start off C. Gonzalez claim (29%) who typically show more early speed than in past; worth a shot         
#6 – Rise to the Top (12-1): Had a promising start of career and drops back to level in which Bernardini claimed her; like her on the cut back    
Race 3 is  ON THE TURF
#2 – Take Cover (2-1): Boast career best turf Brisnet# in here; connections have quality runners and FG shippers have done well here so far          
#8 – Available (10-1): The 1 for 30 career record looks ugly but he's always coming late at 5f; today gets 5½f and has lofty speed fig to compete v. these         
#7 – Zapata (8-1): Gutsy win last race in just second lifetime turf effort; might be looking at a bounce today though
Race 4
#9 – If I Was a Boy (9-2): Interesting that McCarthy lands here as he had other options; Adds blinkers and was beaten fav. in last
#7 – Kept (4-1): FTS by Exchange Rate shows nice work tab; A. Goldberg/J. Toledo get to Winners Circle at 37% clip
#1 – Thissongisaboutyou (2-1): Tough spot on rail coming off two runner-up efforts to start career; first mount for Pimentel coming off injury  
Race 5 is ON THE TURF
#7 – No Delay (8-1): $Longshot Play$ Appears to be Lone Speed so taking a shot that Carrasco can slow down pace and nurse this one home         
#3 – Going to Market (7-2): 7-year-old drops to lowest level of career; ran a huge # (104) last Oct. indicating the potential is there  
#9 – Mr. Roessink (12-1): 0 for 8 on turf but v. much better in the past per speed figs; most recent on turf resulted in a troubled trip          
Race 6 
#7 – Vision of Green (7-2): Strange career record (12:3-0-0); better yet 3 of 7 on fast Lrl track; takes class drop to get feed money?
#9 – Turbin (10-1): x Beaten favorite in last outing and fits this condition perfectly w/ 11 days to spare  
#5 – Bold Curlin (12-1): Trombetta finally realizes blinkers didn't help; 21% when taking them off and 32% dropping down multiple class levels    
Race 7 is ON THE TURF
#1 – Newcomb (9-5): Been burning a lot of $$$ trying to break maiden from Lrl to SA and back; first class outfit will get it right and visit Winners Circle sooner than later             
#10 – Glad Your Back (4-1): Love this angle of taking time off after debut to mature and get it right for second start    
#2 – Tippling Ways (10-1): FTS by Scat Daddy been firing bullets @ Fai leading up to debut; but normally like to see Lasix used if well-meant in debut  
Race 8
#1 – Double Whammy (9-5): *Best Bet* Another Page McKenney-type claim for Eppler in the making? Appears sky's the limit and faces foes he just dusted in most recent effort    
#4 – Top of Mind (4-1): Runner-up to "Whammy" in first race off an 8-month layoff when sent off as favorite; might have needed that one    
#3 – Golden Glint (9-2): Reclaim for Eppler after failing as PT favorite for Magee; could take advantage of pace meltdown    
Race 9 is ON THE TURF
#1 – Helm (7-2): Will need some pace help while making first start after claim for J. Ness (32%) out of winning race for D. Jacobson
#5 – M C Squared (8-1): 2 for 3 on Lrl lawn and could steal it on the front end as his turf figs are among the best in here      
#6 – Metaboss (5-2): Resurfaces for M. Dickinson looking to go 2 for 2 since coming out of retirement; colt made run at Derby w/ El Camino Real Derby win; distance might be too short in first race after 13-month layoff            
Race 10
#1 – Over Saver (4-1): Continues to learn to be a racehorse; showing early speed looks like the way to go                  
#3 – Tempietto (4-1): Failed as PT favorite when no late kick to get by winner; class droppers don't appear to be a threat; has top Brisnet Prime Power#                
#9 – Pocket High (7-2): Wins this one going away if he can run back to that 75 two back; two turns might be a challenge though for this Wilburn gelding              
YESTERDAY'S NEWS
On Sunday April 24th at Laurel Park had 6 winners from the 10 race card (3 Top Selections; payoff in BOLD) having $2 WIN pay-off of $6.40 (1st race), $8.60 (2nd), $5.00 (3rd), $4.40 (4th), $5.60 (5th) and $7.40 (8th). Of the suggested Multi-race wagers hit the $2 DOUBLE in R1-R2 for $30.80 (cost: $18) and 50 cent Pick-3 in R3-R5 for $10.45 ($9). Note: Year-to-date Top Selections are 96 for 403 (23.82%).
BEST BET of the Day (44: 16-8-4) Forest Funds (8th race: 4-1 M/L; 5-2 PT) exchanged bumps with LOVABLE LADY early on, edged up between rivals then angled in, steadied briefly entering the turn, tracked the duel mid turn, eased out and came four to five wide for the drive, rallied under solid hand rousing, spurted clear near the sixteenth marker then was fully extended to narrowly prevail by a nose to return $7.40 to WIN, $4.60 to PLACE and $3.40 to SHOW.
LONGSHOT PLAY of the Day (41: 2-3-9) She's All Love (2nd race: 8-1 M/L; 3-1 PT) settled off the rail, gathered steam past the five sixteenths, circled three to four wide and closed gamely to Dead Heat for PLACE just a head behind the winner to return $2.60 to PLACE and $3.80 to SHOW.