The GQ Approach – Laurel April 24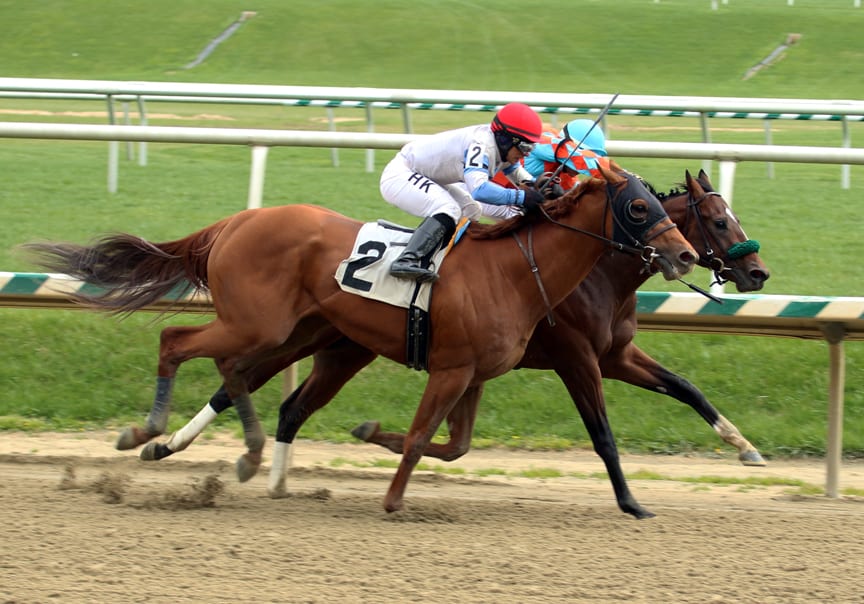 Photo by Laure Asseo.
The GQ Approach features full-card selections from Laurel Park (live racing Friday-Sunday through May 8th; Post Time 1:10pm), including a daily Best Bet, Longshot Play, and multi-race wagers — including the 20 cent Rainbow Pick-6, 50 cent Jackpot Pick-5 as well as Pick-4s and rolling Doubles, Pick-3s and the Super High-5.
NAME A RACE
Ever wanted a race named in your honor?  Want to recognize a friend's birthday, anniversary or achievement?  But you can't make it out to the track?
Now you can have that race named just the way you want it — FREE — right here at The Racing Biz!
Simply fill out the form below, and we'll let the world know.  Your race will be named here, as part of The GQ Approach handicapping selections!
Why handicap race number one, when you can handicap "Race 1 – The Bob's Big Day Special"?!?
Note: This offer is NOT done in conjunction with the Maryland Jockey Club and does NOT provide you any benefits or recognition at Laurel Park, Pimlico Race Course, or any other facility owned or operated by the MJC. It applies only to this website.
BEST BET OF THE DAY
Race 8 / #3 – Forest Funds (4-1)
LONGSHOT PLAY OF THE DAY
Race 2 / #5 – She's All Love (8-1)
[su_heading size="21″ align="left"]Multi-race wagers[/su_heading]
Race 1: $2 Double  3, 5, 7 w/ 5, 7, 10 ($18)
Race 3: $0.50 Pick-3  3, 5, 11  w/ 1, 3, 4  w/ 2, 9, 10  ($13.50)
Race 6: $0.50 Pick-3  2, 7, 9  w/ 2, 3, 8  w/ 1, 3, 9  ($13.50)
Race 10: $2 Double  1, 5, 7  w/ 2, 5, 9 ($18)
[su_heading size="21″ align="left"]Analysis[/su_heading]
* Laurel Park has six (6) races (2nd, 3rd, 5th, 6th, 8th and 9th) scheduled to be run on the TURF. Forecast for the northern D.C. suburbs is for Mostly Sunny skies with high temps in the mid-60s and no chance of precipitation. The below selections are based races being run ON THE TURF and a FAST main dirt track.
Race 1
#5 – Koppnout (3-1): Shorts up, drops a level and can sit off the early speed to score maiden victory          
#3 – Annies Revenge (7-2): Only runner in here dropping from MSW to MCL and is only 4-year-old v. 3-year-olds      
#7 – Toe Curls (7-2): Two failed attempts on GP grass to start career; tries dirt and drops as owner turns over training duties to sibling       
Race 2 is ON THE TURF
#5 – She's All Love (8-1): $Longshot Play$ Awful debut sprinting v. state breds @ Aqu v. a couple next out winners; bred up & down to like turf; nice bullet @ Fai  
#10 – Meddybemps (9-5): M/L has been OTB in all six turf starts indicates what a Crap Shoot this race is to handicap; first time in for a tag      
#7 – Cheverie (4-1): Seeks maiden win in twelve career start, seventh on grass and first in a MCL    
Race 3 is ON THE TURF
#3 – Miz Owell (3-1): Ships in from CD training for J. Sharp's only entry on card after less than stellar winter @ FG; class relief helps v. this group        
#5 – Smuggling (12-1): Away since last Oct. after something went amiss in off the turf event; leery of class drop off the bench but Carrasco in irons is a plus        
#11– Follow the Kitten (10-1): A mystery why any trainer would opt to run a Kitten's Joy on dirt at lower level turf than this mare's proven herself on turf? 1st race after A. Ferris claim
Race 4
#1 – Queequeg (9-5): Tough to look beyond this Chalk as his Brisnet Prime Power# is much the best in here           
#3 – Orbit (3-1): Came back to earth in last after scoring a natural Hat Trick off H. McMahon claim; may need to duel top pick from start to finish
#4 – It's a Bang (12-1): Seems to run his best on an off track… too bad it will be fast today; third race after layoff and stalking trip could reap rewards  
Race 5 is ON THE TURF
#10 – April Fools (7-2): No joke, this daughter of Sky Mesa out of a Medaglia d'Oro mare makes first turf start in third career outing… first two @ SA; should also relish stretch out       
#2 – Spring Mtn Mist (2-1): Lrl turf course has played fair but lone speed has been successful even at a price; this one is logical to be on lead and may not be caught
#9 – Picnic Party (5-1): Merryman/F. Lynch have teamed up for a couple big prices lately; drops back into MCL        
Race 6 is ON THE TURF
#2 – Lulu Island (5-1): Plenty of early speed but this mare can get a stalking trip as R. Chiappe makes trip down I-95 for just this mount; runner boasts top career turf Brisnet#            
#9 – Sassafras Springs (8-1): Will need to improve on her speed figure from only two outings where she's been ITM in both @ Lrl; will be heard from late… if at all  
#7 – Stormy Monse (6-1): Just six turf efforts and best showing was for third but were against better; M. Salvaggio gets 31% to Winners Circle in second start for barn
Race 7 
#2 – Anissa (6-1): Showed promise last Fall on turf with two runner-up efforts; took winter off to mature; like the work tab leading up to sophomore year debut           
#8 – She's Lovely (4-1): Started career this year @ Tam w/ three sprints; running lines indicate she should improve going two-turns      
#3 – Go Go Dana (6-1): If she shows the same early as past two route races, she's a threat to go gate-to-wire with very little pressure
Race 8 is ON THE TURF
#3– Forest Funds (4-1): *Best Bet* Barn has been red hot of late @ Aqu; third race after layoff as last two for this Closer has been on GP speed favoring turf; 1 for 2 on Lrl lawn    
#9 – Miss Bullistic (15-1): Keep hoping that she'll regain her two-year-old form that saw her go 2 for 2 at this distance on Lrl grass; that 92 Brisnet# in Selima stakes was no fluke    
#1 – Lovable Lady (6-1): Ultra consistent (9:3-2-4) five-year-old mare makes turf debut for M. Eppler; no reason to believe she won't handle it; rail assignment is a tough one though  
Race 9 is ON THE TURF
#5 – Broken Bridle (9-2): Head scratcher seeing her in a turf sprint after breaking maiden going 1 1/16 here last Fall; work tab since last race in Jan. shows she's being primed to sprint              
#7 – Bucklebury (15-1): Pulled off $32 shocker in (turf) debut going right to the lead v. $16k MCL; tougher task today but this group lacks other early speed to challenge early; could repeat
#1 – Bioterp (5-1): Moved forward with a turf victory in spite of troubled trip in last outing; D. Capuano does well (23%) w/ third race after layoff runners            
Race 10
#9 – Better Way (6-5): Nightcap @ Lrl the past few cards have offered little value as does this one; C. Gonzalez looking to pad stats here?                  
#2 – Becky Kecki (6-1): Always well backed at the windows and has improved speed figs as she's descended in class ranks; Magee/McCarthy combo yields winners at 28% clip                
#5 – Souparion (12-1): Managed to Show in last when 22-1; need to have head examined touting this one (2 for 46 lifetime) but seems to have woken up with new barn            
YESTERDAY'S NEWS
On Saturday April 23rd at Laurel Park had 6 winners from the 11 race card (3 Top Selections; payoff in BOLD) having $2 WIN pay-off of $11.00 (1st race), $11.60 (2nd), $7.60 (6th), $6.40 (7th), $5.80 (8th) and $7.40 (11th). Note: Year-to-date Top Selections are 93 for 393 (23.66%).
BEST BET of the Day (43: 15-8-4) Malibu Preacher (7th race: 5-2 M/L; 2-1 PT) settled in the clear and off the rail, commenced a run four wide leaving the far turn, sustained under strong handling, moved to command inside the furlong grounds, edged clear and held sway to win by 1½ lengths to return $6.40 to WIN, $3.40 to PLACE and $3.00 to SHOW.
LONGSHOT PLAY of the Day (40: 2-2-9) Edge of Reality (10th race: 15-1 M/L; 12-1 PT) was lightly steadied entering the backstretch, angled in and moved up to stalk the pace, came off the inside in upper stretch, chased past the furlong grounds but failed to generate the needed response while finishing 4th.