The GQ Approach – Laurel April 23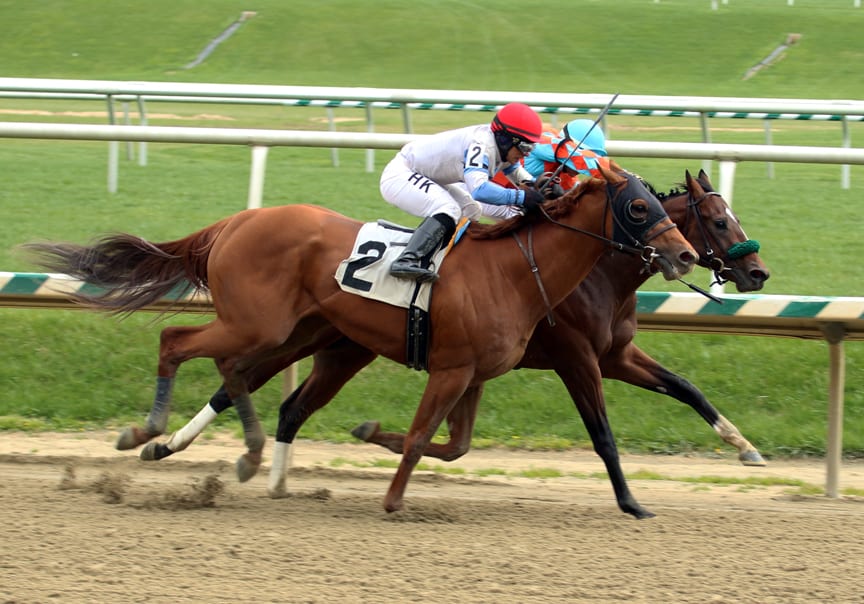 Photo by Laure Asseo.
The GQ Approach features full-card selections from Laurel Park (live racing Friday-Sunday through May 8th; Post Time 1:10pm), including a daily Best Bet, Longshot Play, and multi-race wagers — including the 20 cent Rainbow Pick-6 ($3,165 carryover), 50 cent Jackpot Pick-5 ($3,173 carryover), as well as Pick-4s and rolling Doubles, Pick-3s and the Super High-5.
NAME A RACE
Ever wanted a race named in your honor?  Want to recognize a friend's birthday, anniversary or achievement?  But you can't make it out to the track?
Now you can have that race named just the way you want it — FREE — right here at The Racing Biz!
Simply fill out the form below, and we'll let the world know.  Your race will be named here, as part of The GQ Approach handicapping selections!
Why handicap race number one, when you can handicap "Race 1 – The Bob's Big Day Special"?!?
Note: This offer is NOT done in conjunction with the Maryland Jockey Club and does NOT provide you any benefits or recognition at Laurel Park, Pimlico Race Course, or any other facility owned or operated by the MJC. It applies only to this website.
BEST BET OF THE DAY
Race 7 / #5 – Malibu Preacher (5-2)
LONGSHOT PLAY OF THE DAY
Race 10 / #10 – Edge of Reality (15-1)
[su_heading size="21″ align="left"]Multi-race wagers[/su_heading]
Race 1: $2 Double  3, 6 w/ 3, 4 ($8)
Race 3: $0.50 Pick-3  5, 7, 9  w/ 1, 4, 9  w/ 3, 7, 9  ($13.50)
Race 6: $0.50 Pick-4  2, 3, 7  w/ 2, 5  w/ 2, 3, 8  w/ 3, 4 ($18)
Race 10: $2 Double  4, 10, 11  w/ 2, 4, 6 ($18)
[su_heading size="21″ align="left"]Analysis[/su_heading]
* Laurel Park has five (5) races (3rd, 5th, 7th, 9th and 10th) scheduled to be run on the TURF. Forecast for the northern D.C. suburbs is for Mostly Cloudy skies with high temps in the low-70s and 30% chance of scattered showers in the morning. The below selections are based races being run ON THE TURF and a FAST main dirt track.
Race 1
#3 – Zippzapzapper (8-5): Fresh off G. Brooks claim @ OP takes necessary step up while in jail; latest speed figure is tops among this group          
#6 – Late Caller (9-5): Drops to lowest class level in 24-race career; been knocking on door in state bred, allowance level N3L @ CT and has a 2nd and 3rd in two tries @ Lrl         
#2 – Montana Cowboy (5-1): Makes Lrl debut in 20th career start; will be on or near lead; could steal it if allowed to get loose on lead       
Race 2
#4 – Banana Anna (9-2): Field has plenty of early speed to give this filly a chance to be there late  
#3 – Formal Class (15-1): Catches a weak N2L right after breaking maiden @ GP in slop in just second start     
#6 – Lorilee (4-5): Second best after leading $18kN2L event for 5f @ Pen in slop; goes for dubious natural Hat Trick of failing as 4-5 favorite       
Race 3 is ON THE TURF
#5 – Divine Confection (9-2): Showed promised in turf debut locally last Nov.; J. Robb wins 38% with maidens first time in for a tag        
#7 – Sola Fide (4-1): Third start, first on turf for daughter of Drosselmeyer out of a Pulpit mare; N. Juarez/H. McMahon win at 24% clip
#9 – Moonshine Mistress (5-1): Best turf Brisnet# of 70 makes her a threat v. these gals      
Race 4
#4 – Flexible Mandate (5-1): FTS for G. Motion barn and high profile owners seems more cut out for turf (More Than Ready) but work tab @ Fai indicates he's ready for any surface           
#1 – Blixt (5-1): Strong debut when runner-up to Blu Moon Ace who was narrow loser in next outing v. tough OC$50kN1X group
#9 – Praise the Moon (10-1): Cuts back to sprint after being steadied going one mile; McCarthy takes reins for first time  
Race 5 is ON THE TURF
#9 – Thirteenth Avenue (5-1): Spent winter @ Fai chillin' until turf season rolled around; needs quick pace to run down leg weary foes late       
#7 – Pirate's Cove (10-1): Has a nice turf resume' (8:2-2-2) and had excuses in only OTB efforts; takes advantage of option to be protected in this optional claimer      
#3 – Big House (3-1): Has flourished since transferring to C. Gonzalez barn and goes for third straight win while making turf debut; bred to like the lawn        
Race 6         
#7 – Lifes Reward (7-2): Centeno/J. Ness reunite after successful Tam winter meet; this one makes Lrl debut running best distance (7:2-1-2)            
#2 – Kowboy King (3-1): Second race for "Magic" Magee as turf try was a token entry while in jail after claim; back on dirt to score at lower level
#3 – Golden Rings (5-2): Another Magee trainee who blew the horseshoes off competition at $5k level; step up to $10k is still way below class level from just a year ago     
Race 7 is ON THE TURF
#5 – Malibu Preacher (5-2): *Best Bet* Could have gone yesterday for same $25k tag on turf a 1/16th short but scratched as this group appears to be an easier assignment           
#2 – Moonlit Friday (7-2): A couple turf runners went gate-to-wire on Friday as could this colt; T. Wooley/A. Serpa team is 2 for 6 with an attractive ROI      
#11 – High Above Georgia (6-1): Needs a defection to draw into field; needs to improve after lackluster third in first off bench when sent off as 5-2 second choice
Race 8
#3– Crafty Regan (3-1): Just needs a little pace help to get that elusive second victory and cure her of Second-itis @ Lrl (7: 0-4-1)    
#2 – Maggie Wag (8-1): Forgettable first start v. winners; drops down a couple levels and switches to A. Cruz in hopes of faster start  
#8 – Added Spice (10-1): Hard to gauge exactly where she belongs but has been in way over her head as outfit seems to be throwing darts; second starts w/ blinkers  
Race 9 is ON THE TURF
#3 – Don't Make Me Cry (9-2): M. Vitali brought stable north for a summer in MD v. NJ; this Street Cry gelding made up ground late over a speed-biased GP turf course in lone turf try              
#4 – Tricky Lion (3-1): Finally broke maiden in 15th start, second on turf; can come right back with a "W" v. this assembled N2L crew
#11 – J C's Not Brown (5-2): NY-bred for J. Ness owns best turf Brisnet# in this field but needs another to scratch to draw in from AE            
Race 10 – $75,000 Henry S. Clark Stakes ON THE TURF
#10 – Edge of Reality (15-1): $Longshot Play$ Ran well without hitting the board in graded stakes against a number of Breeders' Cup turf runners; G. Motion gave this one a prep on Prx dirt after being on the shelf since last Aug.     
#4 – Mister Brightside (6-1): IRE-bred seeks first North American win but has faced heavy-hitters in three graded stakes in SoCal while having eventful trips in each; gelded since last race              
#11 – Blacktype (5-1): Time to raise his game in first race since last July; always respect a C. Clement turf runner; interesting jock choice in C. DeCarlo who has never ridden for barn            
Race 11
#6 – Mail Order Groom (2-1): Magee and ownership have made their money on this 7-year-old gelding; no fear of losing him to a claim; only issue may be distance (0 for 8 going 7f)
#4 – Sparkling Jewel (15-1): Need to look beyond the past three races @ CT for back class; interesting that F. Peltroche ventures in just for this mount                 
#2 – Lets Get It Going (8-1): Class dropper has nice works since last outing @ Prx where he was steadied early on; Trombetta just looking for some purse money?               
YESTERDAY'S NEWS
On Friday April 22nd at Laurel Park had 6 winners from the 10 race card (1 Top Selection; payoff in BOLD) having $2 WIN pay-off of $4.80 (1st race), $13.40 (3rd), $17.00 (4th), $5.20 (5th), $33.00 (6th) and $5.80 (8th). Of the suggested Multi-race wagers hit 50 cent Pick-3 in R3-R5 for $63.85 (cost: $13.50). Note: Year-to-date Top Selections are 90 for 382 (23.56%).
BEST BET of the Day (42: 14-8-4) Justice for Sheena (7th race: 9-2 M/L; 5-2 PT) angled off the rail entering the first turn, stalked the pace two wide and weakened in final strides to lose PLACE by a nose to return $3.40 to SHOW.
LONGSHOT PLAY of the Day (39: 2-2-9) Super Chunky (3rd race: 8-1 M/L; 7-1 PT) five deep leaving the turn, was outrun while finishing 8th.