The GQ Approach – Laurel April 22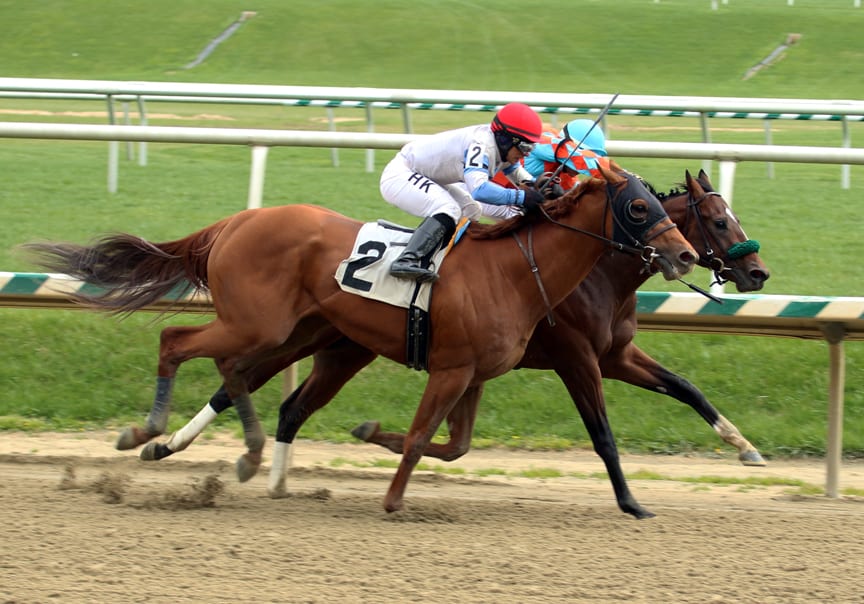 Photo by Laure Asseo.
The GQ Approach features full-card selections from Laurel Park (live racing Friday-Sunday through May 8th; Post Time 1:10pm), including a daily Best Bet, Longshot Play, and multi-race wagers — including the 20 cent Rainbow Pick-6 ($3,165 carryover), 50 cent Jackpot Pick-5 ($3,173 carryover), as well as Pick-4s and rolling Doubles, Pick-3s and the Super High-5.
NAME A RACE
Ever wanted a race named in your honor?  Want to recognize a friend's birthday, anniversary or achievement?  But you can't make it out to the track?
Now you can have that race named just the way you want it — FREE — right here at The Racing Biz!
Simply fill out the form below, and we'll let the world know.  Your race will be named here, as part of The GQ Approach handicapping selections!
Why handicap race number one, when you can handicap "Race 1 – The Bob's Big Day Special"?!?
Note: This offer is NOT done in conjunction with the Maryland Jockey Club and does NOT provide you any benefits or recognition at Laurel Park, Pimlico Race Course, or any other facility owned or operated by the MJC. It applies only to this website.
BEST BET OF THE DAY
Race 7 / #2 – Justice for Sheena (9-2)
LONGSHOT PLAY OF THE DAY
Race 3 / #10 – Super Chunky (8-1)
[su_heading size="21″ align="left"]Multi-race wagers[/su_heading]
Race 1: $2 Double 1, 2, 8 w/ 2, 3, 9 ($18)
Race 3: $0.50 Pick-3  5, 9, 10  w/ 3, 8, 10  w/ 4, 6, 7  ($13.50)
Race 6: $0.50 Pick-5  2, 3, 14  w/ 2, 9  w/ 4, 6, 9  w/ 2, 4 w/ 6, 8 ($36)
Race 9: $2 Double  2, 4, 5  w/ 6, 8, 9   ($12)

[su_heading size="21″ align="left"]Analysis[/su_heading]
* Laurel Park has five (5) races (3rd, 4th, 7th, 9th and 10th) scheduled to be run on the TURF. Forecast for the northern D.C. suburbs is for Mostly Sunny skies with high temps in the low-70s and 20% chance of scattered showers in the afternoon. The below selections are based races being run ON THE TURF and a FAST main dirt track.
Race 1
#2 – Jazz Player (3-1): NY shipper's second trip to Lrl trying to break maiden; came up a neck short v. better here in Feb.; second time blinkers          
#8 – Mountain Hero (5-2): Private purchase after failing five tries at SA/Dmr to break maiden v. $30k MCL; this $16k MCL purse equals that of the $30k MCL at SA… so much for SoCal quality         
#1 – Drive at Nite (5-1): Juarez returns after successful winter @ GP; won't be long before he's posing in Winners Circle; gets pace help here       
Race 2
#3 – Serenready (3-1): Thought she'd take to turf but faced tough group; back on dirt and this N2L should be easier to handle  
#2 – Katie's Caddie (7-2): Distant runner-up v. similar; this 4-year-old has edge in maturity over three-year-old foes    
#9 – Sophiatown (7-2): Broke maiden in last going gate-to-wire; Magee using well-traveled bug boy S. Saez looking for a home; has great chance to impress local trainers today       
Race 3 is ON THE TURF
#10 – Super Chunky (8-1): $Longshot Play$ Old-timer ran career best triple-digit Brisnet# on turf many moons ago but still competitive at 10; like the late interest he showed in first race since Nov. at same level        
#5 – Classic Wildcat (9-2): 10-year-old was impressive in only his third start on turf in runner-up effort while encountering traffic; KTL turns to A. Cintron for better ride today     
#9 – Full Moon's Back (15-1): Away since last July; has a few works for H. McMahon who does well w/ trainees' second start for barn (32%)      
Race 4 is ON THE TURF
#3 – Deposit Slip (5-2): Had to do a double-take that he's an eight-year-old maiden w/ just five career starts; always has shown late interest but will be hard to take short price on him            
#8 – Longing to Travel (6-1): Private purchase from the late Howard Bender estate; idle since close of turf season last year; has encountered more trouble than Mo Tom in last three efforts  
#10 – Swellelegent (5-1): "Ham" Smith trainee showed nice late run on turf last spring @ Pim; gelded since then and has nice work tab  
Race 5
#4 – Bobcat (7-2): Ran a monster race (92 Brisnet#) in career debut over a good, sealed track; will have company early to test just how good he is       
#6 – Grecian Prince (12-1): Could get a hot pace to run at late; has yet to embarrass himself in 12 career starts (12: 1-4-2); ground saving trip gives him chance      
#7 – Hard Hitter (7-2): Rice shipper from NY cuts back to 6f and has faced better than this group, but fresh faces could offer stiff challenge        
Race 6         
#2 – Then and Now (6-1): Beaten favorite @ Pen is latest effort; continues to drop class levels in search of first win; only one of two in here to have run 7f            
#3 – Solid Silver (12-1): Toss that turf try; back to dirt as M. Eppler gives L. Luzzi a chance to boot this one home while shortening up in distance  
#14 – Lindiesel (9-2): Another who thought trying turf might be the answer… NOT! Faced a tad tougher throughout the winter @ GP     
Race 7 is ON THE TURF
#2 – Justice for Sheena (9-2): *Best Bet* Has best career turf Brisnet# in this group and is a Closer who has been running against a speed biased turf course @ GP           
#9 – Eyerish Inspired (8-1): Appears to be a good one who just in second start could have beaten $25k Open Claimers if not for traffic troubles; daughter of Paddy O'Prado should take to turf      
#10 – Opie (3-1): Takes on winners for first time and for new barn (J. Ness) who gets 33% to Winners Circle in first start   
Race 8
#4 – Eskendulce (9-2): Second of two L. Rice NY shippers faced much better in first start for outfit after being claimed back… always a good sign    
#6 – Holy Soldier (2-1): Been improving on Brisnet#'s and hit triple-digit in latest @ Prx; missed by a head in Lrl bow at this level in Dec.
#9 – Great Plan (5-1): Bad move trying turf first try v. winners or just a bad ride? Returns to dirt where he's never been off the board (6: 1-4-1)  
Race 9 is ON THE TURF
#2 – Enjoy the Show (5-2): MD-bred finally comes home after knocking heads against better @ GP and NY circuit on the grass; should revert to off-the-pace running style as Lrl grass kinder to this style v. GP speed bias              
#4 – Texas Zip (5-1): Sheppard barn has fallen on hard times (0 for 30 at meet) but this 3x winner has best turf Brisnet# for the distance in here           
#5 – Mr. Benz (12-1): Gotta believe that first off the bench sprint was a tightener for today and will be forwardly placed on stretch out            
Race 10 is ON THE TURF
#6 – Devilish Gait (6-1): Loves Lrl lawn and distance; catch him if you can; Cartagena has had him before and he'll be ready in first race after layoff                 
#8 – Gator Gold (4-1): Will give top pick all he can handle early; "Special K" has won 4 of 7 for outfit in the past year  
#9 – Flavor (15-1): A mirror image of his stablemate in 3rd race (#5 – Classic Wildcat); just 2 turf tries from 64 career outings but can score v. these at a price in second start after layoff          
YESTERDAY'S NEWS
On Sunday April 17th at Laurel Park had just 3 winners from the 9 race card (2 Top Selections; payoff in BOLD) having $2 WIN pay-off of $6.20 (6th race), $3.60 (7th) and $14.80 (8th). Note: Year-to-date Top Selections are 89 for 372 (23.92%).
BEST BET of the Day (41: 14-8-3) Unfazed (6th race: 7-2 M/L; 2-1 PT) washy heading towards the gate, came away in good order to race in close attendance, was rank through the opening quarter mile then was deftly handled to settle soon into the backstretch, tracked kindly two wide into the far turn, eased out and bid four wide to engage GRACIE'S WAY in upper stretch, kicked clear a furlong out then held sway while steadily hand ridden to the wire to return $6.20 to WIN, $4.20 to PLACE and $3.20 to SHOW.
LONGSHOT PLAY of the Day (38: 2-2-9) Minor Legend (4th race: 6-1 M/L; 7-2 PT) bet down to the 7-2 lukewarm favorite ran what typically is labeled as "evenly," "no factor" or "outrun" finishing 7th.