The GQ Approach – Laurel April 17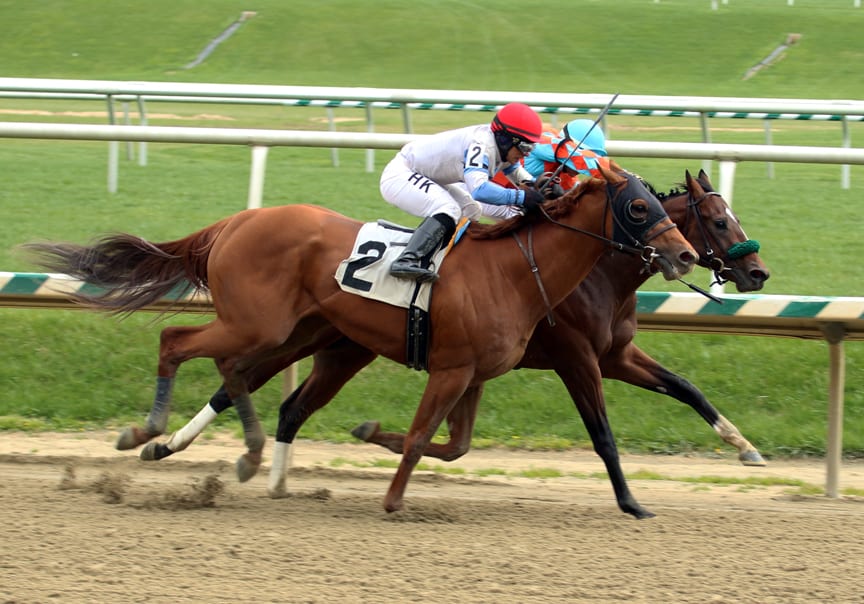 Photo by Laure Asseo.
The GQ Approach features full-card selections from Laurel Park (live racing Friday-Sunday through May 8th; Post Time 1:10pm), including a daily Best Bet, Longshot Play, and multi-race wagers — including the 20 cent Rainbow Pick-6 ($2,369 carryover), 50 cent Jackpot Pick-5, as well as Pick-4s and rolling Doubles, Pick-3s and the Super High-5.
NAME A RACE
Ever wanted a race named in your honor?  Want to recognize a friend's birthday, anniversary or achievement?  But you can't make it out to the track?
Now you can have that race named just the way you want it — FREE — right here at The Racing Biz!
Simply fill out the form below, and we'll let the world know.  Your race will be named here, as part of The GQ Approach handicapping selections!
Why handicap race number one, when you can handicap "Race 1 – The Bob's Big Day Special"?!?
Note: This offer is NOT done in conjunction with the Maryland Jockey Club and does NOT provide you any benefits or recognition at Laurel Park, Pimlico Race Course, or any other facility owned or operated by the MJC. It applies only to this website.
BEST BET OF THE DAY
Race 6 / #9 – Unfazed (7-2)
LONGSHOT PLAY OF THE DAY
Race 5 / #3 – Minor Legend (8-1)
[su_heading size="21″ align="left"]Multi-race wagers[/su_heading]
Race 1: $2 Double 2, 6, 8 w/ 3, 4, 9 ($18)
Race 3: $0.50 Pick-3  7, 9, 10  w/ 4, 5, 9  w/ 3, 6, 9  ($13.50)
Race 6: $0.50 Pick-4  9, 10  w/ 6, 8  w/ 1, 4, 9, 12  w/ 5, 8, 11 ($24)
Race 8: $2 Double  1, 4, 12  w/ 8, 11  ($12)
[su_heading size="21″ align="left"]Analysis[/su_heading]
* Laurel Park has four (4) races (3rd, 5th, 6th and 8th) scheduled to be run on the TURF. Forecast for the northern D.C. suburbs is for Mostly Sunny skies with high temps in the upper-60s and no chance of precipitation. The below selections are based races being run ON THE TURF and a FAST main dirt track.
Race 1
#6 – Doherty (9-2): Went to his knees when gate opened in latest effort, yet somehow recovered to be much the second best          
#2 – Awesome Bill (5-2): Lone class dropper in opener; made the trip down from The Big Apple with stablemate who's chances are better in R7         
#8 – Love Rules All (3-1): First race after being claimed @ GP; Cartagena gets 21% to Winners Circle in first try for barn       
Race 2
#9 – Homeboykris (3-1): Great $5k claim for F. Campitelli; this 2010 KY Derby participant seems to have regained some of that back class and will dominate this level all year IMHO  
#3 – Dixie Deputy (10-1): Looks like lone speed; even though stretching out to 7f he's placed twice from three at this distance; part of Exacta in all 9 Lrl starts    
#4 – Cooking Up a Storm (5-2): Failed to capture fourth consecutive win when runner-up in last, but can start new win streak v. these       
Race 3 is ON THE TURF
#10 – Stolen Secrets (7-2): Beaten favorite when making second career start after one year layoff; Boyce back in the saddle to make amends this time on turf        
#9 – Wednesdays Only (6-1): Has yet to deliver on Wednesday or any other day of the week; five turf tries at age 2 had look of one wanting more distance… gets it here     
#7 – Vizi Girl (8-1): Kitten's Joy filly made career/turf debut last Nov., never ran a lick so it was back to drawing board; nice work pattern, add blinkers and Lasix      
Race 4
#5 – Amain (5-1): Gets upgrade in the irons after begin DQ'd from minor award last outing; drops from $10k N2L      
#4 – Shouk (15-1): Charlie Frock's been trying to get this one to compete v. better since $5k claim to no avail; early speed might help in here             
#9 – Jumpin Julian (12-1): Takes a couple level class drop after spinning wheels v. open $15k
Race 5 is ON THE TURF
#3 – Minor Legend (8-1): $Longshot Play$ This field is loaded w/ early speed; this gelding closed stoutly in both turf efforts, recording lone win at this distance       
#9 – Wolftrap (6-1): That 1 for 21 career record (1 for 9 on turf) looks pretty ugly but he's had horrible racing luck while hitting the board six other times v. better  
#6 – Sugimoto (9-2): Lately has been showing early speed but in lone turf try he made a furious late run to earn the Show purse        
Race 6 is ON THE TURF
#9 – Unfazed (7-2): *Best Bet* Delacour saddles this one for Lael Stables who breed turf runners… good ones; this one was second in debut @ Tam when race was washed off the turf… not today though            
#10 – Chamberlain Road (10-1): Ness claimed this one @ GP for $35k in her third start, after registering an 81 turf Brisnet#, which is tops among this assembled group  
#8 – Like a Million (10-1): Gave up a ton of ground to rivals in first turf try but once she got going, made a nice rally     
Race 7 
#8 – High Ridge Road (4-5): NY shipper from Linda Rice barn (36% @ Lrl) is a stand out on paper boasting a huge edge in Brisnet Prime Power#, but the race isn't run on paper           
#6 – Freudie Anne (5-2): Away since last Sept. this Tom Morley NY-bred trainee is an all or nothing proposition (11: 5-0-0); it's gate-to-wire or nowhere      
#5 – Street Cruizer (6-1): Solid three-year-old filly continues to get better and stretches out after being runner-up in OC50kN1X sprinting first time v. winners   
Race 8 is ON THE TURF
#4 – Emelina (6-1): One of just a couple in here who have beaten winners; X-Man will take her straight to the lead and play catch me if you can    
#1 – Love's Illusion (4-1): Jock Carol Cedeno surfaces to try to make it 2 winners from 3 rides for K. Rubley; fired a bullet work @ Palm Meadows before heading north
#12 – Valued Strike (5-1): PA-bred ventures outside of the Keystone state for first time in addition to making turf debut after proving synthetic is to her liking; Motion for Augustin Stables is dangerous  
Race 9
#8 – Mothernaturespell (7-5): Claimed for $10k 3 back; ran 6th in $16k claimer then won easily for $10k yet drops in for $5k here. Welcome to Horse Racing Economics by Kieron Magee              
#11 – Miss Glengar (9-2): Last seen on the track in a race on Preakness Stakes night @ CT; 7 y.o. returns to Lrl sporting a gaudy local record (14: 7-1-1) as well a distance (7: 5-0-0)           
#5 – Nicki Flash (5-1): Gaudet blows the moth balls off this 5 y.o. mare who has handled foes at this level w/o much difficulty in the past            
YESTERDAY'S NEWS
On Saturday April 16th at Laurel Park had 6 winners from the 10 race card (2 Top Selections; payoff in BOLD) having $2 WIN pay-off of $19.60 (1st race), $17.60 (2nd), $5.80 (3rd), $4.20 (4th), $6.20 (5th) and $9.20 (8th). Of suggested Multi-race wagers hit 50 cent Pick-3 in R3-R5 for $18.10 (cost: $12). Note: Year-to-date Top Selections are 87 for 363 (23.97%).
BEST BET of the Day (40: 13-8-3) Anythingicandoforu (3rd race: 3-1 M/L; 9-5 PT) disputed the pace down the backstretch, raced along the rail leaving the turn and through the stretch, dropped back a bit near the eighth pole, gamely came again and was up in time to return $5.80 to WIN, $3.20 to PLACE and $2.40 to SHOW.
LONGSHOT PLAY of the Day (37: 2-2-9) Jacoby J (10th race: 6-1 M/L; 5-1 PT) saved ground on the turn, eased out entering the stretch, chased the leader and held sway to finish third and pay $3.80 to SHOW.