The GQ Approach – Laurel April 16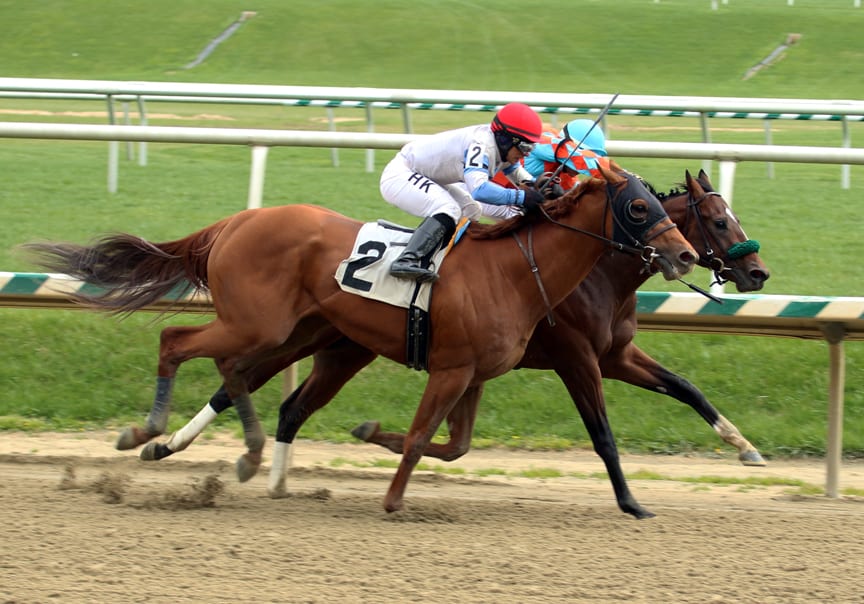 Photo by Laure Asseo.
The GQ Approach features full-card selections from Laurel Park (live racing Friday-Sunday through May 8th; Post Time 1:10pm), including a daily Best Bet, Longshot Play, and multi-race wagers — including the 20 cent Rainbow Pick-6 ($1,838 carryover), 50 cent Jackpot Pick-5, as well as Pick-4s and rolling Doubles, Pick-3s and the Super High-5.
NAME A RACE
Ever wanted a race named in your honor?  Want to recognize a friend's birthday, anniversary or achievement?  But you can't make it out to the track?
Now you can have that race named just the way you want it — FREE — right here at The Racing Biz!
Simply fill out the form below, and we'll let the world know.  Your race will be named here, as part of The GQ Approach handicapping selections!
Why handicap race number one, when you can handicap "Race 1 – The Bob's Big Day Special"?!?
Note: This offer is NOT done in conjunction with the Maryland Jockey Club and does NOT provide you any benefits or recognition at Laurel Park, Pimlico Race Course, or any other facility owned or operated by the MJC. It applies only to this website.
BEST BET OF THE DAY
Race 3 / #5 – Anythingicandoforu (3-1)
LONGSHOT PLAY OF THE DAY
Race 9 / #8 – Jacoby (6-1)
[su_heading size="21″ align="left"]Multi-race wagers[/su_heading]
Race 1: $2 Double   4 w/ 2, 3, 4 ($6)
Race 3: $0.50 Pick-3  1, 5, 9  w/ 1, 7, 8  w/ 3, 4, 6  ($13.50)
Race 6: $0.50 Pick-5  9, 10  w/ 3, 7, 9  w/ 2, 4  w/ 3, 7, 12  w/ 8, 9 ($36)
Race 9: $2 Double  3, 7, 12  w/ 6, 8, 9 ($18)
[su_heading size="21″ align="left"]Analysis[/su_heading]
* Laurel Park has four (4) races (4th, 6th, 7th and 9th) scheduled to be run on the TURF. Forecast for the northern D.C. suburbs is for Mostly Sunny skies with high temps in the upper-60s and no chance of precipitation. The below selections are based races being run ON THE TURF and a FAST main dirt track.
Race 1
#4 – Dangerous Dan (7-5): This being the 1st "baby" race at Lrl of the year, it's only fitting that W. Ward, a master when it comes to conditioning two-year-olds enters a FTS who has a bullet work from the gate @ Kee, where so far he has dominated the two-year-old races          
#3 – Pachi Cruze (6-1): FTS is a Ontario-bred by Valid n Bold (Valid Appeal); should be quick from the gate; trainer J. Corrales wins w/ 22% of his babies         
#5 – Audacious Say Eye (9-2): FTS by Frost Giant (Giant's Causeway) cost $19k as a yearling; may need more distance but fired a bullet going 3f in A.M. @ Lrl       
Race 2
#3 – Lightnin Fast Girl (9-5): Was 4 for 48 lifetime until last outing when taking early lead on stretch out; could repeat going two-turns here if #6 has lost her will to run early  
#4 – Silver Bouquet (10-1): Eubanks has done a nice job getting the most out of this gal who likes the Lrl dirt oval (4: 1-3-0)     
#2 – Start Swinging (4-1): Lightly raced 5-year-old mare rarely runs a bad one; first start going two–turns should not be a problem w/ A.P. Indy as grandsire       
Race 3
#5 – Anythingicandoforu (3-1): *Best Bet* Brisnet Speed Figs have been ascending; steadied at the half pole in last compromised chance for Winners Circle photo        
#1 – Duchess of Wicklow (6-1): Third race after layoff where previous two had the look of a runner who wants more distance, and she gets it; rail post not ideal though     
#9 – Onegreatstep (10-1): Was well backed in most recent race but never got out of first gear; disconcerting that McCarthy bails but all other efforts at this level have been much better      
Race 4 is ON THE TURF
#1 – Jade With Envy (4-1): One of two in here for M. Stidham; adds blinkers after being a beaten favorite while runner-up on FG lawn
#7 – Issheit (2-1): Spent a very successful winter @ Tam winning twice and runner-up once in three starts v. similar for J. Ness             
#8 – Articulate (12-1): First start on turf but made career so far on synthetic (11:3-2-2), the next best thing to turf
Race 5
#6 – Jiravit (4-1): Impressive Brisnet#'s prior to taking a late winter break v. cheaper; has hit the board in all four races at this distance and both wins have been @ Lrl from 5 starts       
#4 – John Jones (3-1): Been displaying early foot but unable to get an easy lead v. better; third race after layoff  
#3 – Squeegee (15-1): Active winter @ Tam but was hurt in latest by very slow pace v. just 4 foes; gets quick pace today and can close on this group        
Race 6 is ON THE TURF
#9 – Hope Cross (7-2): Delacour saddles this one on behalf of Chad Brown; all 14 starts have been on the grass and has been in the mix in every one; graded stakes placed            
#10 – Nakuti (3-1): Motion took over conditioning duties after North American debut (6th by 2 ½) in G1 @ WO; note trainer's other entry (#11) appears to be a "rabbit"  
#8 – All in Fun (12-1): Shug McGaughey ships in Stuart Janney III runner who has danced every dance but still seeks first stakes win     
Race 7 is ON THE TURF
#3 – Not a Chance (5-2): Can boast best turf Brisnet# among this group of maidens; son of Aussie turf great Lonhro gets to graduate here turning back to sprint           
#7 – Kettles On (8-1): Colt by Giant's Causeway out of a Saint Ballado mare reeks of turf; rough debut on dirt @ Tam is a head scratcher based on extensive turf works prior to that start  
#9 – Brute Force (6-1): FTS for Sagamore Farm who sends them out ready to win at first asking, especially on turf; Karamanos lands here instead of #6 for K. Rubley   
Race 8
#2 – Lady of Moray (3-1): Speed of the speed; gets distance relief from 6f to 5½f; goes for natural Hat Trick while not stepping up in class thanks to Starter Allowance condition    
#4 – Secret Garden (2-1): Sent off as Post Time favorite in 7 of last 8 starts while being no worse than runner-up in all 8
#1 – Knacque (6-1): Tough assignment from the rail but field has plenty of early speed to help give her a shot to catch leg weary foes late  
Race 9 is ON THE TURF
#3 – Tightly Bridled (5-1): Barn hasn't had an opportunity to run this guy on the grass where he's won, placed and showed in three tries on the green              
#7 – Magnum Opus (6-1): Never off the board in five turf sprint starts; away since Dec. awaiting start of turf season @ Lrl         
#12 – Diamondback Fire (10-1): Game 3-year-old takes on elders and grass for first time; not especially bred for turf but could be a pleasant surprise late            
Race 10
#8 – Jacoby J (6-1): $Longshot Play$ OMG! He's 0 for 16 because he hasn't shown the will or stamina to carry his early speed even this 5½f distance BUT… going 7f in last outing may give him a psychological edge     
#9 – Feral Fear (7-2): A player here solely due to huge class drop; A. Cruz has been getting live mounts lately and this one could prove to be another                
#6 – El Maxi (12-1): Adds blinkers after stopping on a dime last month sprinting at one level higher; Pimentel in irons gives hope          
YESTERDAY'S NEWS
On Friday April 15th at Laurel Park had just 2 winners from the 9 race card (2 Top Selections; payoff in BOLD) having $2 WIN pay-off of $3.40 (6th race) and $3.20 (8th). Note: Year-to-date Top Selections are 85 for 353 (24.08%).
BEST BET of the Day (39: 12-8-3) Cavity (7th race: 7-2 M/L; 5-2 PT) stalked the pace, circled the turn three deep and rallied outside but could not catch the winner, coming up one half length short to return $4.60 to PLACE and $3.00 to SHOW.
LONGSHOT PLAY of the Day (36: 2-2-8) Tough Teddy (5th race: 6-1 M/L; 7-2 PT) saved ground both turns, eased out entering the stretch, chased the leader and faltered to finish 4th.