The GQ Approach – Laurel April 15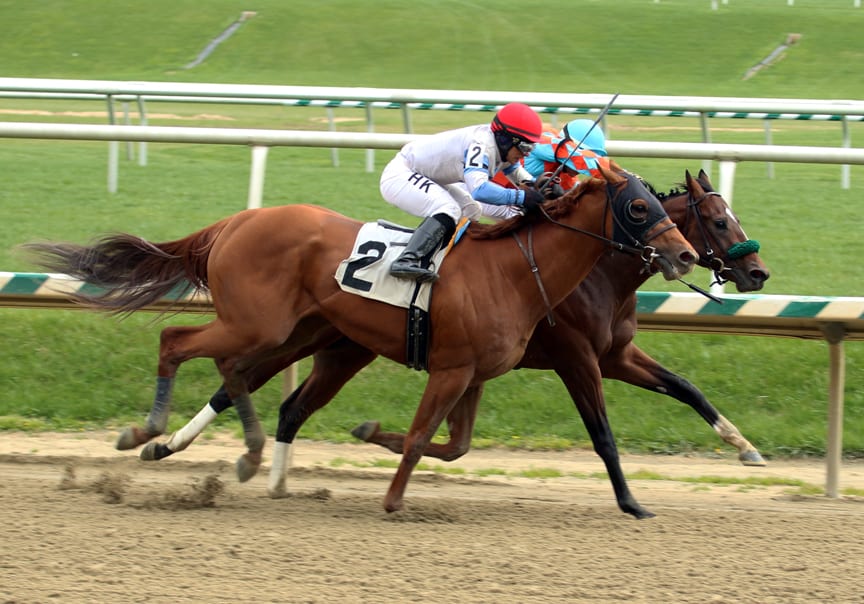 Photo by Laure Asseo.
The GQ Approach features full-card selections from Laurel Park (live racing Friday-Sunday through May 8th; Post Time 1:10pm), including a daily Best Bet, Longshot Play, and multi-race wagers — including the 20 cent Rainbow Pick-6 ($1,128 carryover), 50 cent Jackpot Pick-5, as well as Pick-4s and rolling Doubles, Pick-3s and the Super High-5.
NAME A RACE
Ever wanted a race named in your honor?  Want to recognize a friend's birthday, anniversary or achievement?  But you can't make it out to the track?
Now you can have that race named just the way you want it — FREE — right here at The Racing Biz!
Simply fill out the form below, and we'll let the world know.  Your race will be named here, as part of The GQ Approach handicapping selections!
Why handicap race number one, when you can handicap "Race 1 – The Bob's Big Day Special"?!?
Note: This offer is NOT done in conjunction with the Maryland Jockey Club and does NOT provide you any benefits or recognition at Laurel Park, Pimlico Race Course, or any other facility owned or operated by the MJC. It applies only to this website.
BEST BET OF THE DAY
Race 7 / #5 – Cavity (7-2)
LONGSHOT PLAY OF THE DAY
Race 5 / #2 – Tough Teddy (6-1)
[su_heading size="21″ align="left"]Multi-race wagers[/su_heading]
Race 1: $2 Double  2, 5 w/ 1, 5, 9 ($12)
Race 3: $0.50 Pick-3  1, 2, 6  w/ 4, 6  w/ 2, 6, 7, 10  ($12)
Race 6: $0.50 Pick-4  1, 2  w/ 5, 9, 12  w/ 6, 7, 9  w/ 4, 6 ($18)
Race 8: $2 Double  6, 7, 9  w/ 4, 6, 7 ($18)
[su_heading size="21″ align="left"]Analysis[/su_heading]
* Laurel Park has three (3) races (3rd, 5th and 7th) scheduled to be run on the TURF. Forecast for the northern D.C. suburbs is for Mostly Sunny skies with high temps in the mid-60s and no chance of precipitation. The below selections are based races being run ON THE TURF and a FAST main dirt track.
Race 1
#5 – Sultry Encounter (5-2): On the bench since running 6th in MD Million Nursery as a maiden; has early speed to take this field gate-to-wire          
#2 – What Quality (5-1): Failed as PT favorite @ CT going 4½f; should show improvement 2nd race w/ blinkers         
#4 – Charlie's Darlin (3-1): Finally hit the board in 8th career start when in first time for a tag; faces similar here but needs a clean trip              
Race 2
#1 – Raw Talent (5-2): Trombetta claimed this gelding at Parx in Feb. from a 3% conditioner; gelded him and been steadily working at Fai  
#5 – Longer Terms Doug (9-5): Proved to be vulnerable favorite going 7f in latest outing; cut back to 5½f and not racing 5-wide should add up to a better showing     
#9 – New Yawker (7-2): Excellent record at distance (16:7-2-2); first start off winter vacation; faced open claimers for $5k in last start       
Race 3 is ON THE TURF
#6 – Water Cube (8-5): Disappointed as a three-year-old but 7-months off to mature resulted in maiden win and game third place effort v. N2L, both @ Tam on the turf        
#2 – Some Promises (3-1): Only So-so turf breeding but made career debut last Summer sprinting on Lrl lawn; first time two-turns; small barn w/ high win pct.     
#1 – After the Cut Off (5-1): Though S. Lake is 0 for 12 first runners 1st grass race, this one fits at this level and should handle turf as well as dirt      
Race 4
#6 – Unblunted (4-1): Sure fire way to cool off a hot jockey… pick him on top! Appears to be a "See-saw" move (set-up then drop down) in second start for J. Ness barn            
#4 – Gentle Johnny (5-2): First start after D. Capuano claim just over 2 months ago; has burnt many a wagering dollar failing 4 of the last 5 times as PT favorite; new barn gives new life?             
#2 – Who Stole My Sock (10-1): Have resisted this 1 for 29 runner in the past but if bug girl L. Glaser gives him her patented late running ride v. early speed, a miracle may occur
Race 5 is ON THE TURF
#2 – Tough Teddy (6-1): $Longshot Play$ Typically play against 3-year-olds when facing elders in the spring, but in only turf start (Nov. 21, '15) was 15 lengths clear of Show horse when second behind Tasit who won a N1X on turf @ Kee on Wednesday       
#6 – I'm In (7-2): There's at least 3 certainties in GQ's life… death, taxes and playing a Kitten's Joy FTS on the turf; been prepping @ Palm Meadows (FL) all winter for this debut  
#10 – Daniel Le Deux (9-2): Toss that ugly dirt race in last outing in Dec.; got gelded and recent works indicate he can run another 81 Brisnet# w/ A. Serpa in the saddle        
Race 6          
#2 – Great Smoke (8-5): Fourth consecutive race at this level; previous 3 has resulted in two runner-ups and a win; cut back to 5½f makes it challenging for this late runner            
#1 – Remain Silent (7-2): Got drubbed by best sprinter @ Parx when in over his head; second time blinkers angle makes him a threat  
#7 – Crazy Wild Bill (12-1): In memory of O's Super fan from the late 70's, baseball season may give this colt a boost; only needs slight improvement to challenge M/L favorite     
Race 7  is ON THE TURF
#5 – Cavity (7-2): *Best Bet* Four-year-old shipper from J. Cibelli barn likely making pit-stop on way back from FL to NJ (Mth) for the Summer; gets to face a bunch of sophomores; turf Brisnet#s have been climbing           
#12 – Kid Jeter (8-1): Another So. FL shipper claimed two races back showed late foot on a GP turf course that favored early speed  
#9 – Keepyourpowderdry (6-1): Nice third @ Tam in turf debut; has fired a couple bullets on turf in A.M. since; McCarthy/Motion have won at 24% clip this meet   
Race 8
#9 – Big Thrill (9-2): Made a smashing debut @ Sar last Summer then something went awry in next start; 2016 debut @ Aqu was disappointing; L. Rice scores w/ 36% of shippers to Lrl    
#7 – Width (2-1): Much of the same can be said here for this C. Clement NY shipper; picks this spot for three-year-old debut
#6 – Wilma Lynn (6-1): Must respect this Pa-bred even though she's been facing much weaker @ Pen; will be on the lead and is a threat to steal it  
Race 9
#4 – Manando (7-5): This guy is graded-stakes placed via G3 Sham in '13; is eligible for this condition by 3 days and undoubtedly will be popular in the Claim Box today              
#6 – Lungs (9-2): Seems to run his best races over an off track; Lrl oval will be fast but hard to toss even though steep class drop raises caution flag         
#7 – Don Tito (3-1): Winner of 12 races from 36 starts; eligible for this race in spite of win last outing due to $4k tag            
YESTERDAY'S NEWS
On Sunday April 10th at Laurel Park had 4 winners from the 9 race card (3 Top Selections; payoff in BOLD) having $2 WIN pay-off of $4.20 (1st race), $34.40 (3rd), $4.40 (4th) and $6.20 (8th). Note: Year-to-date Top Selections are 83 for 344 (24.13%).
BEST BET of the Day (38: 12-7-3) Two Notch Road (2nd race: 5-2 M/L; 9-5 PT) stalked the pace while off the rail, eased out to the three path entering the lane, took closer order between runners leaving the eighth pole, shifted in as the leader drifted and kept on gamely to outdo a foe for the runner-up spot to return $3.60 to PLACE and $2.40 to SHOW.
LONGSHOT PLAY of the Day (34: 2-2-8) Neilinger (6th race: 6-1 M/L; 8-1 PT) stalked the pace three wide, moved four wide in upper stretch, pursued between runners leaving the eighth pole but came up empty to finish 4th.