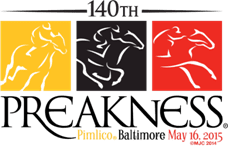 From an Xpressbet release
The Maryland Jockey Club's Pimlico Race Course and leading online wagering provider, Xpressbet, are excited to announce that Xpressbet will serve as the title sponsor of the Preakness Stakes.  The 140th edition of the $1,500,000 Preakness will be held on Saturday, May 16, 2015.  Both Xpressbet and Pimlico are members of the Stronach Group, North America's preeminent racetrack owner and operator.
As a result of Xpressbet's longstanding relationship with Pimlico Race Course and the Preakness, Xpressbet customers have become accustomed to receiving exclusive benefits while betting the Preakness online or from their mobile device.  Each year, Xpressbet's Preakness Big Bet Sweepstakes rewards one lucky customer with a VIP trip to the race, as well as a $25,000 bet on the Preakness Stakes.  Plus, Xpressbet's annual Preakness Stakes Wager Guide and Video Handicapping Series provides horseplayers and racing fans with race analysis, picks and wagering strategies from industry experts.
"At Xpressbet, we strive to partner with the country's leading racetracks and the best brands in the sport," said Xpressbet President, Ron Luniewski.  "The Preakness Stakes is not only an important event in US racing, but it is one of the world's premier races.  The pageantry, history and prestige of Preakness Day are unparalleled, and we're thrilled to sponsor a race with such significance and importance."
"The fans are the economic engine of the sport, and this partnership between Xpressbet and the Preakness Stakes is directly to their benefit," remarked Tim Ritvo, COO of the Stronach Group.  "Xpressbet brings the excitement of the Preakness to racing fans and horseplayers across the country, making watching and wagering on the Middle Leg of the Triple Crown easier than ever."
The Xpressbet.com Preakness Stakes is the keystone race of a $3.6 million stakes weekend that also includes the Grade 2 Black-Eyed Susan Stakes, Grade 2 Longines Dixie Stakes, Grade 3 Sagamore Racing Pimlico Special and the Grade 3 Adena Springs' Miss Preakness Stakes.   Post time on Black-Eyed Susan Day, Friday, May 15, is 12:00PM ET and post time on Preakness Stakes Day, Saturday, May 16, is 10:45AM ET.  Great seats are still available both days.  Please visit http://www.preakness.com/tickets for more information.