At its monthly meeting, the Maryland Racing Commission voted today to adopt regulations that, it says, will promote breeding in the Free State.
The regulations will effectuate a program proposed by the Commission-appointed Breeding Task Force.  That program, which the Commission had adopted in concept last month (here), aims to:
Provide a 30 percent (of purse) bonus to the breeders of Maryland-breds who finish in the money in races run in Maryland;
Grant a 10 percent bonus to the owners of stallions located in Maryland when their progeny win here; and
Boost the purses run for by Maryland-breds by 20 percent during the remainder of 2013 and in 2014 and by 30 percent thereafter.
The first two of these goals involve only the state's Bred Fund.  Modifications to the Bred Fund — the moneys given to breeders and stallion owners — must occur through the regulatory process.
That last goal would be accomplished by reprogramming three percent of the purse account in 2013 and 2014 — about one million dollars — to Maryland-breds.  In 2015, that would rise to six percent.  The owner incentives would apply to maidens and to all other horses running in non-claiming company or in claiming races for a tag of at least $10,000 this year and next and to all horses in subsequent years.
Yet, while the Commission's support of the program was merely a reprisal of last month's meeting, its choice to adopt the owner incentives via regulation was something of a curve ball.  At its May meeting, the Commission had indicated that it would make the purse enhancement program a condition of the licensure of the racetrack operator — an area in which the Commission has broad discretion.

The decision announced today bypasses the licensure process and instead would codify changes to the purse account that some dispute the Commission has the authority to make.  Commission sources said that the Commission believes it is on "solid legal ground" in pursuing new regulations.  In addition, members felt that, while perhaps more challenging in the short run, codifying the program in this fashion would have longer run benefits.  For one thing, while current track management is sympathetic to the breeder program and friendly with the Commission, another might not be, which could complicate the process of licensure in future years.  In addition, sources said,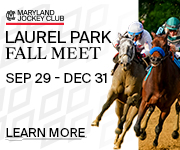 Some representatives of the Maryland Thoroughbred Horsemen's Association (MTHA) have raised concern over the program's impact on an already stretched purse account.  In addition, they question whether the Commission has the authority to assert control over the purse account in this manner, and whether doing so, rather than pursuing a negotiated agreement, is wise.
These concerns led to somewhat heated debate at the May meeting, but there were no fireworks today.  Whether the silence today signified peace or merely the calm before the storm remains to be seen.